The night before Thanksgiving is traditionally one of the busiest nights for the bar industry, so make sure you have a list of Thanksgiving cocktail recipes robust enough to stand up to the crowd!
Peppermint Hot Chocolate
Ingredients: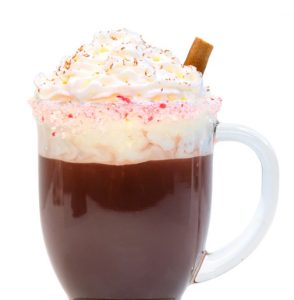 1.5oz Ole Smoky Peppermint Moonshine
4oz Hot Chocolate
Top with whipped cream (optional)
Directions:
Mix well in a glass. Garnish with whipped cream.
Recipe courtesy of Ole Smoky.
Garden Variety
1 1⁄2 oz Don Papa Rum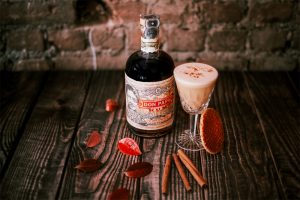 3 oz Chai concentrate
3 oz Water
3 drops Pumpkin Spice Syrup
Mix all in a glass. Garnish with a dollop of whip cream and a sprinkle of cinnamon. Serve with Stroop Waffle.
Anna Sui's Pear Social
Ingredients: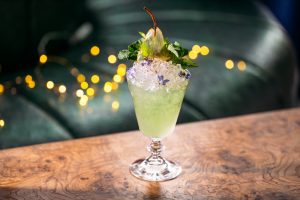 1 oz St-Germain Elderflower Liqueur
1 oz Grey Goose La Poire
¾ oz Cucumber-mint juice
¼ oz Fresh Lemon Juice
Bar Spoon Absinthe
2 oz Sparkling Wine
Garnish- dehydrated pear, mint crown, borage, grated nutmeg
Directions:
Combine all ingredients in a glass and top with Sparkling Wine. Garnish with mint, edible flowers, and nutmeg. To batch, multiply each ingredient by your number of guests and serve in a large vessel.
Apple Cider Daiquiris
Ingredients: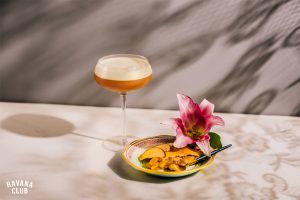 2 parts HAVANA CLUB Añejo Clásico
Apple Pie
1 egg white
2 parts Spiced Apple Cider
Pinch of vanilla-cinnamon sugar
Directions:
Shake all ingredients vigorously with ice and strain into a chilled coupe glass. No need to wait after dinner to enjoy.
PSM (Pumpkin Spice Margarita)
Ingredients: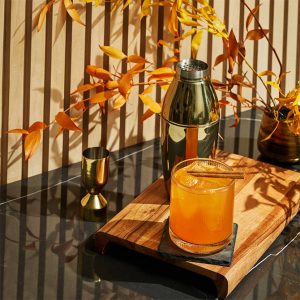 1 oz Cointreau
2 oz Tequila
0.75 oz Fresh Lime Juice
2 Tbsp Pumpkin Puree
1 Tsp Pumpkin Pie Spice
1 Tbsp Honey
Directions
Add all ingredients to a shaker, add ice and shake. Fine strain over ice into glass. Finish with a cinnamon stick.
Recipe courtesy of Cointreau.
Recuerdo Raspberry Sour
Ingredients: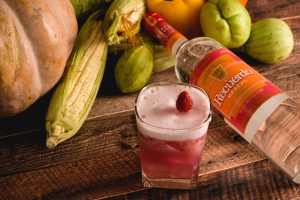 1.5 oz Recuerdo Mezcal Joven
1 oz Jack Daniel's Honey
4 raspberries
1 oz orange juice
.5 oz simple syrup
1 egg white
Directions
In a glass muddle the raspberries with the orange juice and simply syrup, then strain into a cocktail shaker. Add the Recuerdo Mezcal, Jack Daniel's Honey, and egg white and do a dry shake before adding ice and shaking again. Serve in an old fashioned glass and garnish with a raspberry.
Holiday Rum Cider
Ingredients: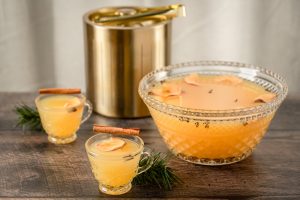 1 gallon apple cider filtered/cold pressed is best
16 oz Santa Teresa 1796
¼ – ½ cup of brown sugar (depending on how sweet the apple cider is)
1 tsp. ground allspice
2-3 tsp. while cloves
2 small oranges
6" Ceylon cinnamon
Directions:
Combine all in punch bowl. Stir vigorously. Serve in a tea cup garnished with a cinnamon stick and dehydrated apple slice.
Car Thief
Ingredients: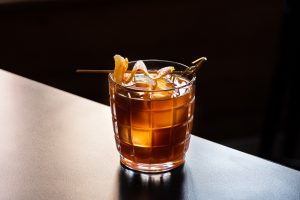 2 oz Deadwood Rye
1 oz Brennivin Rugbrau Aquavit or Norden Reserve Aquavit
0.25 oz Ginger Syrup
0.25 oz Blackstrap Syrup (2:1 ratio molasses: water) or Caffo Licorice
3 dashes Angostura Bitters
Garnish: Candied ginger & orange twist flag
Directions:
Add ingredients to a shaker tin and shake. Pour over ice into a rocks glass, and top with candied ginger and an orange twist flag to garnish.
Recipe by Thief.
Harvest Mule
Ingredients: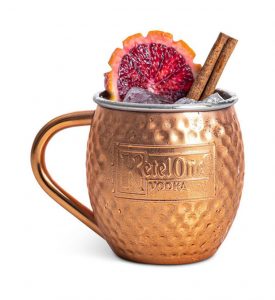 1.5 oz Ketel One Vodka
3.5 oz ginger beer
1.5 oz fresh squeezed apple juice
.25 oz local honey
Blood orange wheel and cinnamon stick, for garnish
Directions:
Mix all the ingredients together. Bottle and refrigerate. Pour mixture into a copper mug filled with ice. Garnish with a blood orange wheel and cinnamon stick.
Recipe courtesy of Ketel One.
Cranberry Fiesta
Ingredients: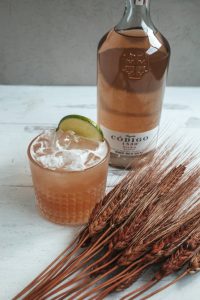 2 oz Código 1530 Rosa
1.5 oz Cranberry Juice
0.5 Lime Juice
3 oz Soda Water
Directions:
Shake Rosa, Cranberry Juice, Lime Juice and strain into a glass with fresh ice. Fill with Soda Water.
Recipe courtesy of Código 1530. Photo Credit Amir Shafii.
Autumn Apple Snap

Ingredients: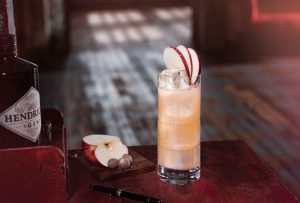 1 1/2 parts Hendrick's Gin
3/4 part Lemon Juice
3/4 part Apple Juice or Apple Cider
Top with Ginger Beer
Apple Slices and Grated Nutmeg to Garnish
Directions:
Combine all ingredients in a highball glass filled with cubed ice and lightly churn. Garnish with apple slices and grated nutmeg.
Cranberry Cup
Ingredients: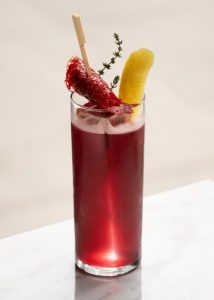 1 dash angostura
Teaspoon thyme liqueur
.5 oz. Spiced Cranberry shrub
.75 oz. Lemon juice
.25 Apple Liqueur
1.5 oz. Belvedere Vodka
Lambrusco, Free pour
Directions:
Add all ingredients except for Lambrusco into a small tin. Add ice and shake vigorously. Strain back into the small tin and add Lambrusco. Pour over fresh ice and garnish. Thyme Sprig, lemon twist, cranberry fruit roll up, grated nutmeg.
Recipe by Gary Wallach of Lindens at Arlo SoHo.
Duke In The City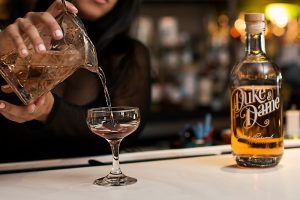 Ingredients:
1 oz Duke & Dame
3/4 oz  Luxardo  Liqueur
3/4 oz Sweet Vermouth
3/4 oz Fresh Blood Orange Juice
Brandied Cherry (garnish)
Directions:
Mix all, pour into a glass, and garnish with cherry.
El Humo
Ingredients: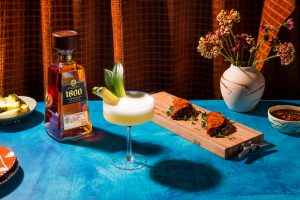 1 ½ oz. 1800 Añejo
½ oz. Mezcal
½ oz. simple syrup
¾ oz. lemon juice
½ oz. triple sec
1 egg white
Pineapple for garnish
Directions:
Add all ingredients to a shaker, add ice, shake vigorously. Strain into glass and garnish with pineapple.
Chinola Caliente
Ingredients: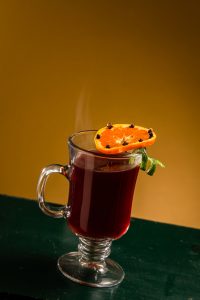 2 Clementines
1.5 Cups White Sugar
2 Cinnamon Sticks
3 Bay Leaves
6 Cloves
1 Whole Vanilla Bean Pod (sliced in half and cut open)
12 oz Chinola
2 Bottles Fruity Red Wine
Directions:
Peel the clementine zest with a peeler. Add 1.5 cups of sugar to a saucepan on medium high heat and squeeze the clementines into the sugar. Add the cinnamon sticks, bay leaves, cloves and vanilla. Pour just enough wine to cover the sugar and spices and stir over medium high heat until sugar dissolves. Raise heat and boil for 4-5 minutes until mix thickness into a syrup. Reduce heat to low and add remaining wine and 12 oz Chinola. Simmer all together until warmed through and serve in mugs.
Señor Martínez
Ingredients: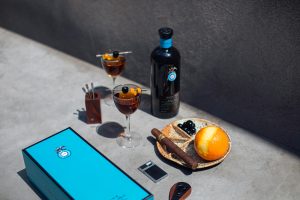 2 oz Casa Dragones Añejo
1 oz Vermouth Rosso
¼ oz Luxardo Maraschino or other Maraschino
Liqueur
3 Dash Chocolate Bitters
Garnish: Orange Twist and Amarena Cherry
Directions:
In a mixing glass, add Casa Dragones Añejo, Vermouth, Maraschino, and bitters. Add ice and stir for 15–20 seconds. Serve in a chilled Nick and Nora glass. Cut an orange peel, using the twist to provide aroma to the cocktail.
Recipe by José Luis León for Casa Dragones.
Celebrating Like it's 1882
Ingredients: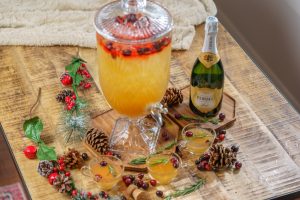 2 cups Finlandia Vodka
1.5 cups pineapple juice
1 cup lemon juice
1/2 cup honey syrup
1 bottle Korbel California Champagne
1/4 cup Aromatic Bitters
Method:
Combine all ingredients in the drink dispenser with ice. Stir to chill and combine ingredients. Garnish with your favorite festive fruits and spices.
Recipe courtesy of Korbel.