Labor Day Weekend is around the corner, marking the unofficial end of summer. Help your guests savor the last sips of the season with these end of summer cocktail recipes.
Buckwheat Honey Old Fashioned
Ingredients: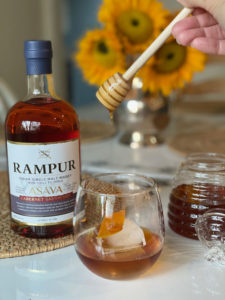 2 oz Rampur Asava Indian Single Malt Whisky
¼ oz buckwheat honey
2-4 dashes Angostura Bitters
Orange peel
Directions:
In the bottom of a large rocks glass, combine the orange peel, bitters, and honey. Muddle to combine flavors and release the orange oil. Add 2 oz Rampur Asava. Stir gently to combine. Add ice, and stir again to further combine the ingredients and chill to dilution.
Sunshine 75
Ingredients: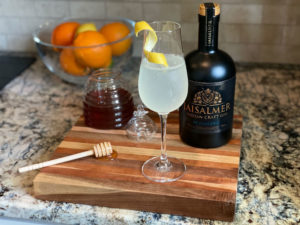 1 oz Jaisalmer Indian Craft Gin
½ oz fresh lemon juice
½ oz orange blossom honey syrup*
3 oz dry champagne
1 drop (ONLY ONE DROP!!!) orange blossom water
*Honey syrup can be made by mixing 2 parts honey with 1 part warm water
Directions:
In a cocktail shaker, combine the gin, citrus, and honey syrup. Shake, but not to bruise. Double strain into a tall flute. Top with dry champagne. Garnish with a lemon twist. Add one drop of orange blossom water.
Shady Beach
Ingredients: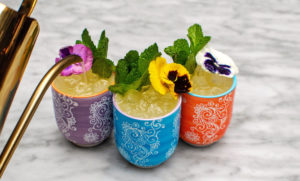 3 oz. Lime Juice
4 oz. Pineapple Juice
3 oz. Liber & Co. Fiery Ginger Syrup
6 oz. Grey Goose Essences Strawberry & Lemongrass Vodka
Directions:
Combine all ingredients in a pitcher or carafe. Serve over crushed iced. Garnish with a sprig of mint and an edible flower, and enjoy.
Recipe by Thomas Mizuno-Moore, Senior Beverage Manager for Aba.
Vacation Friends
Ingredients: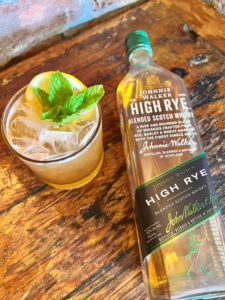 1.5 oz. Johnnie Walker High Rye
.5 oz. L'Orgeat Almond Liqueur
.75 oz. Lemon Juice
1 Dash Angostura Bitters
Glassware: Rocks Glass
Garnish: Mint Sprig and Lime Twist
Directions:
Combine all ingredients into a shaker, add ice and shake for 10 seconds. Strain over fresh ice in a rocks glass and garnish with a mint sprig and a long twist of lime.
Recipe by Lacy Hawkins, Johnnie Walker Brand Ambassador
Ultimate Ocean Poi Dog
Ingredients: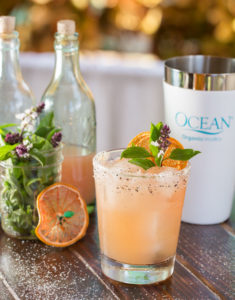 2½ parts Fresh Squeezed Pomelo (or Grapefruit Juice)
¾ parts Yuzu Citrus (¼ parts Yuzu Juice & ½ parts Lemon Juice)
¾ parts Thai Basil and Black Peppercorn Syrup
1½ parts OCEAN Organic Vodka
Directions:
Rim half of Collins glass with salt and pepper. In a mixing tin, combine all ingredients and shake for 10 seconds. Strain over fresh ice into Collins glass. Garnish with one sprig of Italian Basil.
Community Spirit Moscow Mule
Ingredients: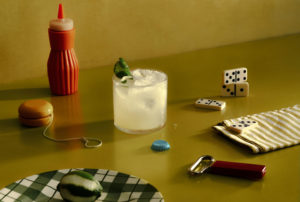 2 parts Community Spirit Vodka
0.5 parts Lime Juice
4 parts Fever Tree
Garnish – lime twist
Directions:
Combine vodka and lime juice in an ice filled glass. Top with ginger beer. Stir gently and garnish with a lime twist.
Beach Mule 
Ingredients: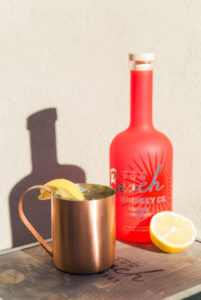 1.5 oz. Beach Whiskey Bonfire Cinnamon
1.5 oz. Club Soda
5 oz. Ginger Beer Lemon
Lime Slices
Directions:
Shake & pour over fresh ice into a rocks glass.
Temptress Gin and Tonic made with Grande Absente
Ingredients: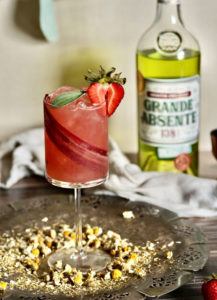 1.5 oz rhubarb- strawberry infused gin
0.25 oz Grande Absente
0.25 oz jack rudy cocktail extra bitter tonic
0.75 oz fresh lemon
0.5 oz sage infused campari
Directions:
Shake vigorously in a shaker with ice, serve over crushed ice. Garnish with fresh rhubarb ribbon, strawberry and sage leaf.
Recipes by @boozy_bartender .
Strawberry Cooler
Ingredients: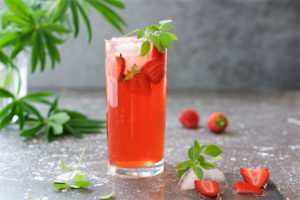 2 oz iichiko Silhouette
0.5 oz Strawberry Liqueur
Topped with Club Soda
Fruit of Choice
Directions:
Mix all ingredients except club soda into a cocktail shaker with ice. Shake, then strain into rocks glass with Ice. Top with club soda and garnish with fruit of choice.
Tuscan Golden Hour
Ingredients: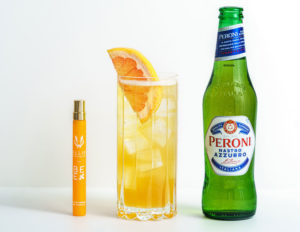 1 ounce of aged rum
½ ounce honey syrup
½ ounce grapefruit juice
5 ounces of Peroni
Garnish with grapefruit slice
Directions:
Add cocktail (aged rum, honey syrup, and grapefruit juice) to glass. Top with Peroni and garnish.
Raspberry Lemon Soda
Ingredients: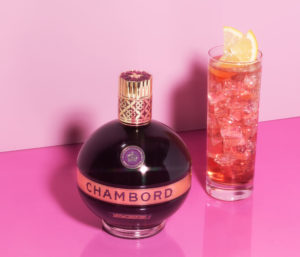 ½ oz Chambord
Juice from ½ lemon
4 oz  soda water
Directions:
Fill a tall glass with ice, add Chambord and fresh lemon juice. Top with soda water, garnish with a lemon and voilà!
Recipe courtesy of Chambord.
Bourbon Bramble
Ingredients: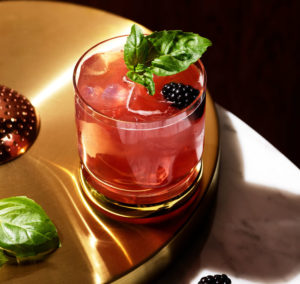 1 1/2 parts Basil Hayden® Kentucky Straight Bourbon Whiskey 3/4 part fresh lemon juice 1/2 part blackberry liqueur 4 blackberries 5 fresh basil leaves
Directions:
Combine basil and blackberries in a cocktail shaker and gently muddle. Add rest of cocktail ingredients to shaker with ice. Shake well. Strain into a glass over fresh ice. Garnish with a basil leaf and fresh blackberries.
Beach Breeze
Ingredients: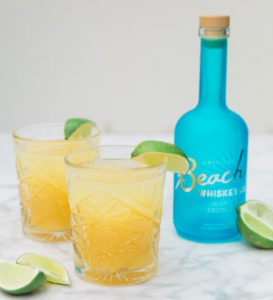 1 oz. Beach Whiskey Island Coconut
1 oz. Cranberry Juice
1 oz. Pineapple Juice
Directions:
Shake and pour over fresh ice into a rocks glass. Garnish with a lime wedge.
The Queen's Road
Ingredients: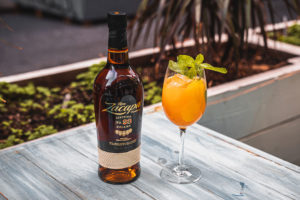 1.5 ounces Zacapa No. 23
.5 ounce orange juice
.5 ounce lime juice
.5 ounce ginger syrup (1:1 fresh ginger juice to sugar, blended)
.5 ounce honey syrup (1:1, honey:water)
1 dash Angostura bitters
Garnish: mint, orange peel
Directions:
Combine all ingredients in a mixing tin and shake with ice. Strain into a chilled rocks glass over ice. Garnish with mint and orange peel.
Recipe courtesy of Lynnette Marrero for Zacapa Rum.