It's hard to believe Labor Day weekend is already upon us. Spend the weekend sending summer off in style with this collection of Labor Day cocktail recipes.
Gin Cucumber Lemonade
Ingredients: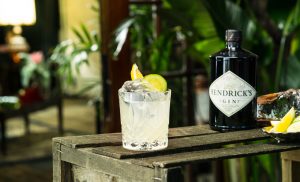 1 1/2 parts Hendrick's Gin
1/2 part Lemon Juice
1/2 part Simple Syrup
Top with Soda Water
3 rounds of Cucumber
1 wheel of Lemon
Directions:
Combine all ingredients in a highball glass filled with cubed ice and lightly stir. Garnish with three thinly sliced rounds of cucumber and 1 lemon wheel and serve.
Only in NY
Ingredients: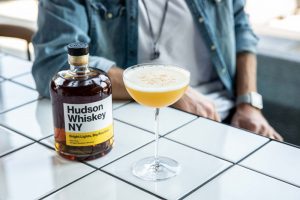 5 parts Hudson Whiskey Bright Lights, Big Bourbon
1 part fresh pineapple juice
.5 part dry vermouth
.5 part simple syrup
.5 part freshly squeezed lime juice
Directions:
Add all the ingredients into a shaker with ice & shake vigorously. Pour the mixture into a chilled coupe cocktail glass. Garnish with grated nutmeg.
Recipe created by William Grant & Sons Manager of Brand Advocacy, Sebastien Derbomez.
NEFT Watermelon Julep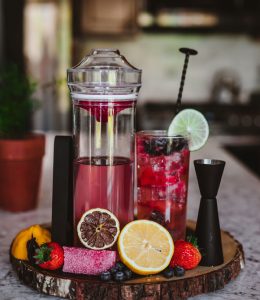 Ingredients:
1.5 oz NEFT ultra-premium vodka
1 oz Fresh watermelon juice
0.5 oz Lemon juice 0.5oz Mint simple syrup
1 Splash of soda water
Directions:
Shake all ingredients in your Shaker33 with ice. Pour into Collins glass. Top with soda. Garnish with watermelon and fresh mint. Enjoy!
Rose Spritzer Pitcher
Ingredients: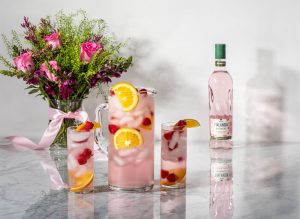 1 part FINLANDIA BOTANICAL Wildberry & Rose
1 part Sparkling wine
2 parts Soda
Directions:
In a pitcher, build and mix all ingredients. Garnish with berries, orange wedges, and rose leaves.
Recipe by Pekka Pellinen, Finlandia Global Mixologist.
Recuerdo Mezcal Mango
Ingredients: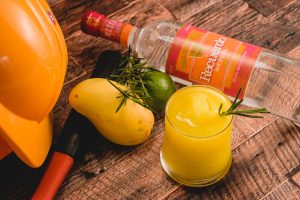 1.5 oz Recuerdo Mezcal Joven
2.5 oz Mango nectar
.5 oz rosemary syrup (1 cup water, 1 cup sugar, 3-4 sticks fresh rosemary – or substitute 2 teaspoons dried. Simply heat the water, sugar, and rosemary to a gentle boil and reduce to a simmer for 1-2 minutes while stirring. Pull off the heat and allow to sit for 30-60 minutes to infuse the rosemary. Cool and strain the rosemary.)
.25 oz lime juice
Ice
Rosemary sprigs
Directions:
Mix all of the ingredients in the blender with plenty of ice, to the consistency of ice cream. Serve frozen in a cocktail glass, garnished with a sprig of rosemary.
Champagne Cup
Ingredients: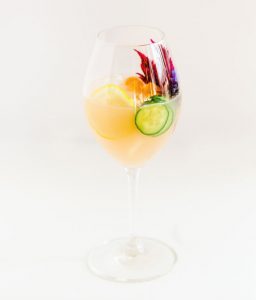 1 ¼ oz Pomp & Whimsy Gin Liqueur
¾ oz Grand Marnier
3 oz brut champagne
1 oz club soda
Directions:
Fill a large wine glass with ice and add ingredients one by one. Garnish with cucumber slices, slice of lemon, orange peel, and florals as you like.
Recipe by Emily McLoughlin, Penrose (New York City) for Pomp & Whimsy.

Smoke & Spice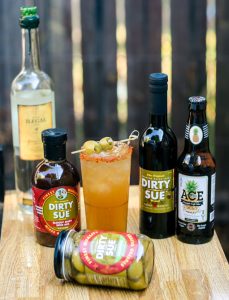 Ingredients:
1 ½ oz Ilegal Joven Mezcal
½ oz Dirty Sue Bloody Mary Spice Mix
¼ oz Dirty Sue Premium Olive Juice
5 oz Ace Pineapple Cider
Directions:
Add all ingredients to a highball glass filled with ice. Stir and garnish with two Dirty Sue Jalapeno Stuffed Olives.
By Claire Mallett, Harvard & Stone (Los Angeles) for Dirty Sue.
Boyne Valley Smash
Ingredients: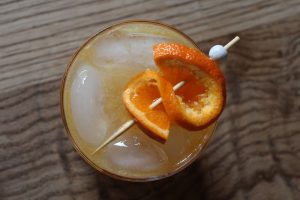 1 ½ oz Slane Irish Whiskey
¼ of a whole lemon
½ clementine or mandarin orange (peeled)
½ oz simple syrup (2:1)*
Top with 1 oz Sparkling water
Directions:
First cut lemon into 8 Pieces, use two Slices, cut them in half, place into glass. Peel mandarin orange and, using ½ of the meat, cut into small pieces. Place in glass. Add simple syrup. Muddle lemon, mandarin, and simple until the juice is completely expelled. Add Slane Irish Whiskey. Add ice and stir briefly. Top with soda. Garnish with mandarin orange wheel.
By Justin Ware, Night Shift (Houston) for Slane Irish Whiskey.
High West Cobbler – Payroll Train
Ingredients: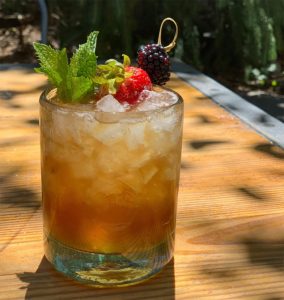 0.5 oz Double Rye
1.5 oz Mixed Berry-infused Oloroso*
0.5 oz Amaro Ciociaro
0.5 oz Cinnamon syrup
0.5 oz Lemon Juice
0.25 oz Smith & Cross
Directions:
For the mixed berry-infused oloroso, fill a quart container with mixed berries (raspberries, cherries, blackberries), cover with oloroso, allow to infuse for 72 hrs at room temperature, strain off. Use within 2 weeksFor the cocktail, Short shake, strain over crushed ice into cobbler glass, garnish with berries and mint.
Dano's Summer Sangria
Ingredients: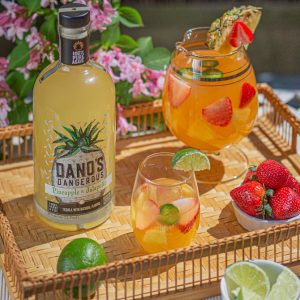 1 Bottle Rose Wine
4 oz Dano's Pineapple & Jalapeno Tequila
3 oz Triple Sec
3 oz Lime Juice
8 oz Orange Juice
Directions:
Chill wine, then combine all ingredients in a pitcher. Add fresh fruit like strawberries, pineapple, and lime wedges. Include jalapeño slices for extra spice. Serve over ice. Makes 4-6 servings.
Tide Turner
Ingredients: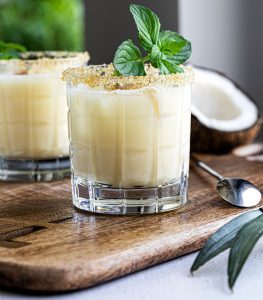 2 oz. RumHaven
2 oz. Pineapple Juice
1 oz. OJ
1 oz. Coconut Cream
Directions:
Add ingredients into an ice-filled shaker, and shake together to combine. Strain into an ice-filled double old fashioned rocks glass. Garnish with mint, a brown sugar rim and a dusting of cinnamon or nutmeg.
Glenmorangie x BBQ
Ingredients: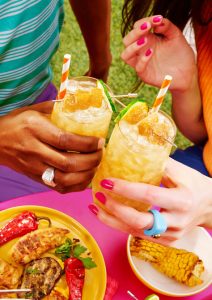 2 oz X by Glenmorangie
2 oz Ginger Beer
Directions:
Fill a highball glass with crushed ice. Add X by Glenmorangie and ginger beer. Stir, squeeze 3 lime wedges over the drink, then use them to garnish.
Neon Night
Ingredients: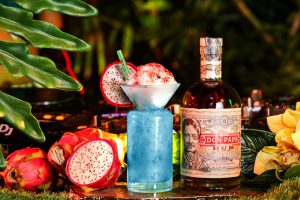 1.5 oz Don Papa 7
2.5 oz fresh dragon fruit, puréed
0.5 oz almond orgeat
0.3 oz yuzu juice
0.3 oz blue curaçao
Directions:
Combine all ingredients in a shaker without ice and shake vigorously to incorporate. Pour into a glass filled with pebble ice, adding more to create a crown over the glass. Garnish with a wheel of fresh dragon fruit and sprinkle with crushed, freeze-dried raspberry.