The Day of the Dead is celebrated on November 1 and 2, and it is marked by family and friends gathering to pay respects and remember friends and family members who have died. The holiday originated in Mexico, but it is now celebrated by many around the world.
Food and drink are a big part of the altars, ofrendas, that family will assemble to honor the dead. As an example, take this Day of the Dead recipe, Remember Me, crafted by Alan Ruesga-Pelayo, National Brand Ambassador for Tequila Cazadores, who says:
My recipe is dedicated to honor my grandfather who passed away many years ago, but I remember very well his love for tequila. He loved to share that love surrounded by his friends. The way that he enjoyed Tequila was drinking it derecho, which means neat. But he never drank Tequila without his favorite botana (snack) of Pico de Gallo. When most people think of Pico de Gallo, they think of a salsa made of tomatoes, diced onion, fresh green chile (such as serrano or jalapeño), lime juice and cilantro. That salsa is also commonly referred to as 'salsa mexicana.' However, the Pico de Gallo used in this cocktail is mainly served in Jalisco, especially during the warm weather months because it's very refreshing. The crisp, crunchy jicama is the base of the recipe, combined with cucumbers, chile de arbol, and oranges for a unique salad. The citrusy dressing is a perfect mix of tart and sweet, and adding a sprinkle of salt and chile powder on top rounds out the flavor.
Remember Me
Ingredients: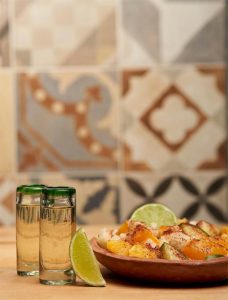 Tequila Cazadores Blanco or Reposado
1 jicama root (medium size; about the size of your two fists facing each other)
1 1/2 Valencia oranges (use 2 oranges if they're small)
1/2 to 1 whole cucumber, sliced (you can cut them into half moons or quarters if you like, and you can also use regular or seedless cucumbers depending on your preference)
2 ounces of Fresh Squeezed Lime Juice, into a copita
1 tsp Sea Salt, into a copita
Sprinkle Tajín (a dry condiment of chile flakes with lime-flavored salt) or chile powder on top as desired
Method: Cut the jicama, cucumber, and orange into carrot stick sized pieces. Mix them all in a bowl. Fresh Lime Juice, Sea Salt, and Tajín or chile powder should be on separate copitas to be served on top as desired. Place some toothpicks snacks on the fruit and vegetables and enjoy with a shot of tequila! **Do not pour the Lime Juice into the bowl in advance of the fruit and vegetables because they will become soggy. Lime Juice should be poured as desired right before enjoying it, as well the salt and tajin.
Recipe by National Brand Ambassador for Tequila Cazadores.
Whether the cocktail is in remembrance or to raise as a toast, we've compiled a collection of recipes to celebrate the Day of the Dead, below.
Calavera
Ingredients: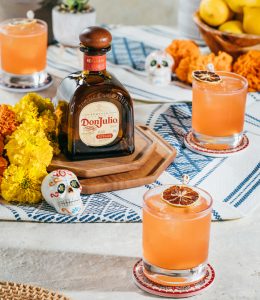 1 oz Tequila Don Julio Reposado
3/4 oz Italian Herbal Liqueur
3/4 oz Fresh Lemon Juice
1/4 oz Honey
Preparation:
Combine Tequila Don Julio Reposado, Italian herbal liqueur, fresh lemon juice and honey into a cocktail shaker with ice. Shake well. Strain contents into a double rocks glass over fresh ice. Garnish with a lemon wheel and candy skull. Garnish with a lemon Wheel and candy skull.
Recipe created by Mixologist Julien Calella for Tequila Don Julio.
Recuerdo Cantaloupe Martini
Ingredients: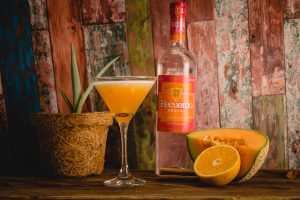 1.5oz Recuerdo Mezcal Joven
2 oz cantaloup juice (fresh)
.5 oz orange juice
.5 oz agave syrup
Cinnamon stick
Mix all ingredients in a shaker filled with ice and serve in a martini glass. Garnish with tiny cantaloupe cubes and the cinnamon stick.
Oaxacan Holiday
Ingredients: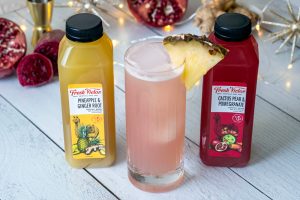 1.5 oz Fresh Victor Pineapple & Ginger Root
.75 oz Fresh Victor Cactus Pear & Pomegranate
2 oz mezcal
1 dash Degroff's Pimento Bitters, Angostura, or other aromatic bitters
Directions:
Build all ingredients over a cocktail shaker full of ice, shake well and strain over ice in a tall glass. Garnish with pineapple pieces.
Recipe by H. Joseph Ehrmann, Chief Mixology Officer, Fresh Victor. Photo by Karina Finch.
Dead Red Old Fashioned
Ingredients: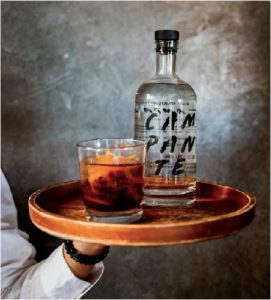 ½ of an Asian Pear
1 teaspoon of sugar
3 dashes of Angostura Bitters
1 1/2 oz of Mezcal Campante
1 clove
2 Ice Cubes
Garnish: Caramelized pear and an orange peel
Directions:
Take an Old Fashioned glass and half of the pear, add sugar and crush it with the help of the mortar, then add the Angostura Bitters, Mezcal Campante, 1 clove and 2 ice cubes, stir the ingredients with the ballerina spoon, decorate with the caramelized pear and orange peel. To caramelize the pear for the garnish, dust the pear with sugar and use a lighter or torch to sear the pear.
Milagro Ofrenda
Ingredients: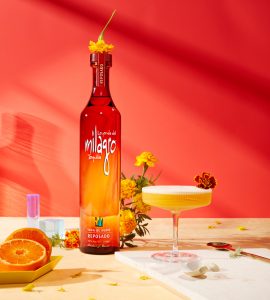 2 Parts Milagro Reposado
1 Part Fresh Mandarin Juice
1/2 Part Fresh Lemon Juice
1/4 Part Green Cardamom (Orange Blossom) Honey Syrup
1/2 Part Egg White
1 Edible Marigold
Directions:
Pour all ingredients into a Boston shaker with ice. Shake vigorously and double strain into a chilled coupe glass. Garnish with edible marigold.
La Pasion
Ingredients: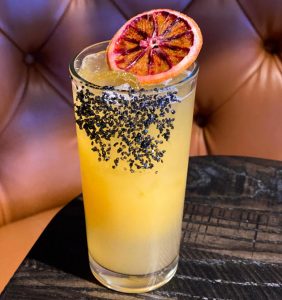 1 1/2 oz Ilegal Mezcal Joven
1/2 oz Creme De Cacao
3/4 oz Lustau Amontillado Sherry
3/4 oz Passion Fruit Syrup*
Topo Chico sparkling water
Hawaiian Black Sea Salt for rimmer
Dehydrated blood orange slice
*For the Passion Fruit Syrup:
2 oz The Perfect Purée Passion Fruit Concentrate, thawed
1 cup water
1 cup sugar
Add water and sugar to pot, heat and dissolve sugar. Take off heat and add Passion Fruit Concentrate. Let cool.
For the cocktail, rim a tall Collins glass with black salt. Combine all ingredients in a shaker tin and shake hard. Strain into a rimmed glass and top with Topo Chico. Garnish with dehydrated blood orange wheel.
Recipe by Casey Willis, Bar Manager, Chelsea Corner Dallas, TX for The Perfect Purée of Napa Valley. Photo by Brynna Ringling.
Day of the Dead Punch

Ingredients: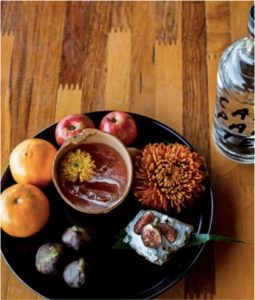 1 Black Mission Fig
4 pods of Cardamom or ⅔ teaspoon dried Cardamom
1 oz Plum syrup
1 oz Mezcal Campante
½ oz Tamarind concentrate*
1 oz of egg whites
1 teaspoon of sugar
2 drops of Angostura Orange Bitters
*If tamarind concentrate or paste is not available, use equal parts lime juice and dark brown sugar.
Garnish: Marigold Flowers
Directions:
Place the following in a glass: 1 fig diced, cardamom, 1 teaspoon of sugar and crush with the mortar.  Add the plum syrup, Mezcal Campante, tamarind concentrate, 2 drops of Angostura orange bitters and egg whites.  Pour into the Boston Shaker and shake well. Strain over ice into an Old Fashioned glass. Garnish with Marigold flowers.
Espolòn Añejo
Ingredients: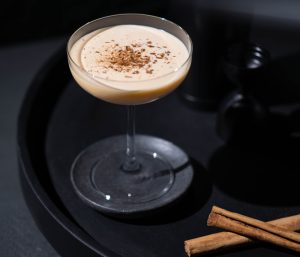 1.5 oz Espolòn Añejo
.5 oz Grand Marnier Cordon Rouge
.75 oz simple syrup
1 oz heavy cream
2 barspoons pumpkin pie puree
Directions:
Build drink in tin, dry shake hard, add ice and shake again. Strain into a coupe glass and garnish with cinnamon.
Recipe courtesy of Espolòn.
Mezcal Negroni
Ingredients: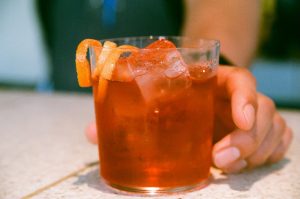 1.25 oz Agua Magica
.75 oz Campari
.75 oz Lustau Vermut
.25 oz Carpano Antica
Directions:
Stir ingredients to temperature in a chilled mixing glass. Strain over a large cube in a chilled rocks glass and garnish with a grapefruit or orange fancy horse's neck twist.
1800 Mexican Nog
Ingredients: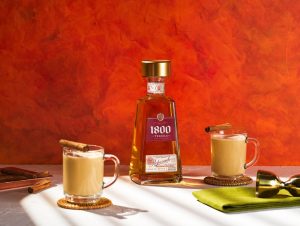 2 oz. 1800 Reposado
1 oz. horchata
1 egg white
1 bar spoon pumpkin butter
2 dashes aromatic bitters
1 pinch cinnamon
Directions:
Combine all ingredients into a cocktail shaker and shake, before adding ice and shaking vigorously. Strain into a glass mug and garnish with a cinnamon stick.
The Eternal Kiss
Ingredients: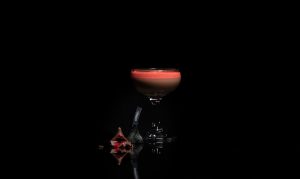 1 oz. Mezcal El Silencio Espadin
4 oz. Whole Milk
1 oz. Heryshey's Chocolate Syrup
3 dashes Angostura Bitters
For the Whipped Cream:
3 oz. Heavy Cream
1.5 oz. Grenadine
Directions:
Make the whipped cream: Pour both ingredients into a mixing bowl and whisk until soft peaks form on the top. Set the whipped cream aside. Pour all of the cocktail ingredients in a glass. Mix the cocktail ingredients to incorporate the chocolate syrup. Add ice and stir to chill. Strain the cocktail into a pre-chilled Nick & Nora glass. Top the cocktail with the whipped cream.