Many mistakenly think Cinco de Mayo celebrates Mexico's independence, but it doesn't—Mexican Independence Day is actually on September 16. Cinco de Mayo instead commemorates the anniversary of Mexico's victory over the French Empire at the Battle of Puebla in 1862 during the Franco-Mexican War.
In current times, Cinco de Mayo has evolved into a celebration of Mexican culture and heritage—especially through food and drink.
We've rounded up a number of recipes to help your bar and its guests raise a toast to Mexico!
Cutwater Spirits Oaxaca Old Fashioned
Ingredients: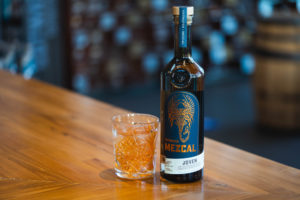 1.5 oz Cutwater Reposado tequila
.5 oz Cutwater Mezcal
.25 oz agave syrup
1 dash angostura bitters
Directions:
Combine ingredients in a shaker with ice. Shake well and strain into an ice-filled rocks
glass. Garnish with an orange zest.
Clean and Skinny Margarita
Ingredients: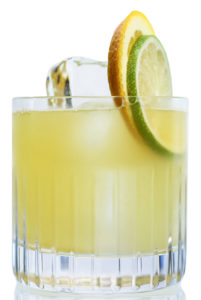 2 oz Clean T
2 oz Fresh Orange Juice
2 (1/6) Wedge of Lime Squeezed add to shaker
1 Small Pinch of Sea Salt
Directions:
Add Clean T, fresh orange juice and a SMALL pinch of sea salt to a cocktail shaker. Take two wedges of fresh lime then squeeze and drop them into the shaker too. Fill the shaker with ice, shake hard and fast, then strain into a tumbler/lowball glass. Fill the glass with ice then garnish with a fine slice of both lime and orange.
Party Punch
Ingredients: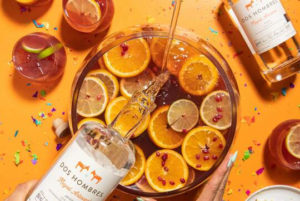 2 Cups Dos Hombres Espadin Mezcal
1 ½ Cups Pomegranate Juice
½ Cup Fresh Orange Juice
¼ Cup Lime Juice
⅛ Cup Orgeat Syrup
2 Cups Blood Orange Soda
Directions:
Add all ingredients to a punch bowl, add ice, stir to incorporate. Garnish with orange slices, lime slices, and pomegranate seeds.
Classic Michelada
Ingredients: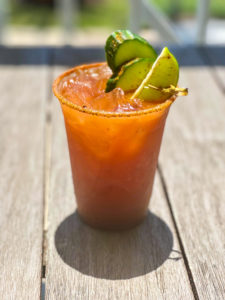 1 pinch salt
1 pinch Cayenne pepper
1 lime wedge
0.5 ounce freshly squeezed lime juice
2 dashes of Worcestershire sauce
2 drops Tabasco sauce
1 pinch ground blackpepper
1 pinch celery salt
Chilled Mexican lager beer
Lime wedge for garnish
Directions:
Add equal parts salt and Cayenne pepper to a plate or shallow bowl. Rub the lime wedge along half of the pin glass' rim and then dip the rim into the salt-cayenne mixture. Add the lime juice, Worcestershire sauce, Tabasco sauce, black pepper and celery salt to the glass. Fill with the chilled Mexican lager beer and garnish with a lime wedge.
Rambler Grapefruit Ranch Water
Ingredients: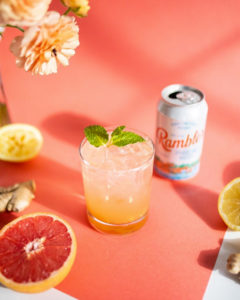 1 part Rambler Sparkling Water
1 part Grapefruit Juice
1 Lime Wedge, squeezed
Directions:
Stir and pour over ice. Use lemon or mint as garnish.
El Rio Picante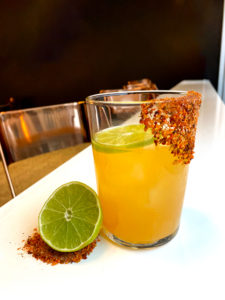 Ingredients:
2 oz. Forge and Foundry Rum
1 oz. The Perfect Purée Chipotle Sour blend, thawed
1/2 oz. pineapple juice
1/2 oz. lime juice
1/4 oz. agave
1 full dropper of Chili Tincture*, (8-10 drops)
Chipotle Salted Rim**
For the *Chili Tincture:
6 small-medium habanero chilis, (with seeds)
Overproof vodka (150 proof)
Directions:
For the Chili Tincture, slice chilis and cover with vodka. Let stand in a closed mason jar 24-48 hours, or until desired chili flavor is achieved. Finely strain into a dropper bottle.
For the cocktail, combine Chipotle Sour, lime, pineapple juice, Chili Tincture and rum in a cocktail shaker. Add ice. Shake 10-15 secs. Strain over fresh ice in a half rimmed rocks glass rimmed with Chipotle Salt. Garnish with lime slice.
Frida Kahlo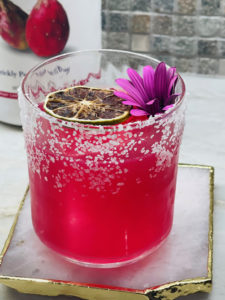 Ingredients:
2 oz. blanco tequila
1/2 oz. Pomp & Whimsy gin liqueur
3/4 oz. The Perfect Purée Prickly Pear puree, thawed
1 oz. lime juice
1/4 oz. simple syrup
Directions:
Combine all ingredients in a cocktail shaker and shake. Strain and serve in an old-fashioned glass with ice.
Recipe by Suzy Tweten / Mixologist, Los Angeles, CA.
Mango Passion Fruit Paloma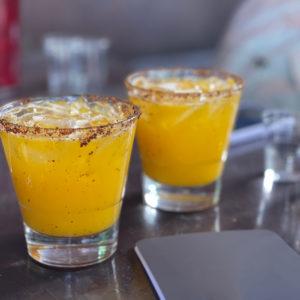 Ingredients:
1 1/2 oz. Tequila Cazadores
1/2 oz. The Perfect Purée Mango Passion Fruit blend, thawed
1/2 oz. fresh lime juice
grapefruit soda
Directions:
In a cocktail shaker, combine all ingredients with ice, minus grapefruit soda. Shake, strain and serve on the rocks. Top with grapefruit soda.
Recipe by Manny Hinojosa, Global Brand Ambassador Tequila Cazadores.
Skrewball Paloma
Ingredients: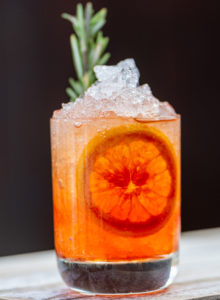 1 oz. Skrewball Peanut Butter Whiskey
¾ oz. Tequila
¼ oz. Aperol
2 oz. Grapefruit Juice
Soda Water
Directions:
Build ingredients over ice. Top with soda water. Garnish with lemon or lime wheel.
Watermelon Meets Lavender
Ingredients: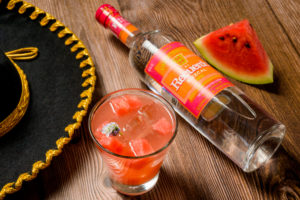 1 ½ oz Recuerdo Mezcal Joven
½ oz orange juice
½ oz simple syrup
2 oz fresh watermelon, diced
1 oz Lavender infusion (to prepare boil 2 cups of water, remove from heat, and add 4 tablespoons dried lavender flowers. Allow to steep for 30 minutes, strain, and cool.)
Sparkling wine
Directions:
In a blender blend the orange juice, lavender infusion, and 1.5 oz of fresh watermelon (reserving .5 oz for garnish). Strain into a shaker with ice, add the Recuerdo Mezcal Joven and simple syrup and shake vigorously. Strain into an old-fashioned glass with ice, top with a splash of sparking wine, and garnish with a lavender flower and remaining watermelon.
Hornitos Don Francisco Margarita
Ingredients: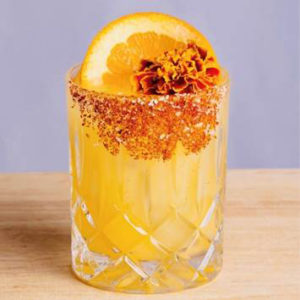 2 Parts Hornitos Plata or Reposado Tequila
1 Part Orange Juice
½ Part Lime Juice
¾ Part Honey Syrup
Orange Wheel
Edible Marigold
Salt & Chili Powder Rim
Directions:
Put equal parts salt and chili powder on a plate. Use an orange or lime wedge to wet the rim of the glass, and gently roll it into the salt/chili powder. Combine cocktail ingredients into a cocktail shaker with ice. Shake and strain into your rimmed rocks glass over fresh ice.
White Peach & Raspberry Margarita
Ingredients: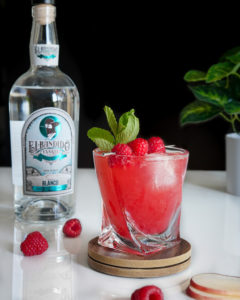 2 oz El Bandido Yankee Blanco Tequila
1.5 oz white peach syrup
4-5 muddled raspberries
1 tsp of sugar
1/2 oz lime juice
Directions:
Mix ingredients in a pitcher filled with ice. Pour over a full glass of ice.
Diablo en la Pista de Baile
Ingredients: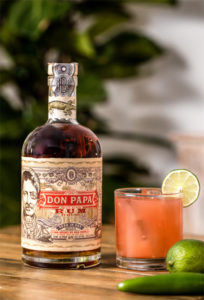 1 1/2oz Don Papa Rum
1/2oz Reposado tequila
3/4oz Guava juice
1 thin disc of Serrano
Chili
1/2oz Lime
1/2oz Agave.
Directions:
Muddle chili disc in shaker. Pour in Don Papa, tequila, guava juice, lime and agave. Add ice and shake. Strain into rocks glass w fresh ice. Garnish w lime wheel.