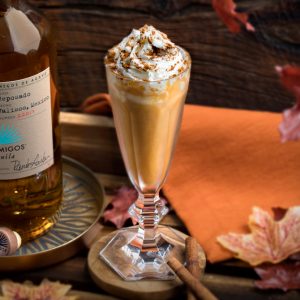 Ingredients:
2.5 oz. Casamigos Reposado Tequila
1 oz. Agave Nectar or Simple Syrup
1 oz. Creme
.25 oz. Almond Liqueur
2 Bar Spoons Organic Canned Pumpkin
2 Dashes Angostura Bitters
1 Pinch Nutmeg
1 Pinch Cinnamon
Directions:
Combine all ingredients into tin shaker. Add ice, shake vigorously, and strain into Irish glass mug. Add dollop of whipped cream and lightly sprinkle nutmeg over top.
Recipe and photo courtesy of Casamigos.