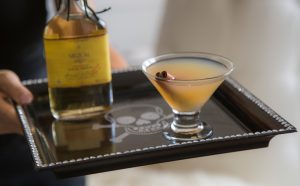 I spent a large part of my life in what I call the "Salmon Phase." This era consisted of me
fighting my way through life—swimming upstream against the current. I was trying to force everything to happen, but the only thing I accomplished was making things harder! One day, exhausted and defeated, I decided to start going with the flow. Once I started to float down the lazy river of life, all the pieces just fell together beautifully.
Fear not, this article isn't about salmon-based cocktails, but it is about how you can make an amazing cocktail by switching out the main ingredient for tequila, mezcal, or sotol!
I know what you're thinking: "Rachael, you lost me at tequila." But I'm going to open your eyes to amazing spirits that are essentially the "cousins" of tequila.
Let's start out in familiar territory: tequila. Originally, to be considered authentic, it had to be made from the blue agave plant in cities surrounding Tequila, Mexico. However, regulations now allow for a "mixto" tequila, which is 51% blue agave. The other 49% is dealer's choice (and that's usually cheap and not the best choice). Mixto can also have artificial colors and additives.
I had the pleasure of experiencing Titanium Tequila Blanco, and CEO Casey Hartle explained what makes this product so smooth. He told me they don't over-distill because, "Allowing the agave to speak is as important as having that refined finish."
Hartle wants the drinker to "enjoy the rewarding flavors of a highlands agave while getting a refined finish that melts off the palette where others leave a heavy burn."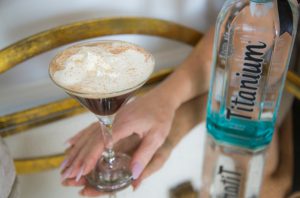 It's a classically created spirit made in Mexico, which blends old and new techniques. They use "organic ingredients as much as possible during the process, as higher quality ingredients make for a better tequila."
Since Titanium was so smooth, I decided to try it in my version of an espresso martini, and the result was a delicious cocktail with extra body, fullness, and flavor layers. By switching out the vodka and adding a smooth, high-end tequila, someone who isn't a vodka drinker can experience a cocktail they might never have ordered. Or, a customer who already imbibes tequila will be exposed to a memorable option that they will come back for.
Next stop: mezcal! Mezcal can use any type of agave (there are over 30 different varieties). Tequila is made by steaming the agave inside industrial ovens, then distilling it up to three times in metal pots. Whereas mezcal calls for cooking the agave in underground pits lined with lava rocks and filled with wood and charcoal before distilling it in clay pots. The result is a delicious, smoky flavor with a surprising hint of saltiness. Using salt and saline is a popular trend on the cocktail scene, and mezcal has it built in!
Smoking cocktails are another huge mixology trend, but you don't have to buy a smoking gun, the smoking box, and wood chips to achieve this. Use a smoky mezcal, and you get all the taste with much less effort. I'm very drawn to working with mezcals because, besides adding an amazing flavor profile to any drink, they are handmade and created in small batches. In other words, this is an exceptional booze.
Because the majority of mezcals are artisanal, most are very exclusive. Yes, these are fine spirits that can hold their own against any great single-malt scotch. You will not find these brands at Señor Frog's in Cancun. Many are created by hand in small villages occupying a particular region of Mexico. Picture a donkey pulling a large grinding stone that mashes the charred and caramelized agave hearts into a pulp before fermentation.
Bruxo Mezcal Brand Ambassadors Anna Karp and David Ruis expanded on the interesting production process, "Bruxo is made in several villages, all of which are a good trip from Oaxaca City. Because we are a collective of mezcaleros, sometimes families and relations work in the palenques. Bruxo No. 2 is produced by Don Pablo and his family."
Bruxo No.2 is considered "joven" or silver, but joven is often blended with a small amount of older mezcal to add some of the richer, more mature characteristics found in reposado and añejo. This is clearly the case with Bruxo No. 2, as it has a buttery hue and more viscosity then a typical silver. In this case, the smokiness takes a back seat to the floral, chocolatey, sweet and spicy notes, and is rich on the saltiness.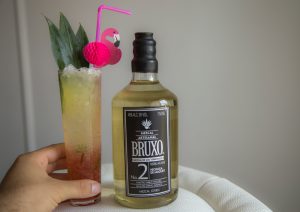 Because the smokiness is subtle, I decided to do a riff on a Tequila Sunrise. With Bruxo No. 2 as the base, I'm already starting with a complex flavor. By adding high-end ingredients like fresh muddled pineapple, lime, and Cocktail & Sons Fassionola Syrup, I created a sophisticated version of a very simple, classic cocktail. A fine spirit like Bruxo Mezcal deserves to be accompanied by equally worthy ingredients, so skip the artificial grenadine!
If you've read any of my previous articles, you know that I am a farm girl with an affinity for all things natural. So when I read the ingredients in Ilegal Mezcal are "100% Agave, Oaxacan Sun, Water, and Time," I was already sold. When I tasted the reposado, I was immediately smitten by the complexity. Each bottle is hand corked, labeled,
and numbered. They are advocates of biodiversity and environmental protection in the Oaxaca region.
Ilegal is the "dude" of mezcals, and I wanted to use it in a recipe that reflected its old-world charm and badass-ness. I made a classic sidecar and used the mezcal in place of cognac. Now I never want a sidecar any other way!
Next up, sotol! Don't worry, I didn't know what this was either. Hacienda De Chihuahua was kind enough to send me a bottle of their Plata and talk about this pure, richly flavored, highly valued, 800-year-old spirit. "It is an organic agavacea, wild-harvested in the Chihuahuan Desert of Northern Mexico, which takes 15 years to mature," said Hacienda De Chihuahua. The master distiller "meticulously oversees our state-of-the-art production process, which starts by slow steam cooking the wild-harvested plants, and naturally ferments them with champagne yeast." Their Plata (or un-aged) is twice distilled in double-column copper and directly bottled.
My first sip reaction was wow. It had so many appealing flavors—mint, fresh cut grass, subtle sweetness, herbaceous, and even a slight vanilla finish.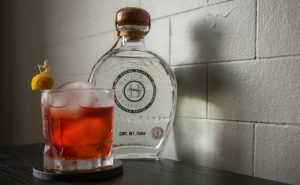 I had a notion that this would be great in my favorite cocktail, a negroni, and I was right. Because sotol is similar to gin in that it is rich with a multitude of flavors, it held its own. I made my negroni with the new Galliano L'Aperitivo and Carpano Antica Formula Sweet Vermouth, but you can play around with your favorites.
These four brands are high-end, delicious, and master crafted, so I would encourage you to have your customers try them straight up or on the rocks. Adding them to a classic cocktail could also make the difference between a good drink that fades from memory, and an unforgettable visit to your establishment. Add these three liquors to your bar, and float down life's lazy river as your profits soar!
By Rachael Robbins, who owns Chickologist, a cocktail consulting company. Her objective is to infiltrate "the boy's club of mixology" and show that chicks can mix a mean drink too. She's tended bar in NYC, Miami, LA, & NJ for 20 years. She opened a speakeasy in Jersey City and created innovative cocktails. She's the in-house Mixologist for VDKA 6100. Reach her at chickologist.com or @chickologist.
Photos by Chris Capaci: @capacityimages or capacityimages.com.
Recipes:
(All by Rachael Robbins)
Splitting Lanes
(Sidecar Variation)
1.5 oz Ilegal Reposado Mezcal
1 oz Triple sec
.5 oz Lemon juice
.5 oz Lime juice
1/4 oz Allspice Dram
Stir until chilled and serve up in a martini glass. Garnish with a cinnamon stick.
Is that Sotol Is?
(Negroni variation)
1 oz Hacienda De Chihuahua Sotol Plata
1 oz Sweet Vermouth
1 oz Galliano L'Aperitivo
Stir all ingredients until chilled. Serve with one large ice cube. Garnish with a lemon twist.
Dirty Chai Martini
(Espresso Martini variation)
1 oz Titanium Blanco Tequila
1.5 oz Kahlúa
.5 oz Espresso
.5 oz Grand Marnier
4 dashes Dale DeGroff's Pimento Aromatic Bitters
Shake all ingredients until chilled. Serve up in a martini glass. Top with fresh, unsweetened whipped cream and grated nutmeg.
Just Another Mezcal Sunset
(variation on a Tequila Sunrise)
2 oz Bruxo No. 2 Mezcal Joven
2 oz Fresh Pineapple juice
1 oz Lime juice
1 oz Cocktail & Sons Fassionola Syrup
Add the Fassionola Syrup to the bottom of a thin Collins glass. Chill the rest of the ingredients. Add crushed ice to glass. Top with chilled mixture. Garnish with pineapple leaves.