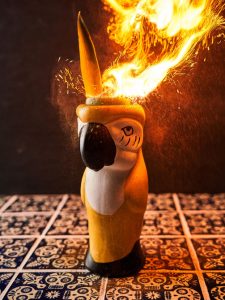 Ingredients:
1 oz Altos Reposado Tequila
1 oz Plantation Pineapple Rum
1/2 oz Plantation OFTD Overproof Rum
1/3 oz Del Maguey Vida Mezcal
3/4 oz Giffard Caribbean Pineapple Liqueur
1 oz Real Passionfruit Syrup
1/3 oz House Grenadine
1/4 oz House Cinnamon Syrup
1 oz Lemon Juice
1 oz Lime Juice
Dash Grapefruit Bitters
Directions:
Add all ingredients to a shaker with large cubes, shake well, and strain over large cubes into your favorite tiki mug. Garnish well with pineapple fronds, cherries, and/or an orange slice.
Recipe and photo courtesy of Sophomore Spanish Club.