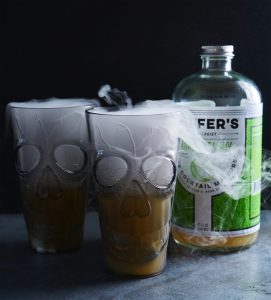 Ingredients:
2.5 oz Taffer's Margarita Mix
1.5 oz Mezcal
Slice of lime
Dry Ice
Directions:
Place a couple small pieces of dry ice in the bottom of a Halloween themed glass. Place a lime slice on top of the dry ice. Fill a cocktail shaker with ice and pour mezcal and margarita mix into the shaker and shake until cold. Pour over the dry ice and serve!
Photo and recipe courtesy of Taffer's Mixologist.