The unofficial start of summer is around the corner–Memorial Day Weekend! We've collected a number of refreshing, bright cocktails perfect for summer sipping. Consider adding one or more of these Memorial Day cocktail recipes to your bar menus!
Ketel One Green Mary
Ingredients: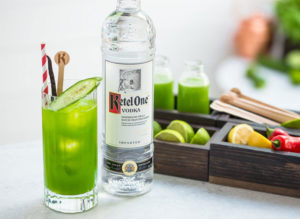 1 oz Ketel One Family-Made Vodka
3.5 oz freshly juiced equal parts of celery and cucumber
.5 oz freshly squeezed lime
1 pinch of rock salt, pepper, cinnamon, nutmeg and dried chili flakes
Directions:
Add all ingredients to the glass, stir well, add ice. Garnish with a salted cucumber slice.
Recipe courtesy of Ketel One.
BACARDÍ Life's A Beach (Group Serve)
Ingredients:

9 oz BACARDÍ Añejo Cuatro Rum
4 ½ oz Real® passionfruit puree-infused syrup
4 ½ oz lime juice
9 oz coconut water
Directions:
Mix all ingredients together in a punch bowl and serve in highball glasses cubed over ice. Garnish with a pineapple leaf and/or pineapple wedge.
Barbados Cosmo
Ingredients: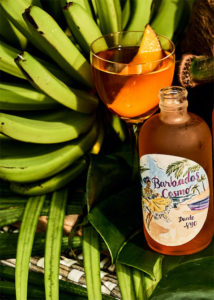 2.5 oz Mount Gay XO
.25 oz Combier Passion Fruit Liqueur
.25 oz Sunshine Cordial
1.25 oz White Wine
1.75 oz White Cranberry
GARNISH:
Mango Wedge
Directions:
Stir and Strain into a cosmo glass. Garnish with a mango wedge.
Recipe by Chris Moore, Head Bartender at Dante West Village in the West Village, NYC
Pineapple + Passionfruit
Ingredients: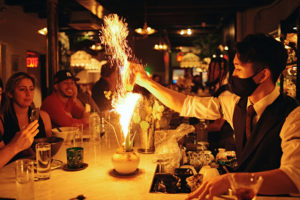 1.5 oz Passion fruit tea infused rum
2/3 oz Chinola passion fruit liquor
0.5 oz Passion fruit purée
1/3 oz Vanilla
2 oz Pineapple
0.5 oz Lime
0.5 oz High proof rum
GARNISH:
Cinnamon powder
Directions:
Pour into a short antique vase and flambé.
Recipe by Shige Kabashima for NR (Upper East Side, NYC)
Long Weekend
Ingredients: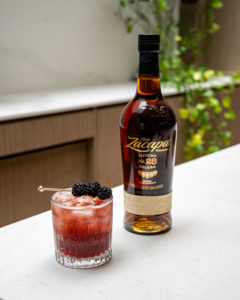 1 oz Zacapa rum
1/2 oz lemon juice
1/2 oz blackberry/lavender honey syrup (1:1, honey:water)
Champagne (or any dry sparkling wine)
Garnish: blackberry
Directions:
For the lavender blackberry honey syrup, place 10 blackberries in a pot and muddle. To the pot add 1 cup of honey, 1 cup of water, 6 Teaspoons of dry lavender. Bring all the ingredients to over medium heat, then let simmer, stirring occasionally to dissolve sugar and until you smell the lavender. Strain and Seal in a container. Store in a cool place, it will keep for two months. For the cocktail, add Zacapa rum, lemon juice, and blackberry/lavender honey syrup to a cocktail shaker. Add ice and shake until chilled. Strain over ice into a rocks glass. Top with Champagne and garnish with a lemon twist and blackberry.
By Lynnette Marrero for Zacapa Rum.
Summertime Punch
Ingredients: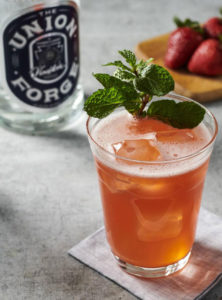 2 oz The Union Forge Vodka
1 ¾ oz Watermelon Juice
2 Strawberries
¾ oz Mint Syrup
½ oz Fresh Lime Juice
Mint Spring (Garnish)
Directions:
Add all ingredients to a shaker with ice and shake vigorously. Strain into a glass and add mint sprig and strawberry garnish.
Bulleit Bourbon Swizzle
Ingredients: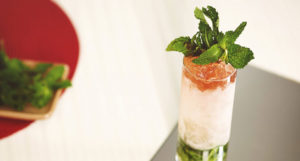 1.3 oz. Bulleit Bourbon
1 oz. Lemon Juice
0.75 oz. Simple Syrup
0.25 oz. Ginger Syrup
3 Mint Sprigs (take off leaves, remove stems)
3 Dashes Aromatic Bitters
3 Dashes Peychaud's Bitters
Directions:
Dry shake, pour into a highball glass, top with ice and swizzle, keeping the mint on the bottom and top with more crushed ice. Garnish with three dashes each of aromatics and Peychaud's bitters, a mint sprig, and candied ginger.
Raspados
Ingredients: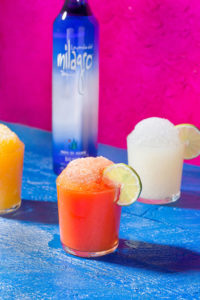 2 Parts Milagro Silver
1 Part Fresh Lime Juice
1 Part Fruit Juice (Lime/Mango/Papaya)
1/2 Part Agave Nectar
1 Lime Wheel Or Mango/Papaya Slice
Directions:
Pour all ingredients into a Boston shaker with ice. Shake vigorously. Using your method of choice, make your "snow" ice and pack it in a cone or rocks glass, and pour the mix over. Garnish with a corresponding fruit or a lime wheel.
Hendrick's Hibiscus Collins
Ingredients: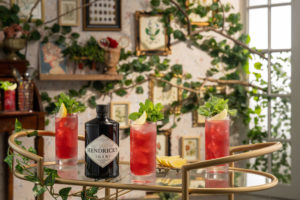 2 parts Hendrick's Gin
¾ parts Hibiscus Syrup
3/4 parts Lemon Juice
Top with Soda Water Mint Sprig & Lemon twist to garnish
Directions:
Combine ingredients in a highball glass filled with cubed ice and lightly stir. Garnish with a mint sprigs & lemon twist and serve.