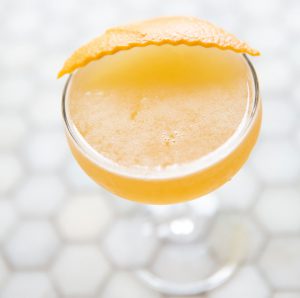 Ingredients:
1.5 oz. Barr Hill Gin
0.75 oz. Amaro Meletti
0.25 oz. Luxardo Maraschino
0.75 oz fresh lemon juice
0.5 oz. honey syrup (2:1 by weight)
2 dash grapefruit bitters
Directions:
Combine ingredients in mixing tin, add ice, shake, and double strain into coupe. Garnish with an orange twist (also a thyme prig if available).
Recipe courtesy of Caledonia Spirits' Barr Hill Gin. Made and photographed at Monarch & The Milkweed in Burlington, Vermont.