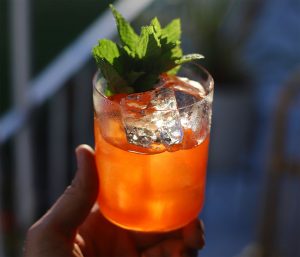 Ingredients:
1 ½ oz @LegentBourbon
½ oz Ginger Liqueur
¾ oz Fresh Lemon Juice
½ oz Simple Syrup
1 Strawberry
2 Dashes Rhubarb Bitters
1 Dash Aromatic Bitters
Garnish: Sprig of mint and slice of lemon
Directions:
Add the strawberry to your shaking tin and muddle. Add all remaining ingredients and then add ice. Shake well and strain over ice into a rocks glass. Garnish with a sprig of mint and a slice of lemon.