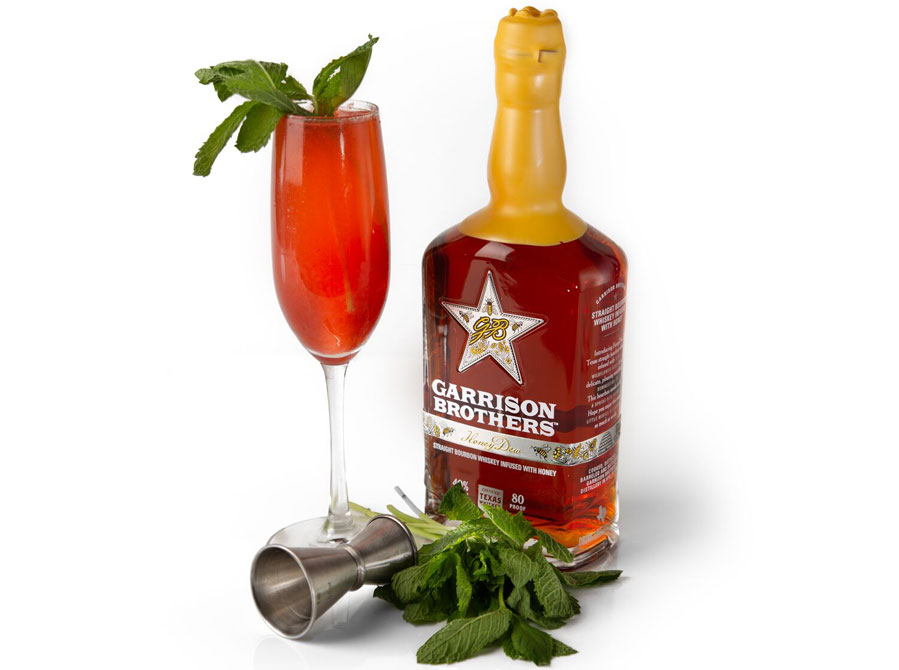 Ingredients:
1.5 oz. Garrison Brothers HoneyDew or Small Batch
.25 o.z Aperol
.5 oz. Lemon Juice
.5 oz. Berry Syrup (Raspberry/Strawberry)
2 Dashes Burlesque Bitters (or Cranberry bitters)
Prosecco
Mint
Directions:
To make the strawberry rose syrup, take:
500g Rosé wine
500g Sugar
4 cups Berries (raspberry or strawberry)
De-stem & quarter strawberries. For raspberries they're good to go. Combine rosé and sugar in sauce pan and dissolve sugar, add berries, bring to almost boiling, cut to a simmer, steep 20 min. Strain through chinois (strainer), ice bath, store cold.
For the cocktail, add HoneyDew, Aperol, lemon juice and berry syrup to a shaking tin. Whip shake and double strain into a champagne flute. Top with prosecco and garnish with mint leaves.
Recipe courtesy of Garrison Brothers Distillery.