Teeling Whiskey is dedicated to bringing new and innovative flavors to Irish Whiskey. Inspired by both traditional and unconventional techniques in distillation and maturation through unique cask finishes, Teeling Whiskey is creating small batch bottlings of true character, never tasted before, raising the bar for Irish Whiskey with over 230 International Whiskey awards.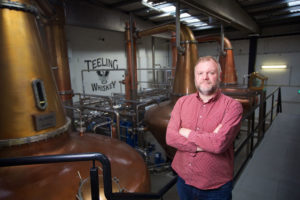 We recently spoke with Teeling Master Distiller Alex Chasko and Global Ambassador Rob Caldwell about the brand's latest release—Wonders of Wood—as well as whiskey trends, and how to best use Irish Whiskey in cocktails. Read the full Q&A below!
Bar Business Magazine (BBM): How did you decide on Chinkapin American White Oak for aging the new Teeling release, Teeling Wonders of Wood Single Pot Still Chinkapin Oak Whiskey?
Alex Chasko (AC): At Teeling Whiskey, we are always looking for ways to innovate and bring new complexity and flavor to the Irish whiskey category. We have had success with new American White Oak, and for this special release, I researched native Eastern and Central North American oak casks to find something that would excite global whiskey drinkers. The use of Chinkapin Oak in rye whiskey is not uncommon, but it has not traditionally been used for Irish whiskey. When it is used for the maturation of our Single Pot Still Whiskey, it produces remarkable coffee and spicy notes in the whiskey.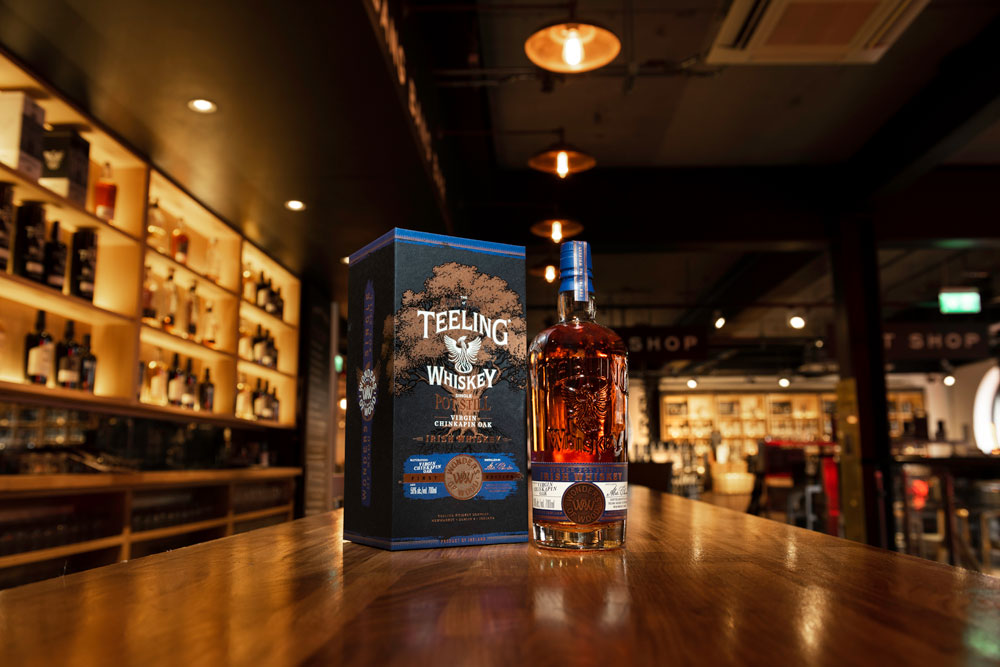 BBM: What specific characteristics does the wood impart to the whiskey?
AC: The use of Chinkapin Oak on our signature 50% malted barley and 50% unmalted barley recipe for Single Pot Still whiskey adds a distinctive gingerbread spice and banana bread sweetness that is not traditionally found in Irish whiskey.  There is less of the vanilla influence that you would expect with American Oak and more of the spicy earthy notes that can be found in European Oak. I think that Chinkapin is an interesting bridge from what we would associate with American and European Oak influences on whiskey.
BBM: What else can we expect from the Wonders of Wood series?
AC: We will continue to look at other unique cask types for our Wonders of Wood series and look forward to strengthening our partnership with the Tree Council of Ireland, to cultivate and help with the replanting of native Irish forests.  At the moment we have a wide range of oak and non-oak woods in the warehouse that we are reviewing for future releases.
BBM: Can you share details around any recent whiskey trends that you've seen recently?
AC: There are several interesting trends happening right now in the use of unique casks and non-traditional raw materials in Irish whiskey. I think that the industry is going to continue to show customers that they can discover new flavors and aromas.  The drive to create new and unique Irish whiskey is core to the ethos of the Teeling Whiskey Company. From our unique cask types used to age our vintage single malt to innovations around yeast and malt used to make our Single Pot Still, the Teeling Whiskey Company is dedicated to bringing whiskey lovers the next new Irish whiskey.
BBM: Any advice for how bartenders can best use Irish whiskey in cocktails? 
Rob Caldwell (RC): The main thing to take into consideration when using Irish whiskey in cocktails is "what style of Irish whiskey are you using?"
Is it a Single Malt, Single Pot Still, Peated, Unpeated etc. The idea that Irish whiskey is more similar than it is different is a statement that is a decade out of date, as the category has exploded in popularity over the last 10 years. Taste the whiskey you're using and look to highlight the flavors found within it.
For example, our award-winning Teeling Small Batch Whiskey is a premium blend of corn-based whiskey and Irish Malt that has been married in Central American rum casks.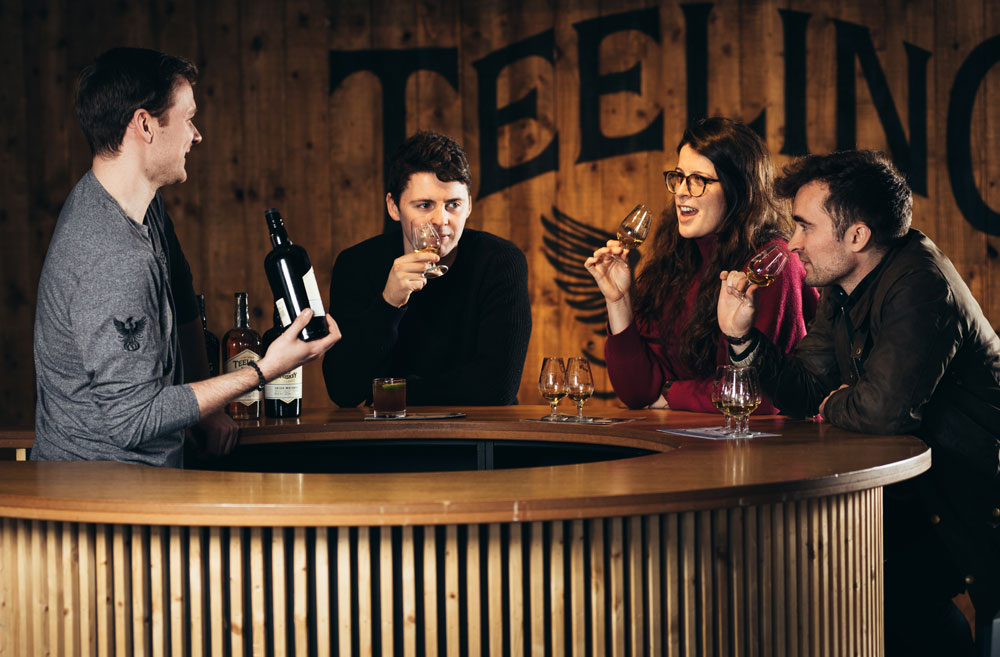 The corn brings a sweetness, with vanilla, butterscotch, honeycomb, & caramel. Irish Malt is packed with orchard fruits, apples, peaches and pears. The rum brings a depth of character with figs, apricots, dates, cloves, and pimento. Bottled at 92 proof and non-chill filtered, it is quite a complex and bold whiskey but also one of the most versatile whiskeys for use in cocktails.
We've seen bartenders from all over the world highlighting each of the above flavours in a vast range of cocktails, really pushing the boundaries of what is possible with Irish whiskey. They are creating traditional cocktails from many other spirit categories and subbing in Irish whiskey for the likes of rum, bourbon, cognac, tequila and even gin in some cases.
If you're complimenting your high-quality Irish whiskey with other high-quality ingredients, you'll find quite an array of options available to enjoy.
Be confident, be adventurous and enjoy your Irish Whiskey
BBM: Do you have a favorite Teeling cocktail recipe you could share? 
RC: Since Teeling Small Batch Whiskey is incredibly versatile, it's nice to begin/ return to old favorites. Old Fashioned, Pina Colada, Highball, Whiskey Sour etc..
For me, that's always an Irish Coffee depending on the season. I always love to work with our local coffee brewers here in Dublin to find a special roast that enhances our whiskey.
Teeling Irish Coffee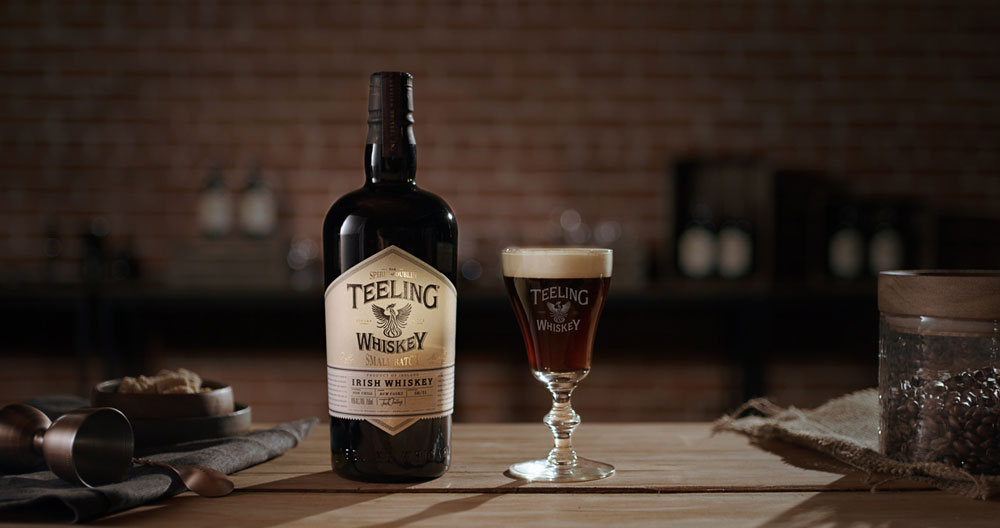 Ingredients:
1 1/2 parts Teeling Small Batch Irish Whiskey
4 parts Local Coffee Roast
1/2 part Demerara Syrup
Table spoon of heavy cream
Directions:
In a heated 6oz. Irish Coffee glass, mix Teeling Whiskey, syrup, brewed coffee and stir to combine. Top with cream from the back of a bar spoon. Garnish with grated nutmeg.