Bar Business Media recently chatted with King Cocktail himself—Dale DeGroff. DeGroff is a bartender, author, and a cocktail expert with decades of experience, including his time at the Rainbow Room in New York City. DeGroff is known for his 2002 essential tome, The Craft of the Cocktail, and he recently released an updated edition titled, The New Craft of the Cocktail.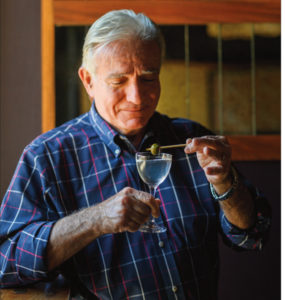 "I always thought of The Craft 2002 as a book of its time, and we've passed that time," says DeGroff, who explains that he wanted to impart new knowledge from his travels and conversations with bartenders.
He points out that some of the information in the book is timeless, while the industry is still learning to adopt other pieces of advice, like the use of fresh juices. "The fresh juices and all that stuff, I hate to say it, but it was revolutionary back in 2002. And sadly, we haven't won that battle yet. We can't claim victory yet just because the craft movement is doing that; that's a relatively small portion of the market," says DeGroff. "There is a tremendous amount of pressure from the public for people to have real ingredients and fresh ingredients. So I think you're seeing more and more even larger upscale chains saying, 'Yeah, we've got to do this.'"
But plenty has changed in the new edition. For one, rather than focusing on tools and technique, DeGroff shifts his focus to culinary influences as more and more botanicals, spices, fruits, vegetables, etc. can now be found in a cocktail glass. He also touches on the "roots" or "mother sauces" of all cocktail types. "We're so culinary in the new millennium with a cocktail," he says.
One of the biggest additions has come in the form of specific brands added to the cocktail recipes. "We can actually focus the flavor of the brand into the drink itself," says DeGroff. "Almost every cocktail in The New Craft is branded either by me or by my guest bartenders. I tried to shine a very bright light on the craft movement by bringing guests in and giving them credit, letting them choose the brand that they wanted to have in their drinks."
And bartenders are a huge part of the craft movement. DeGroff said in his book and in our conversation that the profession has now been legitimized as a career. It is also a position that's key to the success of a bar. "We go to bartenders, not bars. Period," he says. "There is no other business of any kind where the interactions with your customers are so intimate, so personal, so experiential. I mean, there's joy, there's celebration, there's community. There is a sense of belonging."
Given the worker shortage and the labor to make certain craft cocktails, built-in efficiencies are key to give time back to bartenders to spend with guests.
DeGroff sees the use of RTDs and quality bottled tonics and mixers, which cut down on drink preparation time, exploding across the industry. This also feeds into the demand for quality mixers.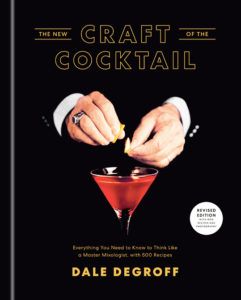 Other methods like cocktails on draft or batching, which DeGroff has done as far back as at the Rainbow Room, are great ways to get craft cocktails out to large groups. He uses the example of prepping a shrub ahead of time, "With a proper shrub or a refrigerator full of them at a bar, a party walks in and your sales acumen says, 'Have I got a drink for the seven of you! How would you like a rye whiskey punch or a cognac punch?' You've got the shrubs, all you do is add the spirit and the modifier that changes it for that spirit, and you've just taken care of seven people."
DeGroff also sees room for improvement in bar design, specifically, behind the bar. "We need garde manger stations," he says. "In other words, our bar below needs to have refrigerated drawers for everything, freezer drawers for different types of ice. And that's happening now. We need so many things that will make this craft movement so much easier and profitable."
As for trends in craft cocktails, DeGroff sees the rising influence of spirits from the Pacific Rim area like baiju, which is one of the largest white spirits in the world.
He also mentions the explosion of whiskey from places all over the world like Japan, India, France, and of course, America. "They're doing so many different kinds of crazy things, which is delightful."