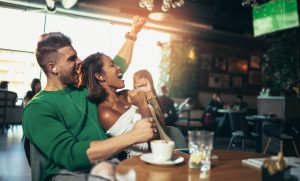 Bar owners today operate in an incredibly competitive environment. As such, more and more operators are looking for unique and innovative entertainment solutions to give their customers additional benefits and incentives for visiting their venues.
Bar owners are increasingly focused on engaging with their consumers on a more reliable and recurring basis. As a result, they are recognizing the vital role entertainment technology can play in their marketing efforts as well as how investing in that technology can help them further connect to their customers.
Social & Sports
According to Tom Finn, Vice President of Franchise Development at the Greene Turtle Sports Bar & Grille based in Columbia, Maryland, TVs are a central component to the experience at The Greene Turtle. In fact, there are typically anywhere from 50 to 60 screens in every location.
"From setting the atmosphere to providing entertainment and a social element for all guests to attracting people who want to watch specific games with friends and other fans to making us a destination for big ticket events like championships or highly publicized competitions, TVs and the programming we show make The Greene Turtle the place to gather with others and catch all your favorite teams and athletes," says Finn.
Several of The Greene Turtle's locations also use the screens to advertise specials and special events, further benefiting the bottom line.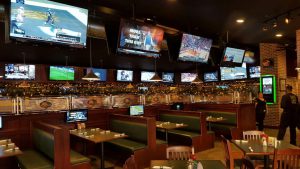 The restaurant also offers smaller screens in each booth that can be individually programmed by the guests—giving everyone in the dining party control over what they want to watch.
At The Greene Turtle, this interactivity is key to the entertainment programming offered. By giving each booth in the restaurant its own programmable TV screen, guests are now able to select a specific game to watch up close, or to turn on other programming to entertain their kids while they dine or for others in their party to watch while they view a broadcast on one of the overhead screens.
"Each big screen overhead is numbered, so that guests can request a specific program to be broadcast on the [screen] of which they have the best view," says Finn.
According to Finn, TVs, and more specifically the programming The Greene Turtle airs on them, definitely add a level of excitement to the atmosphere and help perfect the sports theme that the restaurants maintain.
"A critical part of our strategy is to offer something for everyone," says Finn. "The TV's there for the fans who want to watch a specific event or the guests who simply want to watch something while they dine, but they're not so overwhelming that other guests can't sit and have an enjoyable meal and conversation with others in their party."
From a marketing perspective, the technology allows The Greene Turtle to host special viewing events when major competitions like championships, key boxing or MMA bouts, popular tournaments, and other events air. The TVs have also helped amplify the company's marketing message with ads for specials or upcoming events at specific locations interspersed within the broadcasts.
Interactivity Know-How
Just as bars are improving their interactivity with customers, so too are companies looking to enhance the technology being used. One such company is UPshow, which transforms how businesses leverage their existing TVs and the smartphones in their customers' pockets to enhance engagement, drive sales, and also improve their marketing ROI.
As Adam Hirsen, CEO and Co-Founder of UPshow explains, UPshow's platform gives venues total control over their TV screens to showcase brand and customer-generated social media content, feature promotions, and provide hyperlocal entertainment curated just for the location.
"UPshow provides owners the ability to create their bar's very own marketing and entertainment channel," says Hirsen. "Bar owners can choose from a variety of features to achieve the content mix that is right for them."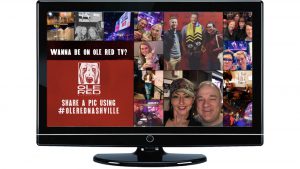 Whether it's customer-generated content, local sports team highlights, or funny viral videos, these entertaining features draw   customers' attention.
"Once customers' eyes are glued to the screen, businesses can showcase their own promotions to feature specials, events, and/or new items," Hirsen says.
UPshow also is simple to install. Once bar owners plug UPshow's Google Chromebit device into the HDMI port of their TV, the onscreen content can be managed from anywhere, via desktop or mobile, using the cloud-based control panel.
"UPshow's enhanced comprehensive social media CRM and analytics database allows owners to analyze their venues' data to enhance their marketing efforts," says Hirsen. "The analytics include data about customer interactions at their bar, how they choose to do so, and how frequently they do so.
"This allows owners to optimize onscreen content for their audience, as well drive engagement with their most important customers."
Embracing Challenges
Ryan Walker, Product Marketing Manager for Listen Technologies, says sports bars provide an entertaining and exciting viewing environment for sports fans. But one challenge sports bars face is how to deliver audio to viewers in the bar with many different channels and games showing at the same time.
"Our Listen EVERYWHERE product provides audio over Wi-Fi directly to a viewers' smartphone via our free Listen EVERYWHERE app," says Walker. "This enhances the viewers' experience by giving them the option to select any game that is playing within the bar and hear the play-by-play."
Listen Technologies enables complete branding customization within the Listen EVERYWHERE app so that the viewer experiences a continuation of the sports bar's brand.
Customization branding options for bars include adding a menu, promotional ads, and even special offers/coupons.
As Walker explains, a Listen EVERYWHERE server is installed and connected to the audio feed of each unique channel for which the bar wants to provide audio. The viewer downloads the Listen EVERYWHERE app and connects to the bar's Wi-Fi. Within the app, the viewer simply selects the channel they want to listen to. The venue has the option to fully customize the names of the channels or add channel logos.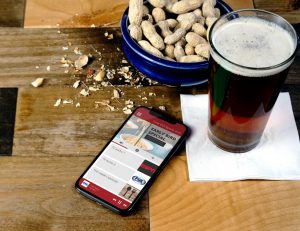 "We launched the Listen EVERYWHERE server line in January of this year, which included four server options ranging from a two-channel server up to a 16-channel server," says Walker. "Additionally, the launch of the Listen EVERYWHERE servers expanded the number of simultaneous users to up to 1,000—more than enough for the typical sports bar environment."
And once the server is set up and a bar has made customizations using cloud services, there is little-to-no maintenance. The venue simply makes viewers aware of the technology and the opportunity to listen to any of the channels that are playing.
"Awareness can be done through posters, table toppers, TV labels, and window clings, all of which we offer in an awareness kit," explains Walker. "We can also help the sports bar come up with creative ideas and content to promote the technology for special games or key events."
The Listen Technologies team is really excited about the recent launch of the new Listen EVERYWHERE servers, and they are always looking into the future for what's next, including exploring possible capabilities that could evolve the way audio is delivered to tables within the restaurant/bar environment.
"We believe that great audio improves and enhances our lives," says Walker, "and we are dedicated to being a catalyst in driving the future of personal audio experiences."
By Maura Keller
Photos (top to bottom): Listen Technologies, The Greene Turtle, UPshow, Listen Technologies.