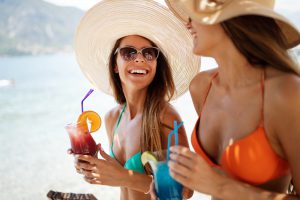 Lighter options are the name of the game this summer as bars update their cocktail menus with plenty of refreshing choices.
"This summer is going to be all about tropical drinks, fresh, and light," predicts Karol Ansaldi, Beverage Manager of Florida's Planta South Beach.
Build tropical drinks that feature color and floral notes to help carry bar-goers through the summer season. "I think the world is going to stick with fruit-forward liqueur spritzes for daytime use and ever-fresher margaritas," says Mat Snapp, Beverage Director for Fox Restaurant Concepts.
Jose Gill, Beverage Manager at Florida's American Social Bar & Kitchen, agrees, "Balanced sours, garden-based cocktails, Tiki-style cocktails, mocktails (non-alcoholic), and colorful, floral cocktails are what I believe will be very popular this coming summer."
The low-ABV/non-alcoholic trend also lends itself well to sipping in the summer heat.
"Think refreshing and light," says Angela Ryskiewicz, Bar Manager at Brandon's and 6th & La Brea in Los Angeles. "So, a focus on lower-ABV cocktails and effervescence."
According to Snapp, a low-ABV cocktail likely to rise in popularity this season is Ranch Water, which is simply tequila, lime, and Topo Chico. "Keep your eye out for Ranch Water variations with Topo Chico—I'm seeing some great ones lately," he says.
Ingredients like citrus and fresh fruits continue to be mainstays on summer cocktail menus. "Some of the ingredients that work great for summer drinks are watermelon, berries, jalapeño, coconut water, lychee, cucumber, and floral ingredients such as lavender, rosemary, elderflower, and hibiscus," says Gill.
Snapp recommends investing in an inexpensive centrifugal juicer to make juicing fresh fruits easier. "Use a touch of acid and sugar as a megaphone for those fresh ingredients, and watch the difference in reaction over pre-made purees and syrups," he says.
Both Gill and Ansaldi agree that gin and tequila lead the way on summer cocktail menus. But darker spirits can play a role as well.
"Don't shy away from darker spirits—adding tropical flavors like banana or passion fruit to something like a rye can make a stirred cocktail seasonal," says Ryskiewicz.
Spirits featuring vegetal characteristics, like a grassy rhum agricole, can also help to add seasonal elements to a cocktail.
Above all, the bar and beverage managers we spoke with agree it's best to keep things simple and light when planning a summer cocktail menu. Aside from that, let the flavors of the season guide your choices. "Ask yourself what reminds you of summer and go from there," says Gill. "You want to create something that is refreshing and cools you down, in addition to using fruits, vegetables, and herbs that are in season in the summer months."
The classics can also be a good jumping-off point. "Play off of the classics, like a daiquiri or spritz, and make it interesting by using fresh herbs as a garnish," recommends Ryskiewicz.
Snapp offers up some parting advice—be sure your menu isn't striking one note or one color. "Buy a Polaroid camera and take quick pictures of your favorite results from R&D. Line them all up—you want your menu to look diverse when represented on tables in the dining room and in photos."
Here are some summer cocktail recipes:
Baciami
By Mat Snapp
½ oz Lemon juice
½ oz Simple syrup
½ oz Giffard Crème de Framboise
1½ oz Raw ginger/vanilla vodka
Shake and double strain into a martini or coupe glass. Top with Prosecco and edible orchid blossom.
Spritz #2
By Angela Ryskiewicz
1½ oz Blanc vermouth
1 oz Verjus
½ oz Giffard Pineapple
Splash of soda
Top with sparkling rosé
Build in a highball glass and garnish with a mint sprig.
Ginger's Dream
By Angela Ryskiewicz
1½ oz Rhum agricole
¾ oz Fresh lime juice
½ oz Ginger liqueur
½ oz Lemongrass syrup*
To make the lemongrass syrup, take two stalks of lemongrass, cut off the tops and bottoms, and remove the first layer. Gently muddle the lemongrass stalk to release some of the juice. If you have an immersion circulator available, add one quart of simple syrup to a Ziploc bag with the lemongrass and cook at 165 degrees for 60 minutes. If that's not an option, simmer the lemongrass in equal parts water to sugar for 10 minutes. Be careful not to let it come to a boil, keep it over low heat. Strain and cool. For the cocktail, shake and double strain into a coupe. Garnish with a shiso leaf.
West Coast Lime
By Angela Ryskiewicz
1 oz Bourbon
½ oz Giffard Crème de Pêche
¼ oz Luxardo maraschino
¾ oz Fresh lime juice
½ oz Cinnamon syrup*
Top with soda
To make the cinnamon syrup, add two cinnamon sticks, one cup water, and one cup sugar to a pot and set to medium heat, bringing the water to a simmer. Let cool, and keep the cinnamon sticks in the syrup to continue infusing. For the cocktail, shake/strain into a highball glass over ice. Garnish with a lime wheel.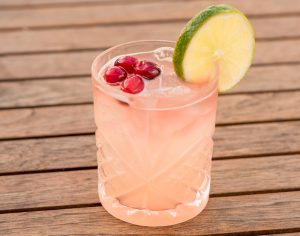 White Peach Margarita
By American Social Bar & Kitchen
1½ oz Don Julio Silver Tequila
1 oz White peach nagomi
1 oz Lime juice
½ oz Cider
4 Cranberries
Combine Don Julio Silver, white peach negomi, and lime juice in a mixing glass with ice. Shake and strain over ice. Float cider on top, and garnish with four cranberries and lime wheel.
Drop the Beet
By Planta South Beach

2 oz. Mezcal union
1 oz. Cold-pressed beet juice
¾ oz Agave nectar
½ oz Yuzu
½ oz Lemon juice
4 Raspberries
1 slice Fresno chili
3-4 dashes Celery bitters
Combine all ingredients in a shaker with ice. Shake and strain over ice. Garnish with lemon wheel.