If your bar has found that it's paying more in rent recently, you're not alone.
On the heels of Alignable's inflation report, it has released its New Q2 Rent Report, showing that the small business rent crisis has reached new heights, as other inflationary trends continue to impair the small business economy. This report is based on a poll of 5,321 randomly selected small business owners.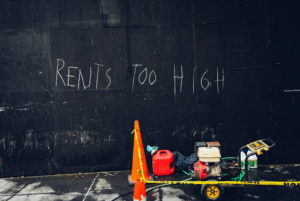 Here are a few of the many emerging insights:
33% of all U.S. small businesses (SMBs) could not pay their May rent in full and on time, up 5% from Apr. This is the highest rate of U.S. rent delinquency among SMBs this year.
Even more alarming, 56% of minority-owned businesses couldn't afford May rent, up 20% from Apr. This is the highest rent delinquency rate for minority SMB owners since March 2021.
States with the highest rent delinquency rates include MA (42%), GA (40%), NY (35%), CA (35%), MI (35%), & TX (35%). Rates increased dramatically in MA, GA, NY, TX and FL from Apr. to May.
Restaurants are once again one of the hardest hit sectors, topping the list of small businesses with more than four out of ten restaurants (41%) saying they couldn't cover May rent. This is up 8% from April and 13% from February. This is an unfortunate new record for 2022, pushing any progress they've made back to where they were in October.
Reasons for the rising rent delinquency include the increased price of rent. In fact, the majority of U.S. small businesses (52%) have now experienced rent spikes, up 6% from 46% in April.
Florida small businesses seem to have it the worst, with 71% of Florida's small business owners saying they're paying more rent now than they did six months ago. Comparing that to Florida's rent delinquency rate of 33%, Alignable says it's interesting to note that this rate increased by 9% over the past month, as the percentage of Floridians reporting rent hikes was similar at 10%. There appears to be a rather direct correlation here.
MA is No. 2 on this chart tracking higher rent costs (58%), and it ranks as No. 1 on the rent delinquency chart (with a rate of 42%). Again, Alignable says these nearly identical placements suggest a strong connection between increasing rents and rent delinquency.