Alignable recently released its Small Business Inflation Poll, which was conducted among 5,268 randomly selected small business owners from 5/7/22 to 5/22/22.
A Look at the Numbers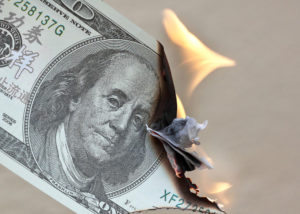 The report shows that 51% of small businesses are concerned skyrocketing inflation could force them to close their businesses within the next six months.
Alignable further broke that 51% down further:
1% have already closed due to inflation
1% plan to shut down their operations by the end of June
26% are "highly concerned" about closing, and
23% are "somewhat concerned"
Beyond these findings, another 11% say they're "slightly concerned," while 17% can't predict what will happen. 21% say they're "not concerned at all about succumbing to the financial pressures inflicted by escalating costs.
Breaking down the numbers by state, small business owners in Maryland (58%), Connecticut (57%), and Tennessee (57%) are most concerned about the negative effects inflation is having on their ability to stay afloat. Other states on the Top 15 list of most-worried U.S. SMBs include: CO (54%), MA (54%), WA (54%), IN (53%), NC (53%), WI (53%), MI (52%), NY (52%), OH (52%), OR (52%), TX (51%), and PA (50%).
COVID Comparison
The majority of Alignable's poll respondents say inflation has had a more negative effect on their businesses than COVID.
When asked what has been more damaging, COVID or inflation, 60% said inflation has been worse. Only 20% said COVID caused more issues.
Many say their expenses are overwhelming their revenues and cash reserves. Several small businesses fear passing all of their new costs onto consumers, as they would risk losing more customers.
37% of those polled in May have one month or less of cash on hand
44% are now earning 50% or less of the monthly revenues they generated prior to COVID
49% say their costs have increased by more than 25%, but only 16% are able to charge customers more than 25% to cover those higher expenses
52% say their rent has increased over the past six months (up 6% from 46% in April).
Effects on Bars/Restaurants
This situation is even more challenging for industries that were most affected when local and federal governments enforced COVID shutdowns or other restrictions for months at a time, such as restaurants and bars. These establishments are also dealing with the challenges of the labor shortage and the still-broken supply chain.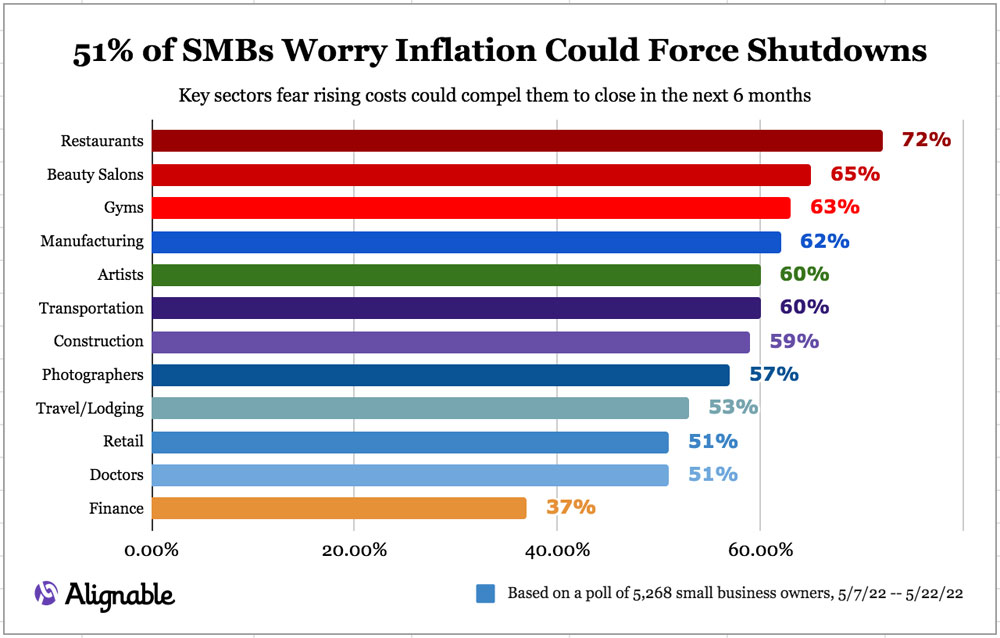 In fact, as the chart above indicates, restaurants top the list of concerned businesses with nearly three out of four restaurant owners (72%) expressing concerns that they might not be able to stay afloat if current conditions continue—1% will close by June's end, and another 49% are highly concerned about shutting down.
In Their Own Words
Beyond the statistics, Alignable's poll-takers shared their struggles and successes in their own words. Here are a few examples:
"As my competitors close, I'm getting more business from their past clients."

"As my costs go up, I need to pass those onto my customers. It's the only way to thrive or even survive in today's small business economy."

"I don't think I would need to close, but I might have to reduce staff or not pay myself."
"Yes, we're concerned about inflation in combination with the professional labor shortage that already was driving costs up & now will further be impacted by employees wanting higher wages for their own costs of living."