Florida-based Bar Maid Corporation announces the new SANI-MAID Disinfectant, Sanitizer and Deodorant Tablets for use in food processing, restaurants, and bars as a no rinse food contact surface sanitizer and in the third sink compartment; for general disinfection of hard, non-porous surfaces; and as a multi-purpose deodorant solution.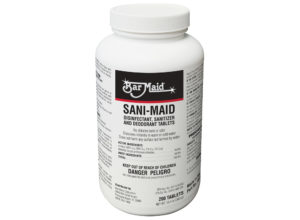 SANI-MAID Disinfectant, Sanitizer and Deodorant Tablets dissolve instantly in warm or cold water. 200 tablets per bottle. Use one tablet per gallon for 200 ppm or two tablets per gallon for 400 ppm. No chlorine taste or odor. Does not harm any surface not harmed by water.
FOR SANITIZING
Dishes, glasses, and utensils
Food processing equipment
Sinks, countertops, tables
Ice machines, refrigerated storage and display equipment
Beverage dispensing equipment, soft serve frozen dessert machines and equipment
Beer fermentation and holding tanks; beverage processing, storage and holding tanks; citrus and food processing storage and holding tanks; water cooler, water holding tanks and pressure tanks; dairy equipment and bulk tanks
"We developed the Bar Maid Glass Washing System that utilizes a Bar Maid Electric Glass Washer and LoSUDS Detergent in the first sink, clean water rinse in the second sink, and then a quaternary sanitizer in the third sink," says George Shepherd, president of Bar Maid Corporation. "SANI-MAID Disinfectant, Sanitizer and Deodorant Tablets are the quaternary sanitizer we recommend."
Also use this product as a general purpose disinfectant, as a non-acid toilet bowl and urinal disinfectant, or to clean and disinfect floors, walls and ceilings of shower rooms, locker rooms and other large open areas with floor drains.
This product destroys the cause of odors – leaves no odor of its own. Use to neutralize damp musty odors caused by mildew in storage areas, basements, closets, bathrooms and A/C filters. Effective on smoking and cooking odors. Spray or apply onto automobile seats, carpets, headliner and ashtray or into trunk and all vents to eliminate odors from tobacco, beverage spills and musty carpet. Use for odors caused by dogs, cats and other domestic animals on rugs, floors, walls, tile, cages, crates, litter boxes, mats, floor coverings or any surface soiled by a pet. Deodorize garbage cans, garbage trucks, industrial waste receptacles and garbage handling equipment.
"Hospitality operators and other businesses will appreciate the versatility of this product as a multi-use germicidal disinfectant, sanitizer and true deodorant," says Shepherd.