Hoshizaki America, Inc. is excited to announce the launch of the 2by2 Square Cube Undercounter Ice Machine. Desiring improvements in cocktail preparation and equipment efficiencies, this new addition to the Hoshizaki Specialty Ice lineup is just what bartenders have been longing for.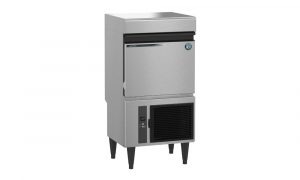 Clear and hard, the Hoshizaki 2by2 cube provides superior chilling ability, increasing flavor and presentation of specialty cocktails or straight spirits like bourbon or scotch. Now bar owners, restaurants, and hotels can have dramatic 1.9-inch-by-1.9-inch-2.3-inch square ice for amazing cocktail presentations with minimal dilution.
Understanding the demand for craft cocktail design at a reasonable cost, Hoshizaki's Specialty Ice lineup eliminates expensive vendor-made ice and far outshines house-made cubes frozen in molds. Perfect for both preparation and presentation, the two-by-two cube, one-by-one cube and sphere ice create stunning cocktails with ice as the perfect garnish.
The IM-50BAA-LM fits neatly under a bar, taking up less than twenty inches wide of all-important underbar space. Having a 2by2 Cube Ice Machine gives your operation:
Up to 50 pounds (189 cubes) of ice production per 24 hours
Built-in storage bin with 22-pound capacity
Durable stainless steel exterior with easy to remove and clean air filter