It's every bar and restaurant's goal to provide their customers with a top-notch experience. While most establishments have unique characteristics that set them apart, there are certain areas where commonalities can be observed. For example, most bar and restaurant concepts used today tend to overlap with each other. This is especially true for those who don't have a proper restaurant business plan in hand.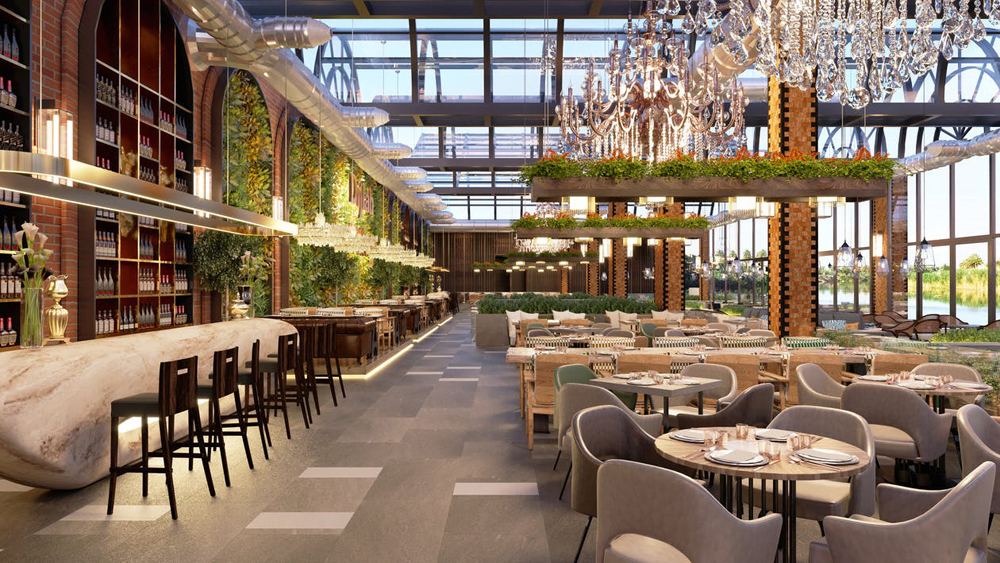 To stand out in such an overcrowded industry might feel impossible. Luckily, it doesn't have to be.
Providing your customers with a fascinating environment is key to your bar's overall success. This includes everything from your interior design down to your table and seating arrangements.
Today, we discuss why wall design matters. Hopefully, it enlightens you about its importance and necessity.
Protects bars/restaurants from water damage
Rain and snow can be damaging to many businesses. While it might not be obvious to you now, what you decide to put on your restaurant walls can either harm or help your establishment.
For example, kitchens will require water-resistant green boards (often referred to as gypsum boards) to keep moisture out of the area. This is often paired with a metal-stud wall, which provides the kitchen with better support.
The best wall designs can mitigate water penetration and preserve your interior. Thus, if you want to extend the longevity of your decorations and equipment, choosing a high-quality wall design is essential.
Keeps customers engaged
Customer engagement is important for any type of business. Engagement is what encourages customers to stay with your brand or company. The more they feel fascinated or captivated by your offers, the more likely they are to keep giving you sales.
What better way to keep your customers interested than by offering them unique and memorable experiences?
Wall designs can accentuate your brand aesthetic. It can be the combining factor that connects your lighting and acoustics with your colors and architecture. This draws more customers toward your brand and story. It also helps you create a personal relationship with your guests.
Makes an ordinary wall more interesting and valuable
A wall is just a wall until you make it into something else. Adding different textures and designs to your walls is a great way to add character to your bar's environment. Furthermore, it increases the value of your establishment, making it more appealing to people from various walks of life.
For example, plenty of venues have used wall designs to create unique bar spaces for guests. They install these walls to create a clear separation between the bar area and the dining area. At the same time, they use the walls to improve the style and charisma of their space.
Offers privacy and comfort to guests
Comfort and privacy are two important factors to every restaurant's success. The safer and more comfortable your guests feel with you, the higher the likelihood they'll stay with your business or recommend you to other customers.
Different wall designs offer varying levels of comfort and privacy. Thus, knowing which design to choose is also critical. As much as possible, try to keep a balance between style and practicality.
Adds an extra layer of protection
It's the age of COVID-19, and people are apprehensive about their safety and health. Prioritizing your customer's security should, therefore, be top-of-mind. Besides serving as a proper barrier that provides privacy and comfort to guests, walls are also great protection against illness-causing viruses and diseases.
Different wall designs offer varying levels of protection against sicknesses such as COVID-19. Providing your customers with this simple solution will make them feel important and valued.
Adds novelty to a bar/restaurant
Wall designs can add a certain level of novelty to your business, especially when customized specifically for your use. After all, where else can your clients find this style but at your venue?
If you're looking for design ideas, here's a nifty one from Perlick. The Signature Series Mobile Bars are one of the most innovative bar designs today. It's designed to complement luxury surfaces found in bars/restaurants and other establishments. Furthermore, it's made of high-quality materials sourced from reliable suppliers across the globe.
The great thing about this mobile bar design is that not only does it serve as a small separation between the bartender and his guests, but it's also designed with the musculoskeletal health of users in mind.
Helps maximize space
Not all bars and restaurants have a lot of space to work with. Some have very limited areas where they can set up and entertain guests. Walls can help maximize the space you have, so you can do more things and add more facilities, e.g., restrooms, bars, waiting rooms, etc.
Different wall designs can also give you more storage space. Storage is crucial for every bar. You want to have space to place ingredients and utensils. Not to mention things like paperwork, menus, and other equipment.
Saves money on electric bills
Winter can be an expensive time of year for most bars/restaurants. If you're doing business in an area where it snows heavily during the winter, then you know what we mean.
Electric bills tend to get higher during the winter months. This is because heaters are kept on 24/7 to keep clients and employees comfortable.
Wall designs with proper insulation can help keep heat from escaping to the outside. Thus, you can keep your heater use to a minimum and save yourself a few dollars on your bill.
Final Thoughts
It's safe to say that wall design matters highly to bars and restaurants. And paying closer attention to wall design can benefit an establishment in a variety of ways. Although wall design is often an afterthought for most people, we hope this article helps you think otherwise.
Chatty is a freelance writer from Manila. She finds joy in inspiring and educating others through writing. That's why aside from her job as a language evaluator for local and international students, she spends her leisure time writing about various topics such as lifestyle, technology, and business.