It's pretty apt that a triad of trendsetting restaurants owned and operated by the West Family Hospitality Group—fine dining/craft cocktail hub The West Table Kitchen & Bar, The Brewery LBK, and The Coffee Shop—occupy the ground floor of the historic Pioneer Condominium building. Founders Cameron and Rachel West first laid down stakes six years ago with the opening of The West Table in the once sleepy city center. As they introduced global culinary flair and a big city-style cocktail presence to the small-town dining scene, they did it with the intention of doing their part to revitalize Lubbock, Texas' downtown area in the process.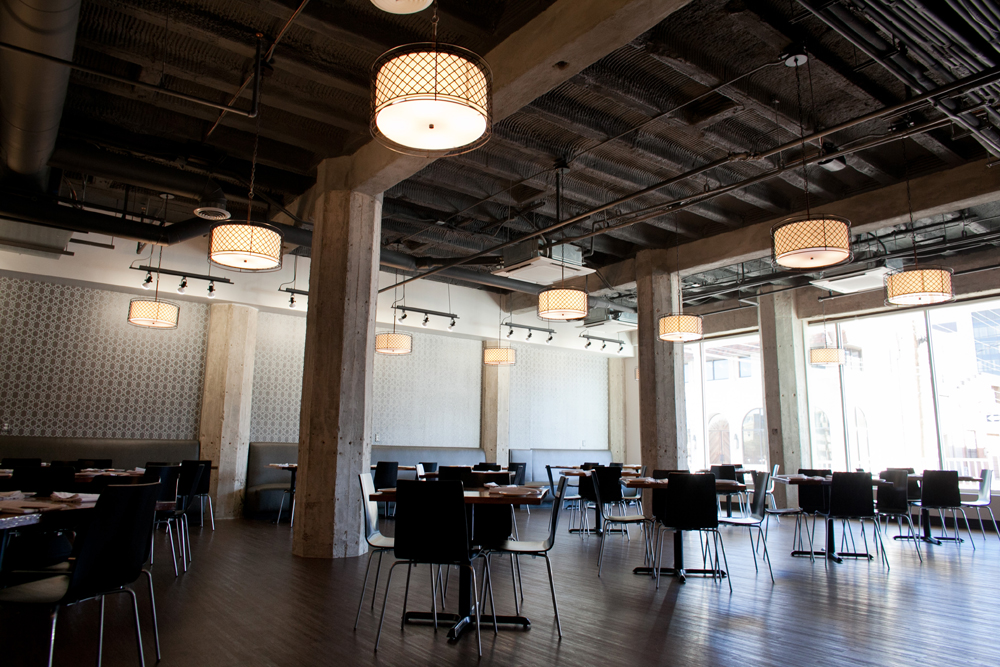 "For years, Lubbock was a barren landscape, with restaurateurs, bar, and brewery entrepreneurs starting businesses closer to the Texas Tech campus and other newer developments," explains General Manager/Partner Mike Nghiem, who joined forces with the Wests four years ago. "A push from the local government to invigorate downtown, however, inspired us to be a part of that effort. The West Table was one of the first chef-driven restaurants that set out to actively participate in downtown Lubbock's revitalization, and became a hit because of its seasonal menu and cocktail program."
Six years later, The West Table's open-concept kitchen, internationally influenced American menu, and mid-century chic décor succeed in spurring more downtown traffic, and by extension, roping in more creative restaurateurs and entrepreneurs to keep the momentum building downtown. That momentum includes the opening of the more casual but equally innovative The Brewery LBK in May 2018.
"There were three spaces for three restaurants on the lobby level, and we wanted to create something with the third spot that would have a synergy with The West Table and the coffee shop," says Nghiem. As a self-confessed "beer nerd," Ngheim was confident that a brew pub with great food was something that was missing from the Lubbock scene, even with a few excellent breweries in the Arts District and near the Texas Tech campus. However, as the beer scene had not grown as exponentially as it had in other cities, LBK opened its doors with a mission of injecting more adrenaline into Lubbock's emergent food and beverage landscape.
"As we function under the umbrella of the West Family Hospitality Group, The Brewery LBK has a mixed beverage license," says Nghiem. "This enables us to serve liquor and cocktails in addition to beer and wine. This has been advantageous for us, as when we opened the brewery, craft brewing was not a huge thing in this area yet. However, with Texas Tech, there are a lot of people coming in from bigger cities like Houston, Dallas, and Austin that have strong craft beer scenes. However, we also wanted to bring in local clientele that had not previously been aware of the craft beer world. We thought having a full liquor license would provide a perfect bridge for [those customers]."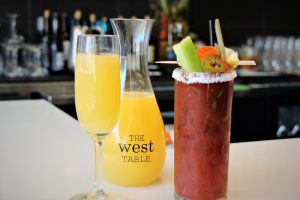 While the menu at LBK is a little more accessible and affordably priced for customers intimidated by high-concept cocktails, The West Table features a more elevated cocktail program. "We did this by focusing on fresh ingredients as we do with our food menu, using a lot of things we make from scratch like tinctures, bitters, and infused spirits along with premium liqueurs and spirits," says Nghiem. "We wanted to have that synergy where those dining at The West Table could go for a relaxed nightcap at LBK or spend time at LBK for a beer before heading to dinner at The West Table."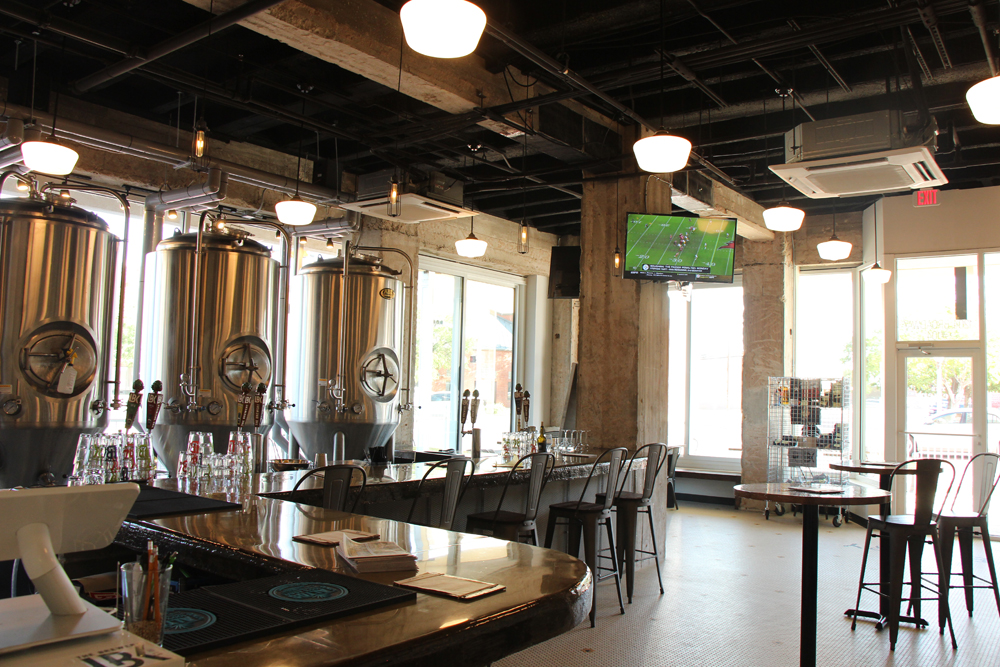 Of course, the synergy changed and evolved with COVID-19. But Nghiem points out that the strength of each restaurant/bar concept combined with a shared drive to turn setbacks into opportunities has enabled the two main restaurants to keep making inroads and bringing in new customers.
At the time LBK opened, the limited food menu consisted of simple snacks and small plates that could be quickly whipped up in The West Table's small kitchen. However, when COVID-19 dictated a restricted seating capacity, management decided to make the modified The West Table menu available at the brewery.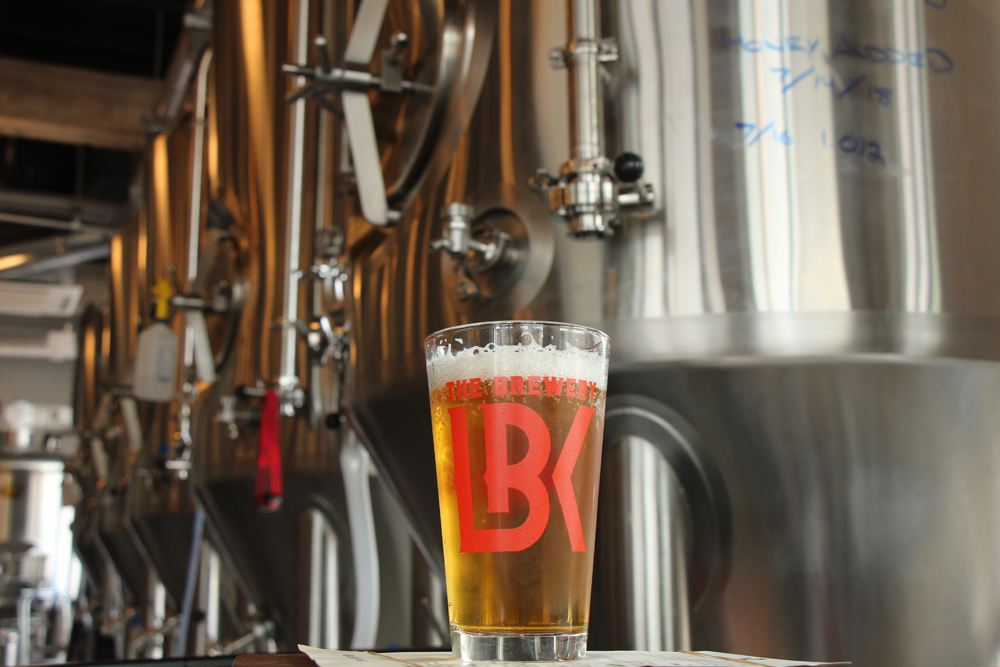 "As of right now, we offer the same menu in both spots, although LBK has more of an emphasis on hand-held burgers, sandwiches, and appetizers that are in line with what's being served at other brew pubs," says Nghiem. "That said, our beers are available throughout our dining concepts and expanding into the food menu. For example, as cold weather approaches, we will be braising meats and using our beers in the recipes and sauces, brines, marinades, and so on."
The cross pollination of the concepts also solves a few other problems caused by the restaurants' popularity in the wake of socially distanced seating. If there's a couple who spontaneously drops into The West Table on a Friday night without a reservation and there's a 45-minute wait, management suggests it's a great time for them to sit at The West Table's bar for a cocktail during their wait. If they're in the "beer crowd," they could go over to the Brewery LBK and try some craft beers or enjoy a meal there.
Nghiem says extreme attention to cleanliness has always been in the venues' DNA, and even before the pandemic, management had rules in place for keeping everything as clean as possible. Building upon those existing measures has great personal meaning to him as his daughter, who was born prematurely (considered a pre-existing condition), is at high risk for contracting the virus.
"As I see it, we're always on-stage with our open concept kitchen and people seeing what we're doing," he says. "We have always worked hard to ensure our sanitation standards were on point. When COVID-19 happened, putting in the essential measures was an easy transition for us. We put up sanitation stations and made sure our staff followed the protocols required for a restaurant, got thermometers to monitor our staff members' temperatures. With respect to revenue and making customers feel safe, we still treat those concerns with the utmost gravity."
To ensure the restaurants would be safeguarded from a financial standpoint, management closed down for two or three days to regroup. In the beginning, the restaurants put their focus on creating affordable to-go menu items with the same level of creativity as their dine-in menu, as well as taking advantage of relaxed TABC laws enabling them to offer some of their most popular selections to-go. Some of the adaptations even led to some interesting new food offerings once they could open for dine-in service.
"Early on, customers weren't coming to spend $45 dollars on a steak, so we had to get creative with things they could bring home with them," Nghiem says. "Our menu first pivoted toward dishes that were more homey, comforting, affordable, and accessible. As things opened up, we wanted to figure in more unusual dishes. If a customer came in wanting something with Asian flavors, we were never going to serve them the same old beef-and-broccoli. Instead, we looked at a Vietnamese steak dish that began as a stir fry dish that sold for around $10 a plate, as it was filling, comforting, and in some cases, big enough to share.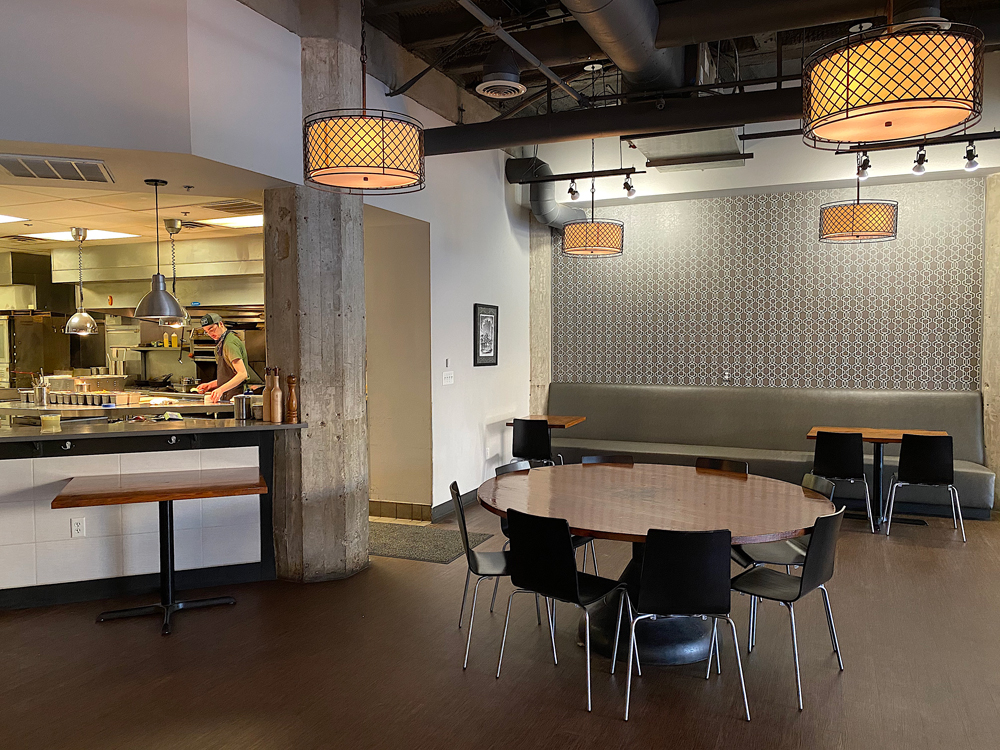 "We also have tempura lobster cakes and shishito pepper appetizers that sell well."
Depending on what's in season (the menu changes over four times a year), customers will find original standouts with Latin, Middle Eastern, or South Asian touches. To keep the beverage program top of mind at the venues, The West Table hosted wine pairing dinners and cocktail pairing dinners. However, based on LBK's growing popularity, the restaurants are moving into beer dinners, which Nghiem predicts will be popular and underscores the group's adherence to the overarching goal of synergy as the local dining culture eases into a new normal.
"It's a crazy time in Lubbock right now, with school starting back up and some still not sure about what will happen next," says Nghiem. "We are going to play it by ear to do what we can to keep people confident in our ability to provide a safe place for them to dine without compromising our quality and unique approach to American cuisine. Although COVID-19 is one of the most devastating things to happen to our country, state, and city, the process has shown us that we have to be flexible, pivot, and fly no matter what situation comes up. It taught us about the importance of resilience and banding together as a team and family to get through something so difficult from a financial, creative, personal, health, and emotional standpoint."
Nghiem also expressed gratitude toward the Lubbock city government and public for their impact on the West Family Hospitality Group's return to operation.
"We had such an outpouring of support from our community as the city of Lubbock truly banded together and supported all of our concepts, including a new fried chicken-focused restaurant and bar," he adds. "Another thing that kept us afloat with our licenses was the fact that we did not just do craft beers, but also canned cocktails. It goes to show you that Lubbock is such a wide open city in terms of the possibilities in good times and difficult times. It's great to be in a market where we can make such a big impact and provide inspiration for other interesting concepts to join in as well."
By Ashley Bray
All Photos: The West Family Hospitality Group.