PDT (Please Don't Tell), the East Village's world-changing modern speakeasy, reopened this past spring. The iconic bar, which earned The World's Best Bar acclaim and James Beard award, is now owned and operated by Jeff Bell, an 11-year veteran of the bar.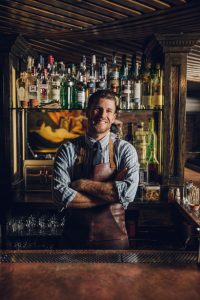 Bell, who earned "Best American Bartender" at Tales of the Cocktail, has led a thorough overhaul of the bar. This includes raising its ambitious cocktail standards even higher and making the hidden bar more accessible for guests, including timed access and its first-ever outdoor seatings via its streetside PDT Tropicale. PDT is located at 113 St. Marks Place hidden within Crif Dogs, a beloved hot dog haunt, which also reopened this spring.
"PDT was one of the first modern speakeasies that helped raise the bar for mixology," says Bell, Managing Partner. "Starting as a barback and rising through its ranks, PDT has been my professional base for close to 11 years. I'm proud to now be its owner and excited to lead the bar's next chapter. Bars, like cities, are living organisms that need to continually evolve and improve with the times. We have thoroughly analyzed PDT itself and PDT beyond the four walls of the bar. We will remain firmly rooted in our core values, while our systems and operations will be updated to keep the guest experience fresh and on the cutting edge of cocktails and hospitality."
A New Cocktail Menu
The new menu continues PDT's tradition of pushing the mixological envelope with seasonal and perennial flavors and ingredients, as well as a balance of cocktail styles encompassing the Sour, Fizz, Mule, Collins, Old Fashioned, Negroni and more. They spotlight uncommon, market-fresh ingredients and spirits that are cutting-edge and guest favorites. The cocktail menu, featuring 16 new libations and signature drinks, will change hyper-seasonally, taking inspiration from the Japanese sekki, wherein the year is split into 24 periods.
Ten new cocktails are now available, including: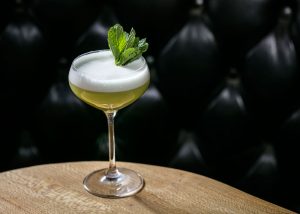 Green Light: Fords Gin, Granny Smith Apple, Manzanilla Sherry, Lemon Juice, Mint, Club Soda
Paddington: Barbancourt Blanc Rhum, Lillet Blanc, Lemon Juice, Grapefruit Juice, Orange Marmalade, St.George Absinthe
Calypso: Banana-Infused Yaguara Cachaça, Wray & Nephew Overproof Rum, Appleton Reserve Rum, Coconut Water, Velvet FalernumPeasco Sour – Macchu Pisco, Green Pea Syrup, Lemon Juice, Vervino, Génépy, Mint, Egg White
La Perla Old Fashioned: Pueblo Viejo Reposado Tequila, Amontillado Sherry, St. George Spiced Liqueur, Honey
The bar is also offering up three non-alcoholic cocktails:
Life's a Garden: Seedlip Garden, Lime Juice, Cucumber, Mint, Dr. Brown Cel-Ray Soda
Phoenix: Seedlip Spice, Proteau Ludlow Red, Lemon Juice, Ginger Beer, Passion Fruit
Michenada: Brooklyn Brewery Special Effects N/A Beer, Lime Juice, Orange Juice, Pineapple, Cholula Chipotle, Worcestershire
Upgrading the Guest Experience with First-Ever Timed Seatings
While phone reservations have long been PDT's standard operating procedure, Bell is adding online reservations for tables via Resy. Walk-ins will be allowed for bar seating given the new COVID-19 regulations. In addition, HEPA filters and UVGI systems have been installed to optimize air quality, with tables spaced more than six feet apart, along with the implementation of temperature checks and contact tracing.
PDT Tropicale, PDT's First Outdoor Seating and an "Oasis in the Street"
PDT is also launching PDT Tropicale, its first-ever outdoor seating on St. Marks Place. Its tropical theme honors the East Village's close bonds with Latin America and the Caribbean, as well as Bell's wife, who has Puerto Rican roots. This "oasis in the street" serves cocktails that are light, complex, tropical, and refreshing, with a minimum of sugary ingredients, perfect for sipping al fresco during hot summer nights.
PDT Tropicale will serve guests from Friday at 5pm until Sunday evening's last call, with reservations via Resy, as well as seating reserved for walk-ins. It will extend as long as the weather and New York State regulations allow.
First-Ever PDT Cocktails-on-Tap at Crif Dogs
Crif Dogs, the hot dog haunt that fronts PDT, has been refreshed to better serve as a spot for PDT guests to have a drink while awaiting their tables, while maintaining its edgy vibe. Due to guest demand, for the first time, PDT is expanding into Crif Dogs' drinks programming and will offer PDT cocktails-on-tap that are crisp, bubbly, and refreshing, including:
The Mint Condition: Vodka, Lime Juice, Cucumber, Ginger, Mint, Soda
Crif Collins: Bourbon, Lemon Juice, Maple, Bitters, Soda

Two Unique Monthly Subscription Clubs
PDT is announcing two unique monthly subscription services for PDT cocktails and rare and unusual whiskeys that are available for local pickup. It is being executed by Table22, an online platform that helps bars and restaurants survive and thrive in a digital world.
PDT Cocktail Club: A rotating selection of PDT's signature cocktails, bottled and ready to take home. It is available at three levels:
For You ($50), includes four single-serving signature cocktails
For You & a Friend ($95), includes four signature cocktails, each bottled for two people or for one enthusiast
PDT Private Stock ($125), includes one 750ml bottle of a limited release PDT Reserve Cocktail featuring rare and allocated spirits (limited availability)

Add-Ons

A Classic Cocktail ($45): Choice of a Negroni, Manhattan or Martini
A Seasonal Cocktail ($50): A seasonal special available only to PDT Cocktail Club subscribers
PDT Whiskey Club: A rotating selection of hand-picked samples of PDT bartenders' favorites whiskeys from the U.S. and around the world. Each comes with 3 oz. samplings of three different whiskeys that are individually bottled and accompanied by a producer spotlight and tasting notes. It is available at three levels:
Rickhouse ($50), includes well-known and not-yet-famous selections from North America, the British Isles and Japan
Single Barrel ($100), a selection of off-the-beaten-path, limited-availability, not-on-the-cocktail-menu sort of whiskeys with mature age statements
Antique Collection ($250), comprised of rare, old and allocated whiskeys from around the world, these are some of the bar's most cherished bottles that have been stashed away over the years (limited availability)
Bottled Cocktails-to-Go to Continue
PDT will continue its well-received bottled cocktails-to-go program for as long as New York State law allows it. They include the Mezcal Mule, Shark, Green Light, a Negroni and the Benton's Old Fashioned, the bar's most popular cocktail-to-go. All of the cocktails are pre-diluted and ready to sip.