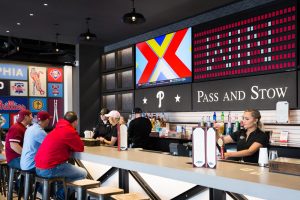 Baseball fans have an all-new place to throw back a beer during the seventh-inning stretch at Citizens Bank Park, the baseball stadium that's home to the Major League Baseball franchise the Philadephia Phillies. Pass and Stow, which opened this spring, replaces McFadden's sports bar.
"We felt MacFadden's had run its course and wanted to create a new family friendly destination at the ballpark," says James Trout, Director of Marketing Events & Special Projects for the Philadelphia Phillies.
The Phillies, together with Citizen Bank Park's food and beverage provider, Aramark, undertook an all-star renovation that transformed 24,500 square feet of space adjacent to the Third Base Plaza into Pass and Stow.
These new enhancements follow last year's addition of Boardwalk Eats, a boardwalk-themed concession area in left field.
Overall, the off-season renovation of Pass and Stow took five to six months and includes both indoor and outdoor spaces. "We wanted this to be a destination for all weather—hot, cold, rainy, and of course, beautiful days," said Trout.
Pass and Stow features an outdoor beer garden called Goose Island Bar at the Park, Foundry Pizza serving brick-oven pizza, and a family-friendly sports pub featuring garage doors that open and seating for 150 fans. The upgrades also include a Shake Shack, fire pits, picnic tables, areas for live music, 44 TVs to catch game action, a large pergola adorned with lights, and a Phillies-etched water feature. Everything combines to create an engaging experience for ballpark visitors—the goal of any of today's hospitality venues.
"The Pass and Stow experience is the first of its kind at Citizens Bank Park," said Trout, in a press release. "This unique, family friendly social space offers a wide variety of food options, as well as fun design elements that celebrate the Phillies and Philadelphia history."
The design takes an all-local approach—starting with the new area's name. "Pass and Stow is a historic nod to the Liberty Bell, which is part of the Phillies brand and logo. The name is derived from the two Philadelphia foundry workers, John Pass and John Stow, who recast the original bell in 1753 and whose names are inscribed on this important piece of American history," explains Trout. "Many of the finishes are wood and brass/metal tying in to the elements of the actual Liberty Bell. There is a [27-foot-wide-by-8-foot tall] mural depicting many of our logos throughout the history of the club as well as some iconic Philadelphia landmarks. There are photographs of the three large liberty bell signs that have been displayed at our ballparks throughout the years beginning in 1971."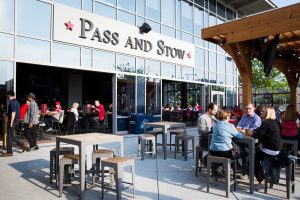 "Additionally, outside of Pass and Stow, is the iconic 19-foot high Liberty Bell that was once located atop Veterans Stadium [a former Phillies' stadium]. Newly refurbished, the bell was installed on the 15th anniversary of the historic implosion of the Phillies' former home."
The steel and aluminum bell weighs more than 5,000 pounds, covers roughly 270 square feet, and features over 300 light bulbs.
Inside the 7,000-square-foot indoor sports pub is an Oat Foundry Split Flap Display that sits above the bar between two TVs. The display is similar to the former Amtrak board at Philadelphia's 30th Street Station. When fans enter the area, they are greeted to the sound of the board clacking and changing, drawing their attention directly to   the display.
Oat Foundry is an agency of engineers that "builds cool stuff"— everything from split flap displays to industrialized cold brew plants. They were brought in on this project by the creative studio that worked on Pass and Stow, Younts Design Inc., in Baltimore. When the Phillies found out that Oat Foundry was local, they were even more excited. "The split flap that Oat Foundry makes is completely from scratch. So everything that is in that board we have designed and built in our shop in Philly," said Mark Kuhn, CEO of Oat Foundry.
The Phillies wanted the split flap display to show real-time score data from the actual Daktronics scoreboard, and thanks to an API integration, the bottom half of the board is updated in real time. The top half of the board uses an API to pull batting score averages, hit locations per player, and other data from MLB.com
Thanks to custom Phillies colors on the display flaps, the Split Flap also displays bunting, away game scores, updated standings, the local-favorite Phillie Phanatic mascot, and cheers and chants like "Go Phils," "HR," and "Win."
The sports bar also uses the display to advertise game specials, bar specials, happy hours, game-day specials, and more. The display is easily controlled from an iPad, cell phone, or laptop.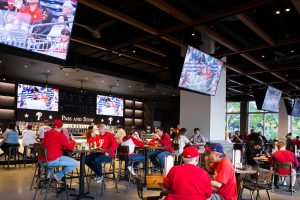 "The customization is really what makes the Oat Foundry split flap special," said Kuhn. "So being able to integrate custom software, writing software for whatever the bar owners want, and being able to customize the flaps and the cabinets to be on brand is critical, and it's something we really excel at."
The display has been a big hit at Pass and Stow and was even a finalist for a hospitality design award. "There is so much that this interactive, high-tech display can do," said Trout. "It's an exciting way to keep up with the action on the field, all while enjoying the social experience at Pass and Stow."
The food and drink at Pass and Stow's indoor sports bar is also a hit. The bar serves up a number of cocktails all named after baseball terms, including Deep Left Center with Jim Beam whiskey, lime, mint, and ginger ale; Rain Delay, featuring Bacardi Oakheart spiced rum, ginger beer, and lime; and Grapefruit League Cooler with Sauza Gold Tequila, grapefruit, club soda, and lime. A variety of wines and beers on draft and in bottles and cans are also available.
For food, there is the typical bar fare like nachos, pretzel bites, and sandwiches, alongside more unique items like Tandoori chicken wings, a deconstructed guac salad, and a roasted pork loin sandwich.
"We're continually working with the Philadelphia Phillies to deliver new and innovative ways to enhance the food experience for fans at Citizens Bank Park," said Brent Hardin, Vice President, East Region, Aramark's Sports and Entertainment division, in a press release. "We're confident these upgrades will further add to an already robust lineup of offerings and give fans even more to cheer about this season at Phillies games and other       ballpark events."