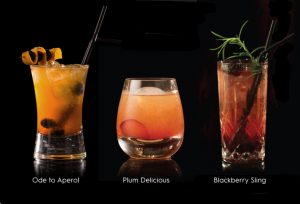 Fall is chock-full of opportunities for drinking," says Laura Motson, Global Brand Manager for Brockmans Gin. "The fall holidays—Thanksgiving, Halloween—or just about any crisp, delightful fall evening, presents a great reason to mix a cocktail."
Cool, crisp air ushers in the chance to transition to warmer, darker spirits. "Fall is a transitional season, you're moving away from lighter spirits," says Will Duncan, Partner and Beverage Director of 16" on Center Hospitality Group, "but you're not quite ready for darker intense spirits like aged rum or whiskey. I love cognac for fall cocktails as well as a nice reposado tequila."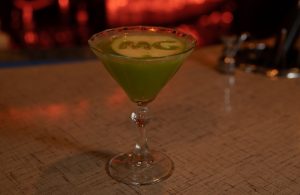 But even lighter spirits can be transformed into fall-worthy cocktails with the right ingredients. "I think any spirit can work as long as the accompaniments fit the theme," says Darwin Manahan, Beverage Director of Japanese gastropub Tokyo Guild in Culver City, California. "The spirit is the foundation, and the additional ingredients can make it seasonal."
Monin USA Beverage Innovation Director Brian Loukmas suggests turning to autumnal spices for inspiration. "Warm spices are always a fan favorite in fall cocktails such as turmeric and the ever-popular cinnamon," he says. "Other popular ingredients include fruits and herbs such as: pear, apple, rosemary, tangerine, and stone fruit."

In addition to these fruits, Motson suggests blackberries, cranberries, plums, and satsumas (a more robust variety of mandarin orange).
Duncan warns to avoid the obvious seasonal ingredient choices. "Orchard fruits and pumpkin will always dominate, but creative types will incorporate lesser utilized fall treats like figs, fennel, persimmon, celery root, and pomegranate," he says. "Savory and healthful cocktails with ingredients like beets and carrots will show up for sure."
For warmer locales where fall can mean something a little different, Manahan suggests focusing on refreshing ingredients. "For an 'Angeleno' autumn, ingredients such as green apples, lemongrass, and lime are the most popular," he says. "Instead of hot, spiced cocktails, I am looking more towards Collins' style or even cobbler cocktails with hints of spice. I also think more refreshing amaro cocktails might be on the rise. As amaro has increased in popularity, I feel we will start to see more riffs off of amaro soda or tonic cocktails."
The rise of amaro goes hand-in-hand with the increased demand for low-ABV cocktails, which will continue to be popular this autumn.
"I see a continued rise in low-ABV drinks and mocktails that use bitters/amaros like Campari and Aperol as well as a rise in fall flavors such as maple that add a depth to cocktails," explains Loukmas. "I expect [low-ABV] to become even more prevalent on fall menus.
"Flavors that work well in low-ABV cocktails during the fall are cranberry, grapefruit, cardamom, and even blood orange."
No matter what direction you go in, above all, be confident and knowledgeable about your menu and its components.
"We suggest making sure you have a strong menu that fits with the bar and the clientele," recommends Motson, "along with knowledge of the spirits featured in the cocktails and how the ingredients serve to complement the notes of the spirit in that drink."