Tecate® is connecting with 25-35 year old Mexican-Americans by tapping into their passion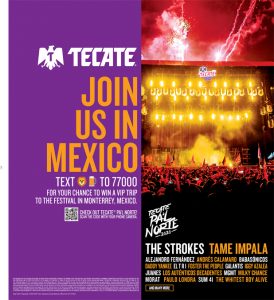 for music. In an integrated February-March retail promotion, the popular Mexican import will offer consumers a chance to win a VIP experience at Tecate Pa'l Norte festival in Monterrey, MX.
Tecate Pa'l Norte represents the best of modern Mexico: Its culture, pride and optimism. It brings the best Mexican and International music to the world. All in one epic weekend; 210,000 attendees; 97 national and international acts; eight stages. Retailers can leverage this festival –now the most important music festival in Mexico—for consumer engagement and incremental sales and profits.
"This more than a weekend of music," says Oscar Martinez, Tecate Sr. Brand Director. "It's an epic journey to the best of Mexico. It's an experience full of surprises, the best performances, great food, authentic crafts and more. Tecate Pa'l Norte isn't just any festival," continues Martinez, "it's Tecate®'s festival, and this year we're inviting Mexican-American consumers to come with us and live the biggest musical event south of the border. Of those who have heard of Tecate Pa'l Norte, 61% say that if a beer brand offered them a chance to attend the festival, they would 'definitely buy' the beer[1]. This should give retailers who support the promotion the confidence in providing shoppers with a compelling and engaging experience."
The February-March promotion aims to build awareness of Pa'l Norte and Tecate®, spark shopper interest with interactive experiences and engage beer drinkers with one-of-a-kind rewards. Shoppers are educated about the festival through exclusive content and information on Tecate®'s website and can "learn more" via social media, in-store radio, local DJ's and QR codes on POS. Shoppers are engaged via a text-to-win sweepstakes for a chance at Tecate Pa'l Norte prize packs and a grand prize of VIP tickets to the festival, including luxury lodging and a flight on the Tecate Pa'l Norte plane. High-impact merchandising materials will attract shopper attention and drive Tecate® purchase through this unique and engaging promotion.