Celebrity Chef Art Smith is no stranger to health and wellness. The chef—who is known for spending many years as Oprah's personal chef as well as for his many restaurants, including Chef Art Smith's Homecomin' in Disney Springs—lost over 100 pounds about ten years ago after being diagnosed with Type 2 diabetes.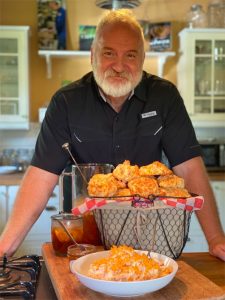 On the eve of his 60th birthday, he found himself once again looking to make changes to his lifestyle and lose weight. "At 60, I didn't want my life to be challenged by illness I could prevent," he says.
Smith also pointed to the need to stay healthy to continue cooking and running his restaurants. "Cooking and working in a restaurant is really high energy, a lot of work, and grueling," he says. "You need to be in good shape, or you're not going to be cooking very long."
This time around, he had a little help in the form of pro rugby player Lucas Cancelier, who was visiting from Argentina when the pandemic hit and ended up quarantining with Smith and his family in Jasper, Florida.
At the start of February, Smith started working out under Cancelier's guidance, who challenged him to lose thirty pounds by April. Smith lost that and more—racking up 40 pounds in weight loss by the end of April. He lost almost another 40 pounds by July.
Smith lost the weight in part by eating better. "I try to focus more on fruits and vegetables and lean protein," he says.
Exercise also helped Smith, who followed the 30-45-minute daily exercise regimen Cancelier created for him, which included running, walking, and exercises done on a yoga mat.
The exercise not only helped Smith physically, but mentally as well. "When COVID-19 happened, all the restaurants closed, and I was like, what do I do with myself?" says Smith. "Lucas got me to lose weight, and he also helped me to start the virtual cooking program."
That virtual cooking show is "Healthy Comfort," which airs weekly on IGTV. On the show, Chef Art shares recipes and cooking demos with his viewers. On a recent episode, he mixed up two vodka cocktails with a focus on fresh fruits and vegetables (see recipe, XX). Smith says he loves vodka, and when he indulges in a cocktail, he reaches for vodka or another clear spirit.
The show has become very popular since it launched a few months ago, and Smith says there are already talks about turning the concept into a restaurant.
For those in the industry looking to commit to healthier routines, Smith says to start with attainable goals. "Start with the small goals and then from there go to the lofty goals because you have to have the confidence in order to do the lofty ones. Most success comes from having the confidence of knowing you can obtain it," he says. "And realize that you can do everything on a yoga mat!"
Recipes from Chef Art Smith
Blueberry Lime Smash
Ingredients:
1 oz Vodka
1 oz Simple Syrup
Frozen Blueberries
2 Limes (cut in quarters) – 1 lime (4 quarters used for garnish)
Directions:
Fill an old fashioned glass with cracked ice to chill. In a mixing glass, add simple syrup and one lime (sliced in quarters). Muddle to extract the juice without forcing the rind from the lime. Dump the ice from the glass into the mixing glass, add vodka and shake. Pour the entire drink with the ice into the chilled glass and garnish with four lime quarters.
Cucumber-Mint Fruit Cooler
Ingredients for Cucumber Juice:
2 seedless cucumbers, chopped
2 cups green grapes
3 kiwi fruit, peeled
1 large bunch of fresh mint
Juice of 2 limes
1 cup of water
Ingredients for serving:
Limes wedges
Frozen green grapes
Sliced kiwi fruit
Sliced cucmber
Mint Sprigs
Vodka (chilled)
Directions:
Place the cucumbers, grapes, kiwi, mint, lime juice and water in a blender. Blend until super smooth. Place a fine-mesh strainer over a large bowl or pitcher. Pour the puree through the strainer into bowl/pitcher. Press on the pulp to extract as much juice as possible. Discard the pulp. Fill a pitcher with lots of ice and pour in the cucumber juice. Mix 1 cup of chilled vodka into ice and cucumber juice. Garnish glasses and enjoy!
By Ashley Bray