Whether you have an upcoming virtual happy hour or simply want to unwind with a drink that mentally transports you to a tropical getaway, the cocktails you mix up at home offer a much-needed escape while social distancing.
With the growing popularity of Tiki cocktails thanks to the current stay-at-home mandates, try these easy-to-make, delicious recipes crafted by creatives and top bartenders from across the country.
Aloha Mr. Hand
Created by SF-Based Bartender Kevin Diedrich
1 ½ oz Bombay Sapphire Gin
½ oz St-Germain French Elderflower Liqueur
¾ oz Fresh Lime Juice
¾ oz Simple Syrup
3-4 Watermelon pieces
3-4 pieces of either Lemongrass Stalks/Kaffir Lime Leaves/Basil/Tarragon
Directions:
Shake all ingredients. Fine Strain into a Collins glass. Garnish with watermelon wedge and cracked black pepper.
Headbanger's Luau
Created by Celebrity Hair Colorist and Tiki Connoisseur, Daniel Moon
1 ½ oz Bombay Sapphire Gin
½ oz Bacardi Superior Rum
½ oz lime juice
½ oz orgeat
1 oz passion fruit syrup
¼ oz cinnamon-infused sugar syrup
Directions:
Serve over crushed ice.
Cooler than a Cucumber
Created by Mixologist Justin Lavenue (North American Winner of the 2015 Bombay Sapphire Most Imaginative Bartender Competition)
1.5 oz Bombay Sapphire Gin
1 oz Cucumber juice
0.5 oz Aloe juice
0.5 oz Grapefruit juice
0.5 oz Texas Tarragon syrup
2 oz Prosecco
Directions:
Build ingredients over Crushed ice a 12 oz Collins glass, Stir well to incorporate ingredients, Garnish with a Tarragon leaf, Cucumber slice and serve with a straw.
The Quimbara
1.5 oz Santa Teresa 1796
.5 oz Aperol
1 oz Guava Purée
.75 oz Lime Juice
.25 oz Simple Syrup
Shake all ingredients over ice and strain into rocks glass with fresh ice. Garnish with a lime wheel, and tiny umbrella.
El Machismo
1.5 oz Santa Teresa 1796
.5 oz Martini bitter
1 oz Fresh pineapple juice
.75 oz Fresh lime juice
.75 oz Coco Lopez
1 Pinch Mint
Directions:
Add all ingredients to shaker, add ice, shake. Fine strain into a rocks glass over fresh ice, garnish with mint sprig.
Snow Birds of Paradise
Created by Mixologist Nathaniel Smith
3 Pineapple-infused Bombay Sapphire Gin
1.5 Heavy Cream
2 Strawberry Syrup
1 Whole Egg
1 creme de cacao
Directions:
Dry Shake, then shake with one large cube. Fill special golden metal pineapple vessel with pebble ice, with two large golden metal straws. Pour into pineapple vessel, topped with lime, pineapple frond, flowers and 151 rum flame, with grated cinnamon and sprays of bitters for effect.
Loving Bar Steward
Created by Mixologist Justin Lavenue (North American Winner of the 2015 Bombay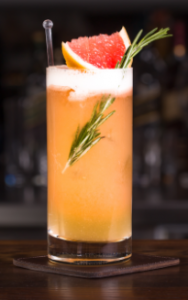 Sapphire Most Imaginative Bartender Competition)
1 oz Bombay Sapphire East Gin
1 oz Pierre Ferrand 1840 Cognac
.5 oz Grapefruit-Lime Cordial
.25 oz Campari
2 dashes Angostura bitters
Directions:
Build in a Large glass and Top with Ginger Beer.
Garnish with an Orange slice, Mint sprig, and Lime shell filled with over proof rum, set aflame and dashed with powdered Cinnamon and Campari.
Bangkok Dangerous
Created by Mixologist Dan Sabo
2 oz Peanut-Washed Bombay Sapphire Gin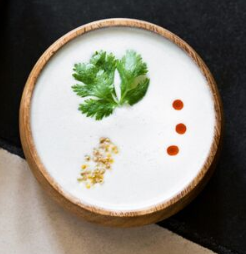 1 oz Galangal/Snap Pea Syrup
.75 Lime Juice
.5 Salted Coconut Cream
Garnish – Red Chili Oil, Basil/Mustard/Coriander seeds, Cilantro Leaf
Photo Credit: Dylan + Jeni
The Tiger Lily
Created by Mixologist Ryan Puckett
2 Bombay Sapphire Gin
1 Pineapple Juice
1 Lime juice
1 cream of coconut
Pinch of pepper cayenne and 2 basil leafs.
Directions:
Shaken and strained into LSI soda siphon. Charged with CO2 in soda siphon and pour over ice. Garnish with a basil leaf.