In September of 2021, PourMyBeer, the leader in self-serve beverage technology, and MicroMatic, the industry leader in dispense equipment, launched a Million Dollar Self-Pour Giveaway to pour it forward this holiday season. The two companies teamed up to reward one small business owner with the equipment and technology to run a MILLION-DOLLAR self-pour taproom, i.e., generating an estimated $1 million or more in annual sales. After receiving 300 applicants for this contest, we have found the winner.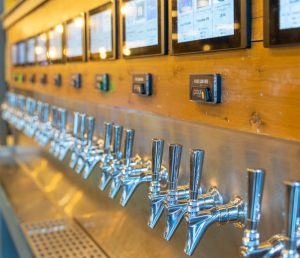 If you're not familiar with self-pour technology, over 700 self-pour taprooms have opened in the United States since 2013. Gone are the days where you need to wait for bartenders or waitresses to get your drinks. You can sample and pour from 20 to 100 different taps at these self-pour taprooms using an RFID wristband or card.
Thanks to technology from PourMyBeer, getting a drink has never been simpler. Guests receive an RFID card that connects to the customers' open tab. They can dispense beer, wine, cocktails, coffee, kombucha, or anything else in a keg. When a customer is ready to pour, they select a glass, place the PourMyBeer card into the RFID card reader, and pull the tap handle to start pouring. Drinks are charged by the ounce vs. a full drink, allowing customers to sample and enjoy many different types of beverages and pay for what they pour. Sampling and enjoying a variety of drinks has never been easier. Since the customers are charged by the ounce, bars and restaurants no longer lose money on waste, theft, or freebies. These improvements through service drive operational costs down by 30-40% and increase sales by 30%, leaving more margin for the owners and a consistently better experience for the guests.
All participants had to answer a series of questions about their future plans and level ofseriousness about the self-pour concept. The lucky winner is Traven Bayne, owner of The Ouachitas of Mena, AR! They are the only craft brewery within 70 miles and are in the process of opening a new location that will house a larger brewhouse and have a three-acre beer garden. They currently have a 29-tap wall showcasing all of the wonderful craft beers from Arkansas, that will soon get transformed into a self-serve brewery!
The winner said: "When I filled out the application, I thought this is cool, but I have never won a drawing in my life, so when I first saw the email saying I won, I initially thought I don't know about this, and then I was like WOW. We are expanding [The Ouachitas of Mena] and want to do more here and there, and this would make that so much easier, better, and elevate what we had planned."
Josh Goodman, the CEO of PourMyBeer, added, "We're looking forward to helping Traven and his team implement our technology in a way that brings his community together and provides an amazing experience in the process."