PourMyBeer, the industry leader in self-serve beverage systems, announces today a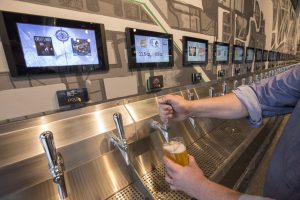 partnership with Toast, the popular restaurant POS provider that just closed a $115M Series D to fuel its continued growth. With the integration, PourMyBeer clients who use the Toast POS can track beer sales more efficiently, leading to increased revenue from beverage sales.
PourMyBeer allows guests the freedom to pour their own drinks, and get charged by the ounce – and in return, this technology lowers operating costs for restaurants by saving on labor, wait times and wasted goods. Restaurants and tap houses that use the PourMyBeer self-serve beverage systems provide customers with an RFID card to track each ounce poured. Now, all of those transactions will flow seamlessly into Toast, making it an easier and quicker sales process for both the restaurant and the consumer. For operators, it eliminates an extra step of converting the PourMyBeer data into Toast. For customers, they can basically self-serve anything on tap, close their tab instantly, and get an email or text receipt of their transactions.
"We want to set our customers up for success in every possible way, which is why we partnered with Toast," says PourMyBeer founder & CEO Josh Goodman. "Now when you open a tab in Toast, you connect the PourMyBeer RFID card to that tab and all the information flows back and forth like it's one system."
In today's competitive landscape, it's getting tougher and tougher to run a profitable business in the hospitality industry – mainly due to increased costs of labor and other operating costs. Toast drives more foot traffic and sales revenue through its world-class loyalty program, while PourMyBeer lowers backend expenses. When you stack the two on top of each other, it translates to a smoother sales process and much more profitable business.