PourMyBeer​, the industry leader in self-serve beverage technology, is teaming up with ​Micro Matic​, the industry leader in dispense equipment, to reward one small business owner with the gift of a lifetime: the equipment and technology to run a ​million-dollar self-pour taproom​!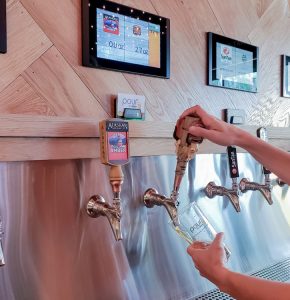 Over the past five years, the number of businesses with self-serve technology has grown from less than 10 to over 700. Why? Because people love self-pour fun! When guests experience self-serve technology, they want to bring the experience to where they live. It is THE most efficient way to dispense any liquid (4x more efficient than any other method). Efficiency is critical in the current environment of the restaurant industry, where good staff is hard to find and keep.
Self-serve tap systems let owners dispense and sell beer, wine, cocktails, mocktails, coffee, or even kombucha, 400% more efficiently than any other dispense method. This means that operators increase beverage sales and decrease product waste.
Self-pour technology also helps establishments worldwide reduce labor costs by 25% or more and eliminate staffing challenges! Since guests serve themselves, servers can focus their efforts elsewhere, increasing the overall level of customer service.
PourMyBeer is the chosen partner for brands like Buffalo Wild Wings, Whole Foods, Caesars, Hilton, and many regional restaurant groups. All of these brands did their due diligence before choosing PourMyBeer as a partner.
PourMyBeer and Micro Matic are giving away a 30-tap self-serve system – which includes the technology + dispense equipment – meaning one lucky entrepreneur will receive the tools to open up a business that should generate approximately $1.1 million revenue in their first year!
The contest launched on October 27th, 2021, and is open to aspiring and seasoned entrepreneurs. Friends and family can also nominate people who would benefit from the self-pour trend.
The winner will be announced on the 23rd of December, an early Christmas present! The winner must have an existing location that has been open for at least 12 months, and the transition will need to happen within 120 days of the day of the winning announcement. For full terms and conditions and to apply for The Million Dollar Self-Pour contest, please visit selfpourgiveaway.com. Media contact: PourMyBeer Marketing Director Tana Rulkova at [email protected].