By Elyse Glickman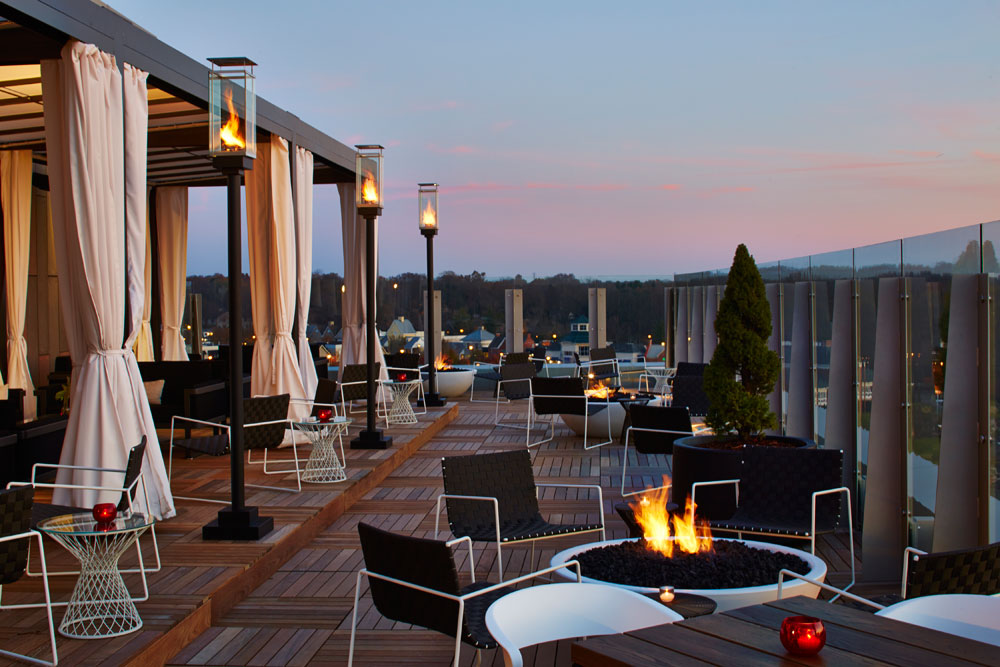 This spring and summer, outdoor dining will once again be a lifestyle choice rather than a public health measure. If you're going to tap into that excitement, however, you now need to curate your bar's outdoor area to reflect your customers' elevated expectations when they head to your establishment for a night "out." With better days ahead on the horizon, however, it's also important to recognize that the pandemic provided many reminders that creating the most appealing outdoor setting involves far more than putting out a few tables and chairs.
Continuity, or successfully carrying the "vibe" of your indoor space outdoors, is key now that business is back. With that in mind, how do you make the outdoor space an extension of the indoor space that has attracted customers to your bar? And what adjustments need to be made in terms of flooring and furniture to weatherproof that look?
Whether your patio, deck, porch, or terrace already exists or is a new addition, there's essential gear to consider in 2022 beyond the usual umbrellas and weatherproof furniture. And while you still need to think about safety, that definition will expand from cleanliness and food preparation to include everyday concerns such as sun exposure during the summer, skid- and weatherproof flooring, and heating units and lighting with sound wiring.
"The pandemic certainly highlighted the need for restaurants to maximize their current outdoor spaces," says Lee Schulman, who speaks from experience as both an owner/ operator (Atlanta's Old Vinings Inn) and industry consultant as president of Panacea Management Group Consulting.
"Heating and cooling those spaces allow year-round utilization and maximize revenues for the business," Schulman says. "The climate in which you operate will dictate what solutions are best for your outdoor space. It then becomes a math problem: How can I maximize my revenue in my space through deployment of these resources? What will be the upfront cost? How many served guests will it take on my current check average to recapture the investment required? How long and/or how many seasons will it take to do so?"
The Outdoorsy Types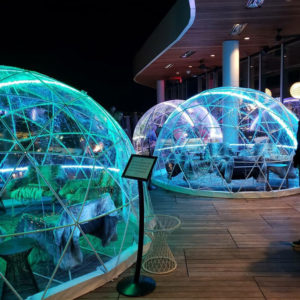 Josh Buck, general manager of VASO in Dublin, Ohio, could be described as a sherpa in the outdoor bar/dining universe as his vision of the great outdoors (in a location with four distinct seasons) has been honored with many accolades, such as Best Designed Bar in Ohio by Architectural Digest and Top Igloo Experience by both Midwest Living and Travel & Leisure. In recent years, he's observed the pendulum is swinging back toward a minimalist aesthetic indoors and outdoors while current technology is enhancing the guest experience. However, creating the perfect outdoor getaway inside a venue still involves careful thought and planning.
"This time around, technology is advanced enough to allow efficiency and practicality to integrate beautifully into a minimalistic design, which should be the focal point of an outdoor space," Buck says. "Furniture and lighting for your space should flow well into this concept, allowing for the eye to focus on the simple details that match your overall aesthetic, while the behind-the-scenes allows for a smooth operation with the use of technology.
Schulman, PMG Consulting, meanwhile, stresses the importance of comfort over convenience while still factoring in contemporary style and lifestyle into the formula. "People have been confined more or less for the past couple years," he says. "Therefore, design and aesthetics that convey comfort and polish are more important now than before. People want to escape their familiar surroundings and transport themselves but also be somewhat close to home. Design will reflect that: familiar and comfortable, yet just enough style that it's new and different.
When shopping for an outdoor space, Buck says that the first concern should be the comfort of the guest, which in turn will depend on the geographic location as well as the season. If heaters are necessary, heaters should be integrated into a given design style to make their bulky size an afterthought. In warmer regions, tables and seating upholstery should be made of breathable materials and those that won't heat up in the sun, while in cooler areas, they should be made of materials that retain heat.
"Let's start with the obvious enemy of outdoor dining…weather. If a guest is not comfortable in the first five minutes experiencing your outdoor space, your overall guest retention will be drastically lower," warns Buck, noting that even the best umbrellas and awnings alone, and in any type of climate, won't fully cover the customers' comfort requirements. "The first thing you should be looking at when shopping for your outdoor space is how well your purchase will hold up in an outdoor environment. Even if you have a covering in place that will block rain or snow, humidity and outdoor air can still tarnish items not designed for outdoor use."
Fire pits, which gained traction in recent years for their good looks, have also helped make outdoor dining beyond summer and fall as feasible in places like Chicago and Philadelphia as they are in Los Angeles and Miami. While well-placed heaters would still be a necessity,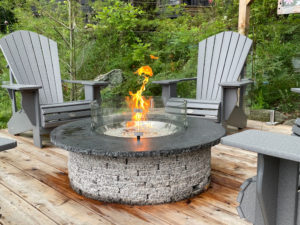 Rose Mangiardi, owner of Realstone Granite Fire Pits in London, Ontario, says that a good rule of thumb to follow is that what goes into a top-grade kitchen should also work for fire pits from both a practical and aesthetic standpoint.
"We use the same quality granite used for kitchen countertops to manufacture fire pits that burn wood, gas, and propane," Mangiardi explains. "Granite really is the best natural stone as it withstands the elements, it has been around for millions of years, and is proven more durable than plastic, man-made stone, and pre-cast concrete. This means customers and staff would be less likely to damage them. I recommend a fire pit 'table' with a commercial-grade stainless steel or tempered glass top to my hospitality clients in the U.S. and Canada. This adds durability as well as versatility as an additional table when the fire function is not in use. Furthermore, the table top won't be carried away with the wind but will protect the burners during rain and snow as drainage jewels are built in to allow water to dissipate through drainage holes."
Scene Continuity
Several of our experts agree that guests should have the same relative experience dining outside as they would inside a dining room. Of course, there are fundamental differences that need to be taken into account when furnishing an outdoor space, and there will be some differences of opinions and outlook. Schulman recommends that furniture and lighting should be in keeping with the general scheme of the restaurant's decor and also allow for the additional stress outside weather (water, wind, sun, etc.) will have on those furnishings.
"When you walk from the indoor space into the outdoor space, you want the guest to feel as though they have just entered a new realm of your establishment," says Buck. "You want the guest to know they are still inside your overall concept, but you want them to feel a special and unique experience that differs from your indoor space. The outdoor space should be a continuation of the indoors and should match the overarching theme."
Buck points out that a popular method to achieve continuity is to reverse your indoor color scheme for the outdoors. For example, if your venue has dark floors and light colored tables inside, try dark colored tables and light floors outside. He also suggests creative use of existing accent colors, such as putting them in different places than inside, and translating small design pieces used in the indoor space to a focal point outside, and vice versa.
Schulman, however, reminds owners that food and beverage spills are more likely to happen in outside environments. Therefore, fabrics or additives that repel stains are a must. Looking at the bigger picture, materials used in the furnishings, fixtures, flooring, and other components should be easy to clean to preserve their appearance for an extended period. While higher-end brands such as Krypton or Sunbrella cost more, they are worth that additional investment up front to ensure a longer service life. The possibility of customization of different pieces should also be explored to tie the indoors and outdoors together.
Mangiardi observes fire pits can either be purchased assembled or created by the client with the company's "firepit builder" to ensure the fire pits can easily harmonize with a variety of rustic or outdoorsy themes (winery, French or Italian country cuisine, Americana). Using the "firepit builder," customers can mix and match the stone, granite top, top finishes, and other elements.
"Using our handy online tool, you can select the shape, size, and color to accommodate the dimensions of your outdoor space," she says. "If a [hospitality client] is on a budget, especially after coming out of COVID, we offer dry-stacked DIY packages that can be easily assembled as an alternative to finished models. However, I recommend bringing in a gas technician to come and connect the gas as you want to not leave anything to chance on that end."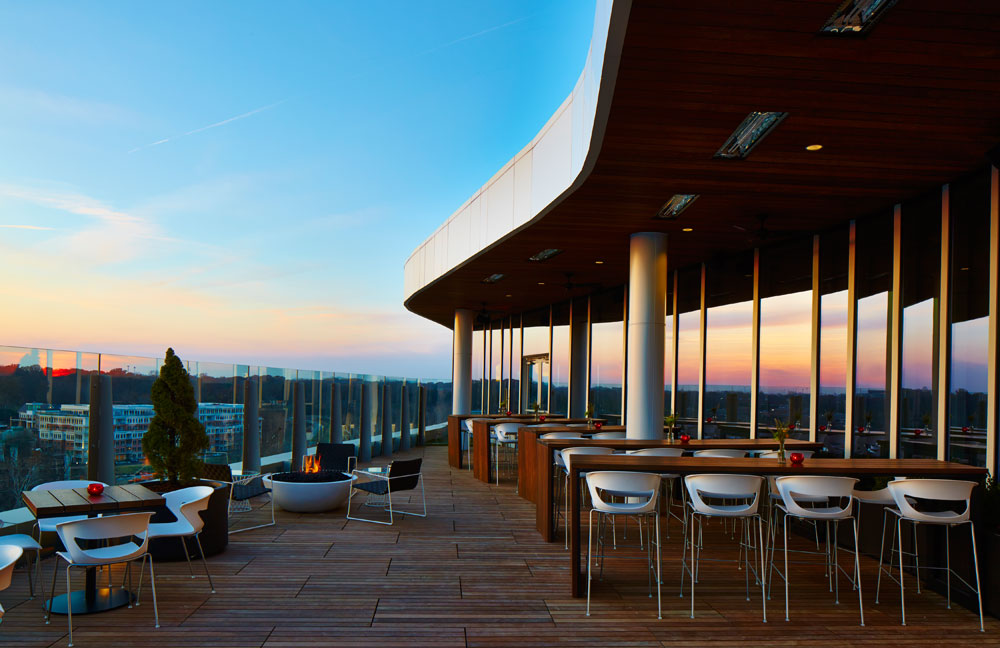 Little Things That Count
As many bar/restaurant themes easily translate to outdoor spaces, it's important to weave in small details to set your establishment apart from comparable places in town. Buck observes that many staff essentials and serving items can often be made from the same materials that you use in your indoor space. Most flatware, glasses, and china will hold up the same as they would inside.
Schulman, on the other hand, notes that even with aesthetics under consideration, outdoor spaces may require alternate smallware because of unpredictable weather and environmental circumstances as well as a few home-y and cozy extras.
"There are plastic plates, glasses, and utensils offering the appearance and feel of ceramic china, glass, and silver," he points out. "There are so many options out there that have the look and feel of the real deal. Last thing you want is broken glass on your porch. Another nice touch I've seen in colder climates are blankets. The spring can be tricky. The evening might start off warm but get colder as the sun goes down. Having a few baskets full of warm blankets creates a cozy feel. Diners love it!"
Another major aspect to consider is staff uniforms, which run in tandem with guest comfort.
"Your staff comfort is a top priority, and if they will be working in heat or cold," says Buck, "it will be a necessity to differentiate your uniform from those working in your indoor space."