Although as seasoned veterans we may believe that no drastic issue can tear our business down, the implications of COVID-19 have provided brand-new challenges to venue owners who seemingly have everything held together. For example, some venue owners have had to deal with the unfortunate instance of an employee testing positive for the coronavirus. We have now reached the point of necessary improvements to ensure safe and stable opening procedures for everyone.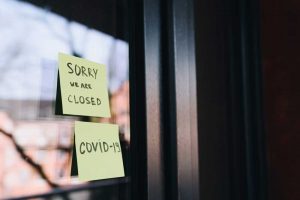 As government officials continue altering procedures to battle COVID-19, here are four important things you can be doing to offer your venue the best chance for remaining open without facing a shutdown.
1. Keep an eye on state regulations
With the continued uncertainty surrounding COVID-19 symptoms, local and federal legislators are frequently making changes to regulations affecting the restaurant industry, especially for staff members testing positive for the coronavirus. On top of ever-changing federal mandates, some states are even paving the way for local restrictions in hopes that other neighboring areas will eventually follow suit.
Although regulations are continually changing by state, the CDC does offer general recommendations for bar and restaurant owners seeking help on safely remaining open. The guideline not only offers strategies to take when an employee tests positive for COVID, but also provides general suggestions for successfully keeping your work environment germ-free. The official list of CDC suggestions can be found here, as well as other resources geared towards the latest health regulations.
2. Handling the threat of same-day closures
Though regulations will vary depending on the area, some states are facing a strict local-government mandate when either an employee or customer tests positive for COVID-19. For example, the state of Massachusetts currently requires that all restaurants with a positive-testing employee or patron immediately shut down for 24 hours. With state governments continually piggy-backing off of each other regarding suggested regulations, it would be best for your venue to take all precautions before 24-hour closures become a reality in your area.
More information on the official Massachusetts guidelines for a positive-testing employee or patron can be found here.
3. Be willing to adapt to changing industry standards
Restaurants and bars have already begun making contactless menus a new industry standard. Although we have all viewed the addition of QR codes as a great first step, many restaurants are now implementing a contactless ordering and payment method in addition. This further reduces the "staff to customer" contact and will ultimately lower your risk of a temporary closure. The CDC does offer suggestions for behaviors that help reduce the spread of infectious disease, which includes discouraging members in your venue from sharing physical objects with one another such as condiments.
4. Stay informed on guidelines
During such uncertain times, keeping your eyes open to industry impacts and making needed adjustments is essential. Although there does not seem to be a state-level database for local restaurant closures, there are certain resources available that are constantly tracking metrics to determine the overall state of the bar/restaurant industry. These reports include metrics on which states have the most restaurant closures as well as how many reservations are being taken nationally. To find the guidelines for your state, check out the CDC's official site and search for your state followed by the term "restaurant". This will provide you with a list of considerations for bar and restaurant owners per regulations currently being executed in your area.
Closing Out
If the pandemic has taught us in the restaurant industry anything, it is that we don't yet have an exact model to follow for a safe and secure venue opening. Though it's easy for any of us to take a backseat and simply wait for the impacts of COVID-19 to affect us, taking a pro-active approach will allow venue owners the opportunity to successfully remain open during and after the pandemic.
By Joe De Pinto, the co-founder of Barpay, the first contactless mobile order and payment app built specifically for restaurants, bars, and event venues.