Tequila Ocho announces the release of three distinct, limited edition blends of añejo created by Tequila Ocho founders Carlos Camarena and Tomas Estes in partnership with Maison Ferrand Master Blender Alexandre Gabriel.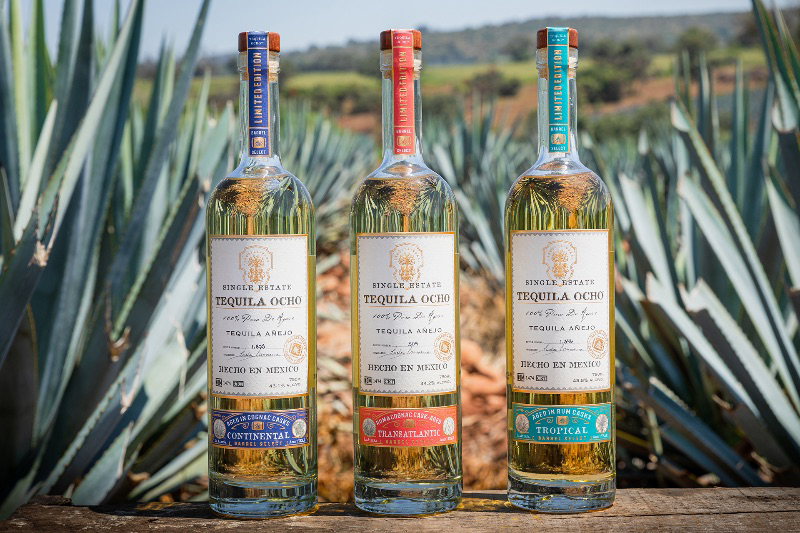 As aged tequilas continue to grow rapidly and delight many US consumers, Tequila Ocho is proud to share with its friends and fans an innovative new selection of añejo tequilas finished to perfection in flavorful casks most recently used by the acclaimed Maison Ferrand to age fine cognacs and rich aged rums.
Each will be available beginning in December in 750 ml bottles and retail for an SRP of $89.99. As always, Tequila Ocho is sourced from a unique field and vintage whose details are affixed to every bottle and remains proudly certified as additive-free.
Said Estes, "Tequila Ocho has always been a pioneer in our field; being an innovator in the tequila world in many ways, most notably in demonstrating the existence of terroir in tequila through our unique single-field production philosophy. With this new release of Tequila Ocho Barrel Select cask-aged añejo tequilas, we're thankful to continue working with another family that values terroir as much as we do, Alexandre Gabriel and Maison Ferrand."
As with all Tequila Ocho expressions, Tropical, Continental and Transatlantic are Mae from hand-selected, fully-ripened agave grown in Los Altos – the highlands – of Jalisco, Mexico in fields that have been owned and operated by the Camarena family for five generations. Subtly influenced in character and flavor by the individual ranchos on which the agave plant was grown, the agave piñas are then slow-cooked in a brick oven and gently cooled for a total of 72 hours. After the juice from the cooked piñas is squeezed to separate it from the fibers, it is mixed with mineral-rich water from a natural spring at the distillery and fermented in pine vats for four to five days before double distillation at low temperatures in steel and copper pot stills. The result is a spirit acclaimed by many as one of the world's finest sipping tequilas.
Tequila Ocho Barrel Select "Tropical"
(SRP: $89.99/750ml; 45.8% ABV/91.6 proof): Aged in rum casks from Fiji, Trinidad and Panama, Tropical elicits images and essences of the Caribbean and South Pacific, the origin of the barrels used for this bottling.
Tasting notes:
Nose: Fresh cherries, peach, clove, cinnamon, nutmeg, marzipan, honey, demerara, chocolate, hazelnuts, passionfruit with licorice and lavender notes.
Palate: Bitter chocolate, prunes, coffee, plum, cherry and vanilla notes are accompanied by a rich and creamy texture. Aniseed, white pepper and sweet spice complement the long, smooth finish.
Tequila Ocho Barrel Select "Continental"
(SRP: $89.99/750 ml; 43.1% ABV/86.2 proof): Aged in cognac casks from France, Continental conjures up flavors and souvenirs of the rolling vineyards of Cognac, the origin of the barrels used for this bottling.
Tasting notes:
Nose: Aniseed, chocolate, custard marzipan, marshmallow, jasmine, apricot and cooked agave.
Palate: Soft, creamy texture with dark chocolate, toffee, nutmeg and mace on the initial taste. The midpalate develops into mango, vanilla and cinnamon sweetness, light white pepper and clove notes, evocative of mango custard. Complex and remarkably well integrated.
Tequila Ocho Barrel Select "Transatlantic"
(SRP: $89.99/750 ml; 44.2% ABV/88.4 proof): Aged in rum casks from Fiji and Panama, as well as Cognac casks from France, Transatlantic evokes a journey in flavor commencing in the sunny sweetness of the caribbean and finishing in the sophisticated warming notes of Cognac.
Tasting notes:
Nose: Frangipane, banana foster, pandan leaf, honey, molasses, mango and green pepper.
Palate: Sweet tropical fruits – mango, banana, pineapple – intermingle with spicy, vegetal notes reminiscent of jalapeño. The palate has pleasant herbaceous notes like thyme and spearmint, as well as being mineral and slightly savory. The texture is rich with a buttery mouthfeel and a long, spicy finish.