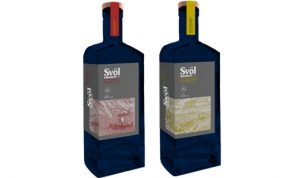 Launching in the U.S. this month, Svöl Aquavit seeks to celebrate the varied regional traditions of Scandinavia's beloved spirit and reveal how an obscure caraway-infused liquor can be used in cocktails as an everyday flavor accent or base spirit. Created in collaboration with experts in Nordic cuisine who worked under leading Danish restaurateur Claus Meyer, this modern aquavit is made to showcase the diversity of styles found in Scandinavian countries. Svöl Aquavit offers two styles – Danish ($35 SRP) and Swedish ($39 SRP), each available in select markets.
Dating back to the 15th century, aquavit is traditionally made with a grain or potato distillate base that is infused and re-distilled with a variety of herbs and spices, always including caraway. Over the years, distinct regional styles of aquavit have developed in each Scandinavian country. In Denmark and Sweden, aquavits are made with un-aged grain distillates; Danish aquavits tend to be caraway-dominant with notes of citrus, while Swedish varieties often feature dill and fennel as lead flavors alongside caraway. Svöl's Danish-Style Aquavit features the highest-quality caraway from Finland as its dominant flavor, which is then rounded out by other botanicals such as Icelandic angelica root and pine bark, rose hip, and gooseberry. Meanwhile, Svöl's Swedish-Style Aquavit features fresh dill, which is cold-infused for 24 hours to ensure the bright fresh taste, and fennel that's been cracked and roasted to release its flavor and aromas of lovage and lemon peel.
On the heels of launching and building Avuá Cachaça into a category leader in the United States, Svöl Aquavit is founded by Peter Nevenglosky, who is dedicated to paying homage to aquavit's centuries of history. To ensure the integrity of the flavor profiles, Nevenglosky tapped Gunnar Gíslason, former Executive Chef at Agern in New York and owner of Dill Restaurant in Reykjavik, Iceland, to select and source botanicals from around the world; Jonas Andersen, business development manager for Great Northern Food Hall and Agern, also consulted on the botanical combinations and aromatics. Noted distilling expert Allen Katz developed the distillation and botanical extraction techniques at his New York Distilling Co in Brooklyn, NY, where Svöl Aquavit is made in a 1,000-liter copper still, beginning by mixing a unique blend of full grain New York rye, corn and barley spirit with a neutral grain spirit.
"Aquavit holds a unique position as a less-known, yet highly versatile cocktail spirit," says Nevenglosky, who is also the founder of Drifter Spirits, the distribution network which represents Svöl Aquavit and Avuá Cachaça in the United States. "Our team of industry experts dedicated three years to category research, experimented with more than 50 botanicals from around the world, and ran hundreds of tests on stills of various sizes to achieve maximum concentration of flavor. Svöl Aquavit offers something new in the aquavit universe and we look forward to professional and home bartenders joining us on this journey of discovery."
SVÖL DANISH-STYLE AQUAVIT
(40%ABV, 750ml, $35 SRP)
A subtly spiced yet cirtrusy balanced spirit that delivers a complex, caraway-forward profile. The seven botanicals include: Caraway (Finland), Angelica Root (Iceland), Pine Bark (Iceland), Cape Gooseberry (Peru), Coriander (India), Rose Hip (Chile), and Lemon Peel (U.S.A). Recommended in savory cocktail experiments and classics such as a bloody mary, daiquiri and martini.
SVÖL SWEDISH-STYLE AQUAVIT
(40%ABV, 750ml, $39 SRP)
A complex, fresh dill-forward and bright flavor profile with earthy undertones. The six botanicals include: Caraway (Finland), Coriander (India), Fennel (India), Lemon Verbena (Egypt), Lovage (Poland) and Lemon Peel (U.S.A). Recommended in refreshing cocktail experiments, such as pairings with tonic and highball cocktails.
Svöl, meaning cool or cold, was one of the eleven rivers that predate the creation of the world in Norse Mythology. The Viking runic compass symbol is on the cap labels, while the bottle designs feature images of the Stockholm Archipelago in Sweden and the chalk cliffs of Møns Klint in Denmark.