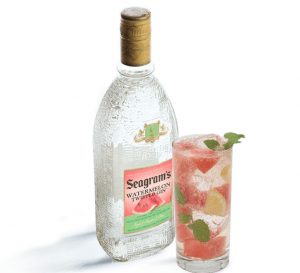 America's spirit, Seagram's Gin, is pleased to announce the launch of Watermelon Twisted Gin this Memorial Day. Seagram's Gin is introducing its new watermelon flavored expression to the U.S. to provide current and new gin fans a fresh & cool taste of summer. As America's #1 Gin, Seagram's takes pride in providing a robust variety of traditional and flavor-infused gins. This fun new Watermelon expression is the latest extension to its flavored gin offerings, which include Seagram's Lime, Pineapple, and Peach. Seagram's Watermelon Twisted Gin is available at select retailers at an SRP of $10.99 for a 750ml sized bottle, with additional sizes of 50ml, 375ml and 1.75ml also available*. The expression will also be retailed online at Drizly, Instacart, and other e-commerce marketplaces depending on local availability.
This new flavored gin starts with the original Seagram's Extra Dry Gin and is infused with juicy watermelon flavors that perfectly balance the botanical essences of the hero expression. Watermelon is a flavor synonymous with summer, no matter the time of year. As a brand, Seagram's Gin tuned into consumer trends to identify the summer flavors Americans most enjoy and learned that Watermelon topped the list. This new expression is one of the first watermelon flavored gins widely distributed within the U.S. market. Seagram's Watermelon Twisted Gin brings the fruity taste of summer and helps people keep the summer vibes going all year round.
"With the rise in Watermelon flavored products and their continued success during the spring and summer seasons, we want to offer consumers a budget-friendly, flavor-infused Gin offering for existing Gin drinkers and to bring more consumers into the Gin category" says Mwanza Lumumba, Brand Director of Seagram's Gin.
As at-home bartending continues to rise, Seagram's Watermelon Twisted Gin will give consumers the ability to create their own summer inspired gin cocktails year-round in the comfort of their homes and within budget. Seagram's Watermelon Twisted Gin can be enjoyed on the rocks, with soda water or tonic, or with a favorite juice or mixer.