Ten years since securing their first batch of bourbon, the Pinhook whiskey team continues their mission to create annual expressions of whiskey that showcase their barrels' best attributes at a moment in time, rather than reproducing a consistent flavor profile year after year. Guided by this founding philosophy, the Kentucky whiskey producer has announced the arrival of Bourbon War Vertical Series 5 Year (52% ABV; $50 SRP) and Tiz Rye Time 4 Year (48.5% ABV; $45 SRP), the second straight bourbon whiskey and first straight rye whiskey in a collection of nine consecutive annual vintages known as the Vertical Series. Both whiskies are available for purchase in 25 states and via Breeze, Pinhook's text-to-shop program.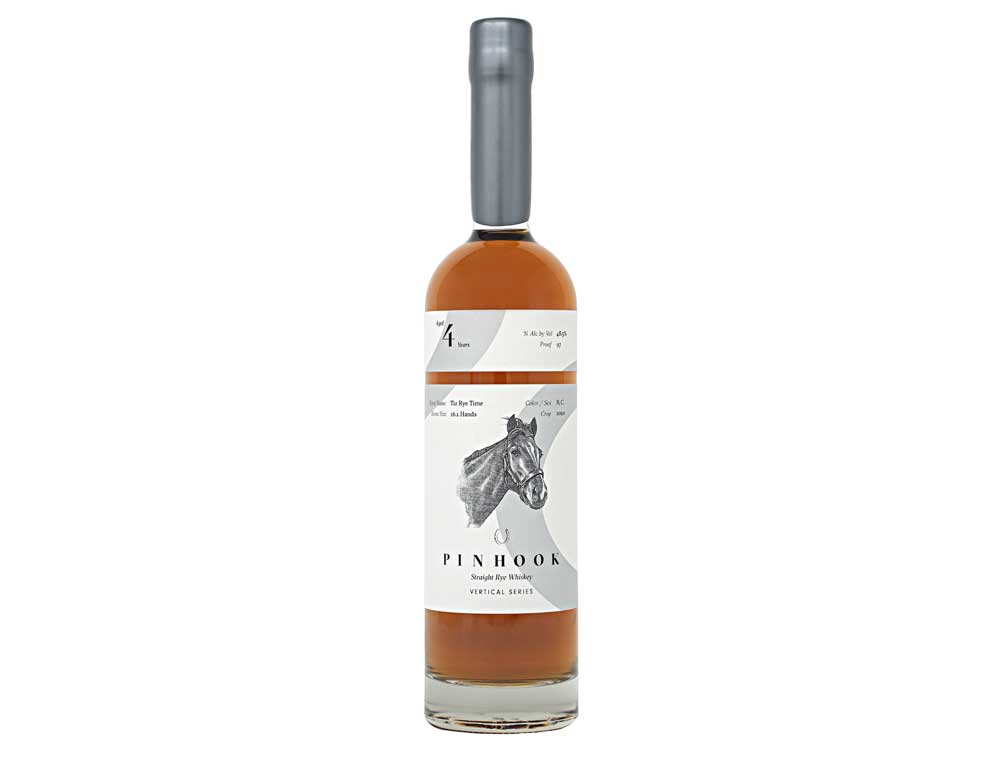 Introduced in fall 2019 with Bourbon War 4 Year, the Vertical Series follows a single group of bourbon and rye barrels sourced from Midwest Grain Products (MGP) as they mature from four to 12 years of age. For each vintage, Pinhook carefully selects, blends, and proofs those barrels to highlight the strengths of the liquid at that point in time. Unlike other annual release offerings, the Vertical Series produces all nine bourbon and rye vintages using a set mashbill and barrels with similar fill dates, meaning that age is truly the only changing factor.
"Similar to fine wine vintages, Pinhook has no established flavor profile or proof, only an ethos to produce the best whiskey every year," says Sean Josephs, Pinhook Taster and co-founder. "A dedicated group of barrels, filled at the same time and location, gives us the opportunity to tinker with flavors and proof as the liquid continues to age and transform. While availability of each vintage will diminish each year due to evaporation and higher proofing, the new Bourbon War and Tiz Rye Time releases offer whiskey lovers, bottle hunters, or those looking for an investment in something special, wide access to supply. We predict that scarcity will become a significant factor as people follow the series for years to come."
Bourbon War honors a promising young colt of the same name, who ran in the Preakness and Belmont Stakes the same year that Pinhook's Vertical Series was introduced. Bourbon War 5 Year has a nose of butterscotch, cinnamon stick, licorice, and vanilla, met with a darker fruit palate of cherry, chocolate, bruleed brown sugar, and chicory. While retaining the four-year-old's mashbill of 75% corn, 20.5% rye, and 4.5% malted barley, Bourbon War 5 Year is bottled at a higher proof of 104.
Meanwhile, the Tiz Rye Time series pays homage to a three-year old colt who has already received Kentucky Derby points through the competition of four races. Proofed at 97 with a mashbill of 95% rye and 5% malted barley, Tiz Rye Time 4 Year has a nose of tangerine peel, cinnamon stick, and toffee, with a palate of dried apricot, molasses, toaster cedar, and clove.
The Vertical Series casks are aged and blended at Castle & Key, the former Old Taylor Distillery, in Frankfort, Kentucky, with which the brand has held a distilling partnership with since 2017. The Bourbon Vertical Series annually comprises 150 barrels, while the Rye Vertical Series is constituted of 50 each year. Inspired by the bold silks worn by jockeys, each Bourbon War release is adorned with a gold wax and label, while Tiz Rye time is outfitted with silver wax. While all 18 expressions in the Vertical Series will honor the same two horses, the different vintages can be identified by the geometric shapes on their labels, which change every year, as well as the age statement on the top label.
You can further explore the brand through the Pinhook AR app, available on the App Store and Google Play. Pinhook is also available to purchase through Breeze, the brand's text-to-shop service. Text a photo, screenshot, or description of their desired bottle to the word PINHOOK (926-848) and a personal shopper will source and ship product your way.