Frey Ranch Distillery is pleased to announce the release of its inaugural Frey Ranch Straight Rye Whiskey (50% ABV, $59.99 SRP), available now throughout the distillery's home state of Nevada. Frey Ranch Straight Rye Whiskey holds the coveted "bottled-in-bond" designation, which requires that a spirit is produced by a single distiller within one season, aged for a minimum of four years in a bonded warehouse, and bottled at precisely 100-proof. Batches one and two will be released in extremely limited quantities, with 3,000 and 2,400 bottles available from each batch respectively. The release of Frey Ranch Straight Rye Whiskey follows the distillery's debut of its Straight Bourbon Whiskey in December of 2019.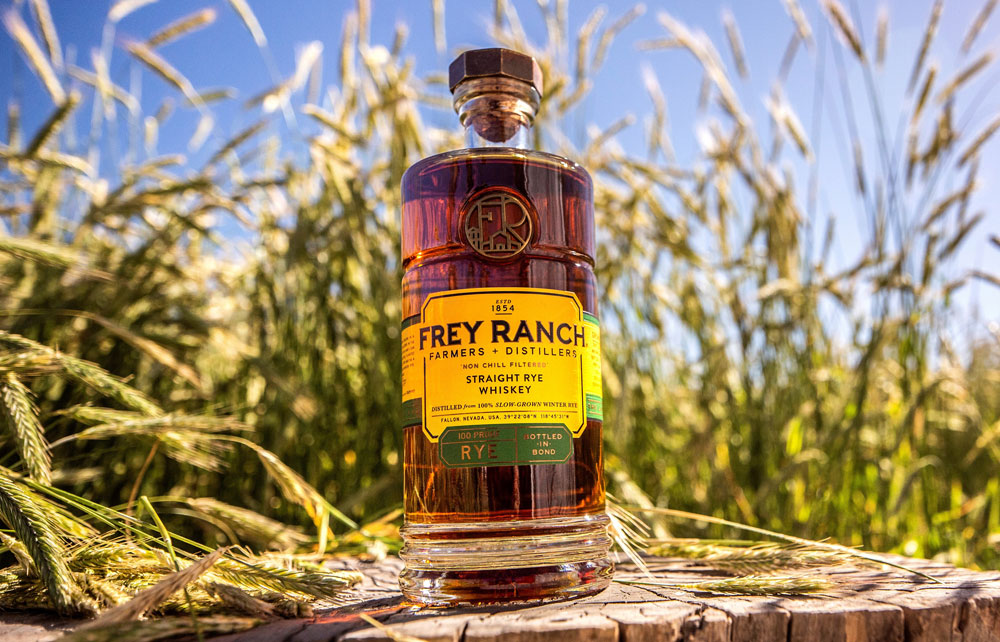 Located in Northern Nevada's Lake Tahoe Watershed, Frey Ranch Distillery grows, malts, and distills 100% of its whiskey grains on-site for consistent quality as a point of pride. The Frey family has a history of farming in the region that dates back to 1854 and lives on today through Frey Ranch CEO, Co-founder, and "Whiskey Farmer," Colby Frey, who started the distillery in 2006 with his wife and Co-Founder, Ashley. The Freys work closely alongside Master Distiller and Certified Crop Advisor, Russell Wedlake, to carefully oversee each stage of the production process, "from ground to glass™."
Frey Ranch Straight Rye Whiskey has a mash bill of 100% Winter Cereal Rye and maintains a smooth, complex flavor that sets it apart from the pepper-forward flavor profile found in many ryes. This versatility makes for a flavorful whiskey that can be enjoyed on its own or in a cocktail.
"As our rye was aging, we knew we had something special on our hands based on the reactions of those who sampled it," says Colby Frey. "Nearly everyone commented on its smoothness and how easy it is to sip, which is rare for a 100% rye mash bill. We're very proud of how our first-ever Straight Rye Whiskey turned out and can't wait to share it with consumers."
FREY RANCH STRAIGHT RYE WHISKEY TASTING NOTES
Nose: Intense notes of wood and rye spice, vanilla, and caramel lead into a glorious perfume of grapefruit zest, almond, and honey
Palate: Full-bodied and buttery with plenty of black pepper spice and ginger up front; a long, lingering finish brings velvety honey, raisin, and cacao nibs