Knob Creek®, a leader of the rye whiskey category since the introduction of its signature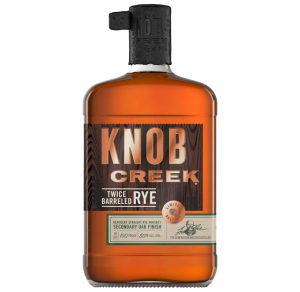 Knob Creek® Straight Rye Whiskey in 2012, is excited to announce the launch of its most unique rye expression to date, Knob Creek® Twice Barreled Rye. A first for the brand, Knob Creek Twice Barreled Rye presents the brand's signature straight rye whiskey, secondarily finished in new, charred American oak barrels to deliver a harmoniously smooth and robust rye.
The newest expression in Knob Creek's extensive rye whiskey portfolio, Knob Creek Twice Barreled Rye is an embodiment of the brand's dedication to hard-earned flavor. Patiently aged to taste and bottled at 100 proof, Knob Creek Twice Barreled Rye presents the rich and savory notes signature of the brand's classic rye whiskey, amplified by robust oak and warm spice notes with a touch of sweetness from the secondary barreling process. The result is a bold whiskey with a completely new flavor profile to the brand's highly awarded line up.
"Rye whiskey is more popular than ever, and I'm proud Knob Creek plays a role in that," said Fred Noe, Beam Family 7th Generation Master Distiller. "I've enjoyed experimenting with unique ways to amplify our classic rye whiskey to give whiskey fans something new and exciting, and I think we've done just that with Knob Creek Twice Barreled Rye. I hope everyone has a chance to enjoy this new whiskey with friends and family as we enter the holiday season."
Carefully tasted by Noe through aging and secondary finishing until the whiskey achieved the robust and balanced flavor profile he envisioned, Knob Creek Twice Barreled Rye is bottled with the following characteristics:
Proof: 100
Color:

Honey Gold

Aroma: Powerful oaky aroma with subtle notes of brown sugar, vanilla, nutmeg and rye spice
Taste: Well-rounded sweetness, with secondary notes of toasted wood and warm baking spices
Finish: Lingering oak and spice, warm finish
Sipping Suggestions: Knob Creek Twice Barreled Rye is best enjoyed neat, over ice or in an Old Fashioned
Knob Creek Twice Barreled Rye joins a growing lineup of rye whiskies. In 2012, the brand introduced its classic Knob Creek Straight Rye Whiskey, which helped revive the rye category from the downturn it had experienced since before Prohibition. Since then, the brand has also introduced Knob Creek® Single Barrel Select Rye Whiskey, an extension of the brand's single barrel selection program, as well as Knob Creek® Cask Strength Rye, an extra-aged take on the brand's classic rye whiskey that was named "Best Rye Whiskey1" earlier this year.
Knob Creek Twice Barreled Rye is now available nationwide with a Suggested Retail Price of $44.99 for a 750mL bottle.