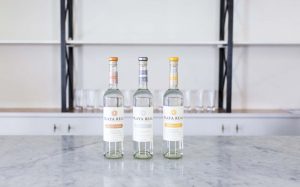 The Davis Spirits Company has announced the launch of Playa Real Premium Tequila, an Austin-based tequila brand with a lineup of three 100% blue agave 80-proof, triple-distilled tequilas. Included in the portfolio is one premium Silver tequila and two natural fruit-infused tequilas: Mandarin and Pineapple.
Matt Davis and Arturo Vargas, two experienced marketers, each with over 10 years in the
alcohol beverage industry, teamed up to bring the first 100% blue agave, 80-proof, triple-distilled flavored tequilas to the market. Playa Real Tequila is produced in the heart of Tequila in Jalisco State, Mexico, and headquartered in Austin, TX.
Davis discovered fruit-infused tequila during his frequent surf trips to Mexico and began recreating his favorite flavors for family and friends. They were so well received, he decided to turn his passion into a formal commercial venture. Matt serves as the CEO of the company, leading all distributor relations and marketing.
"I have grown so fond of Mexico's vivacious culture and love the excitement of immersing
yourself in a local community," said Davis. "With Playa Real Tequila, and more specifically the fruit-infused products, I wanted to bring that feeling of discovery to others, delivering a unique taste of Mexico that many haven't experienced before," he continued.
To launch Playa Real Tequila, Davis partnered with Arturo Vargas, a native of Mexico with a
passion for tequila and experience launching national beverage brands in the USA. Arturo
serves as president of the company, leading sales and operations. Each of the three tequilas is 80 proof and filtered through a precise triple distillation process, producing a smooth and authentic tequila taste. The two flavored tequilas are crafted using the original premium Silver tequila recipe, which is then infused with all-natural fruit flavors. The two
varieties—pineapple and mandarin—were chosen by popular demand and for their versatility from a consumption standpoint.
"When creating the flavors, we were adamant about not lowering the alcohol content, like many other flavored versions do, or sacrificing the quality of the base tequila, hence our decision to use the Silver recipe as the flavor base. Both quality and value are paramount to us," said Davis. With the launch of their premium products, they aim to welcome back lapsed tequila consumers and acquire new tequila fans with delicious and approachable flavor options. Playa Real recently signed a partnership deal with Republic National Distributing Company (RNDC) to distribute the brand in Texas and Colorado, with additional states on the horizon.
With its recent acquisition of Breakthru Beverage, RNDC is now the largest distributor in the United States, with operations in over 22 states. "We are both honored and excited to partner with RNDC to help launch this brand. In addition to being one of the most successful and reputable alcohol beverage distributors, they set the bar for expertise and brand support, and we couldn't envision anyone better to help us bring Playa Real to the market," says Davis. In just four short months, the brand has expanded across the Texas and Colorado markets.