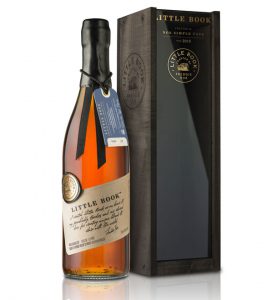 Freddie Noe, eighth generation Beam distiller and creator of Little Book® Whiskey, is proud to announce the second installment in his annual, limited-release series of blends – Little Book Chapter 2: Noe Simple Task.
Like last year's inaugural Little Book release, Little Book "Noe Simple Task" is an embodiment of Noe's passion for blending high quality spirits as a means to discover unique taste profiles unlike any others on the market. The 2018 chapter delivers on this vision, featuring an expertly balanced blend that marries the bold and spicy Kentucky straight rye characteristics from Noe's home roots and the more delicate flavors of aged Canadian whiskies that he came to admire following a trip to Alberta, Canada as part of his ongoing development as a Beam family distiller. "Noe Simple Task" is crafted with three uncut and unfiltered1 whiskies, including: 8-year old Kentucky straight rye whiskey, 13-year-old Canadian rye whisky and 40-year-old Canadian whisky made from 100% corn.
"For Little Book Chapter 2, I was inspired to work with the extra-aged Canadian whiskies I tasted while visiting our Canadian distilleries last year, but I knew I had my work cut out for me," said Noe. "The floral, fruit notes Canadian whiskies achieve really intrigued me, along with the aging and production styles that are so different from what we do here in Kentucky. It was a step outside my comfort zone to bring these two worlds of whisk(e)y together, and I'm really proud of the unique blend I was able to achieve."
As the name implies, crafting the final blend for Little Book "Noe Simple Task" was a long journey that tested Noe's skills as a blender. After experimenting with nearly 40 different blends, Noe selected recipe number 29 as the blend that met his precise vision for his second release. Balancing the strong flavor and high proof of the 40-year-old Canadian whisky, in particular, proved to be the biggest challenge; yet, like his grandfather Booker Noe, Noe's curiosity and innovative spirit guided him through to the end.
"Freddie is really coming into his own as a Beam distiller, and it makes me proud to watch him explore his passion for blending and the unique taste profiles he can achieve with each Little Book release," said Fred Noe, Freddie's father and Beam's seventh generation master distiller. "Freddie is a real perfectionist, and he doesn't rest until he's completely satisfied with the final product. I really enjoy his latest labor of love, and I can't wait to see what he comes up with next."
Little Book "Noe Simple Task" was developed by Freddie Noe with the following characteristics:
Blend Overview: 13-year-old, uncut and unfiltered1 Canadian rye whisky at 111.9 proof

8-year-old, uncut and unfiltered1

Kentucky

straight rye whiskey at 119.8 proof
40-year-old, uncut and unfiltered1 Canadian whisky at 137.8 proof

Proof: 118.8
Tasting Notes: Little Book "Noe Simple Task" features floral and fruity notes that balance out the spice from the rye whiskies in the final blend. The finish is long, lingering and spicy with notes of caramel.
Sipping Suggestions: Neat, over ice, or with a few drops of water
Already an award-winning whiskey, having received a Double Gold medal at the 2018 New York World Wine and Spirits Competition, Little Book "Noe Simple Task" will be available nationwide beginning in September in limited quantities with a Suggested Retail Price of $99.99 for a 750mL bottle.