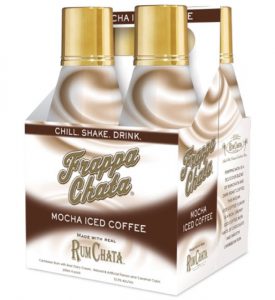 FrappaChata, the ready-to-drink alcoholic iced coffee made with real RumChata, is adding a new mocha flavor this summer. FrappaChata Mocha blends the delicious and refreshing taste of FrappaChata iced coffee with the perfect touch of real chocolate.
"We want to give FrappaChata fans the same variety they get in non-alcoholic iced coffee," said Tom Maas, RumChata founder and master blender. "FrappaChata Mocha adds a rich, real chocolate flavor to FrappaChata that gives iced coffee drinkers another chance to enjoy an adult version of their favorite iced coffee flavor."
Coinciding with the FrappaChata Mocha launch is the introduction of new, single serve, 200ml wide-mouth bottles in both flavors. The new bottles will be sold in a 4-pack carrier, perfect for grab and go convenience. The wide-mouth bottle design is a familiar package for non-alcohol ready-to-drink iced coffee consumers and is a perfect serving size for golf beverage carts, casino and resort hotels, convenience stores, beach and poolside bars.
FrappaChata will be supported this year with a massive consumer advertising campaign featuring both flavors — more than 132 million adults age 21 and older will see a FrappaChata ad this year.  Designed to reach millennials from May through September, the campaign will be executed on national cable television and in national print ads in People, Rolling Stone, ESPN The Magazine, OK! Magazine and Cosmopolitan along with ads on YouTube, Facebook and premium digital video channels.  Vibrant double decker bus wraps will also be touring through high-traffic areas in select markets.
"Advertising support for both FrappaChata flavors will be huge this summer, reaching millions of consumers and driving them to retail," added Maas. "We are seeing the same excitement from retailers for FrappaChata Mocha that we saw with the introduction of original flavor FrappaChata, which sold over one million units in its first six months of availability."
FrappaChata Original Flavor and Mocha are 25-proof and shelf stable, requiring no refrigeration and available in 1.75L bottles for a suggested retail price of $19.99, 200ml 4-pack at a suggested retail price of $11.99 and 100ml bottles for a suggested retail price of $1.99. FrappaChata can be displayed in multiple locations located on the shelf with RumChata, next to other premium, ready-to-drink cocktails in the ready-to-drink section, or in the cold box. A 100ml counter dispenser for placement at cash registers is also available for an additional point of sale in the impulse aisle or checkout.