The first release of the Booker's® Bourbon 2021 Collection is Booker's Batch 2021-01 "Donohoe's Batch." This batch is named in honor of Mike Donohoe, a retired Jim Beam employee and close friend of 6th Generation Master Distiller Booker Noe.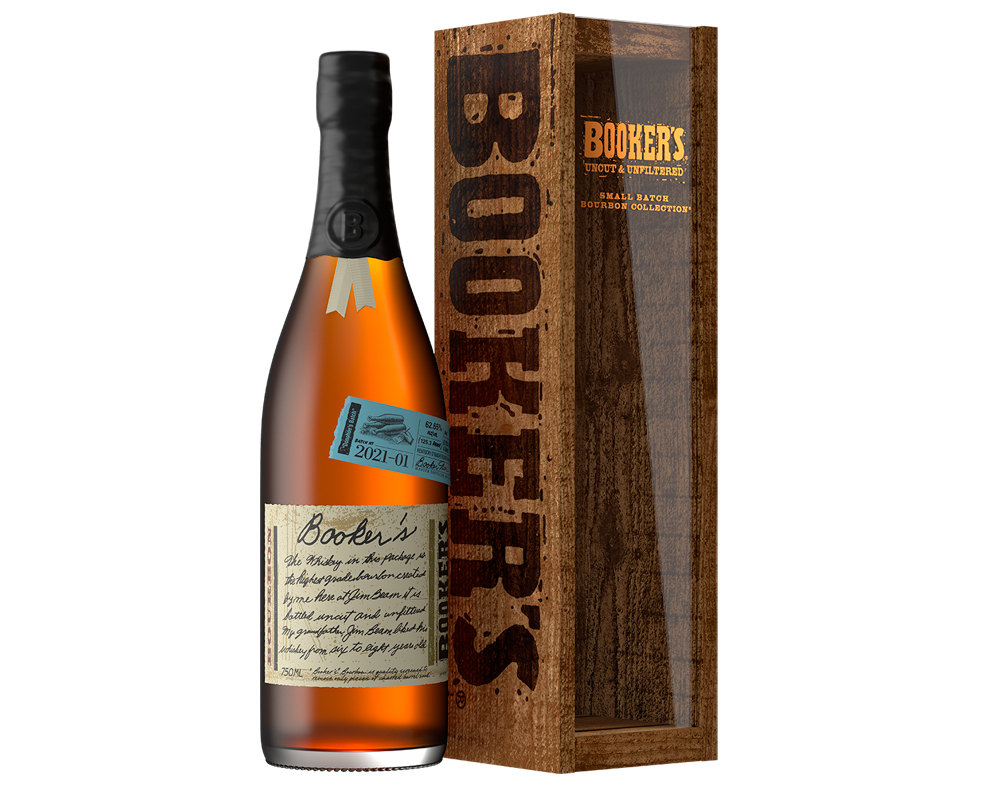 Mike first joined the Jim Beam Company in 1982 as a sales manager after retiring from a seven-year career in the NFL. After Booker and Mike bonded over their mutual love of football, Booker invited Mike to his office for a glass of bourbon. It was unlike any Jim Beam bourbon Mike had tried before, so Booker let him in on his secret – he'd been playing with something different, and he'd share a bit of it with friends from time to time. A few years later, Mike approached Booker with the idea to give bottles of his special stash as holiday gifts to their most important distributors and industry partners. With little time and minimal budget, Booker sourced wine bottles from a warehouse in Bardstown and wrote the labels himself to get the job done.
Following the hundreds of letters they received raving about that uncut, unfiltered whiskey, it's safe to say the rest is Booker's Bourbon history. Booker always had the final say when it came to the bourbon, but he trusted Mike to help him build it into the brand that it is today.
TASTING NOTES
Like all batches of Booker's Bourbon, Booker's "Donohoe's Batch" was selected by 7th Generation Master Distiller Fred Noe to ensure it upholds the qualities and standards that his dad set for Booker's Bourbon more than 30 years ago. Uncut and unfiltered1, this batch was chosen with the following characteristics:
PROOF: 125.3
AGE: 6 years, 11 months, and 4 days
BATCH NOTES
Booker's "Donohoe's Batch" is a medium amber color that reflects the length of time spent in the white oak barrels. The aroma has vanilla and some baking spice that makes you want to experience the taste of this batch. The taste is full-bodied and opens in the mouth, with a finish that is pleasant and fulfilling especially in these cooler months.
SIPPING SUGGESTIONS
Booker's "Donohoe's Batch" is best enjoyed neat, over ice or with a few drops of water. Booker's "Donohoe's Batch" is available nationwide beginning in March in limited quantities with a Suggested Retail Price of $89.99 for a 750 mL bottle.