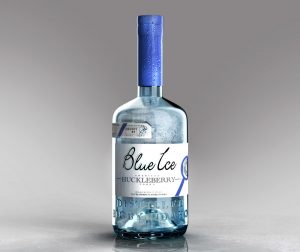 Blue Ice Vodka , whose line of "fit-friendly vodkas" is disrupting the spirits industry, announced the launch of Blue Ice Huckleberry. Blue Ice Vodka Huckleberry falls in line with the company's "fit-friendly" ethos, coming in at 57 calories per ounce. The product boasts 100 percent natural flavors and is made using non-GMO Idaho potatoes and Idaho Mountain Huckleberries, the state fruit of Idaho. The product does not have any carbs and is gluten-free.
"We're thrilled to be able to launch this product in advance of the summer cocktail season, given that huckleberry-lemonade is one of the fastest-growing cocktails in America," Blue Ice Vodka owner Jim Myerson said. "We're proud to continue to make great-tasting
products in America with locally sourced produce."
Blue Ice Huckleberry is available in one liter, 750-milliliter and 50-milliliter bottles. It will be available in 29 different states and via Blue Ice's e-commerce partner, ReserveBar.
Blue Ice Vodka Huckleberry boasts ripe, plump berry notes on the nose, somewhat similar to a blueberry. The taste profile features a hint of tart and sweetness and an aromatic, silky-smooth finish.
"Blue Ice Vodka continues to be the market leader in developing "fit-friendly" spirits and Huckleberry adds to our suite of products vodka enthusiasts can use to make low-calorie cocktails," Blue Ice Vodka president and COO Thomas Gibson said.
Blue Ice Vodka, "your fit-friendly vodka," is the lowest-calorie, 80-proof vodka in the United States' marketplace at 52 calories an ounce. After the launch of its potato version, the company released two other "fit-friendly" vodkas, including its organic wheat (64 calories per ounce) and huckleberry flavor (57 calories per ounce). The products are non-GMO, gluten-free and have no sugar added. Blue Ice Vodka started with "Big Jim" Myerson's vision, who was a man with great charisma and integrity, a passion for fine wines and spirits, and a desire for creating truly handcrafted spirits.