Belvedere, the world's original luxury vodka, is excited to reveal its latest innovation, the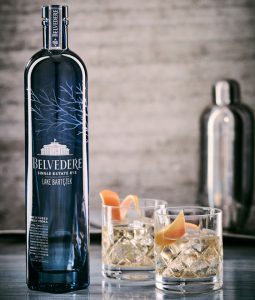 Belvedere Single Estate Rye Series, debuting nationwide beginning June 2018. The launch features two distinct vodkas, Smogóry Forest and Lake Bartężek, each named for the village of the estate, and crafted to capture the distinctive essence of their respective terroirs.
The Belvedere Single Estate Rye Series represents an extraordinary exploration into the idea of terroir (soil, topography, and climate) in vodka, making the claim that climate variation affects the taste yielded from the same superior Polish Dankowskie Diamond Rye used in each unique expression.
Terroir Distilled
Belvedere Vodka has championed Polska rye vodka and superior natural ingredients since its inception and, with this innovation, is further demonstrating its longstanding commitment to producing vodkas of complex character. The brand works with only eight farms and for this series selected two, focusing on the lakeside Bartężek and forested Smogóry, to illustrate the variation of terroir on Dankowskie Diamond rye. When tasted side by side, the two new vodkas deliver demonstrably different taste profiles.
"Terroir is not simply a notional concept, it really does shine through in our food and drink and enables us to experience the history and traditions of a place through our palate and senses," said Claire Smith-Warner, Head of Spirits Education for Moët Hennessy. "We hope this innovation will leave people with a better understanding of terroir and a fresh perspective on vodka and its potential to be much more than a neutral spirit. We've always championed that vodka has taste, character and complexity and this series is further evidence of the approach to vodka that defines Belvedere."
"Our new single estate vodkas represent a very special innovation for Belvedere," said Rodney Williams, President of Belvedere Vodka. "It is the next phase of our quest to show that there is dimension, discernment and extraordinary quality in vodka. It also reflects our commitment to exceed expectations, both in the use of superior Dankowskie Diamond Rye and our ability to draw out nuanced flavors."
Distinct Taste Profiles
Smogóry Forest is made entirely from Dankowskie Diamond Rye grown at a single small estate deep in western Poland. The pastoral region is known for its vast forests, short, continental weather fronts, mild winters and fertile soils. This lush, forested terroir is reflected in the new distinctive vodka. With notes of salted caramel, a touch of honey and white pepper, the liquid boasts a bold and savory finish.
Lake Bartężek is crafted from Dankowskie Diamond Rye grown at a single farm in northern Poland's Mazury lake district, a region renowned for its crystal-clear glacial lakes, weather shaped by Baltic winds and long, snowy winters. In fact, the rye in this region spends over 80 winter days buried in snow, conditions that add to its character and greatly impact the liquid's flavor profile. The name Bartężek comes from Lake Bartężek, which runs along the estate's eastern edge. It is this lakeside terroir that is reflected in this distinctive vodka. With notes of black pepper, toasted nuts and cream, the liquid finishes with a delicate, fresh flavor.
Disruptive New Packaging
The Belvedere Single Estate Rye Series features unique new packaging that is evocative of the distinctive vodka contained within each bottle. The new bottles have a unique square base that gradually transitions to a round top and a shorter neck borrows cues from high-end dark spirits. Smogóry Forest is a smoky grey and Lake Bartężek's is a deep blue, each featuring a slow, elegant resolve from dark to nearly translucent. Side by side the two are a cohesive pair and project the elevated nature of their terroir.
Drinks Strategy
Belvedere Smogóry Forest and Lake Bartężek should be enjoyed neat or on the rocks to truly experience the exquisite taste of each. If enjoyed in a cocktail, the brand encourages using them as a characterful alternative in classic rye whisky cocktails.
Belvedere Smogóry Forest and Lake Bartężek will debut in the US at Bar Convent Brooklyn June 12th, 2018 and be available in premium bars, restaurants and lounges and select specialty retailers.