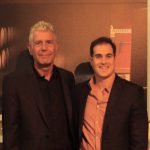 Anthony Bourdain, a celebrated chef, author, travel host, and television personality, has died at age 61.
Bourdain spent time as a chef in many venues, including at Brasserie Les Halles in New York City. He was also the author of many bestselling books, including his first: Kitchen Confidential: Adventures in the Culinary Underbelly. He hosted four television series, the most recent being Parts Unknown on CNN.
"Anthony Bourdian was a rockstar in the kitchen who loved the history of food and cocktails along with the cultures that curated them," says Art Sutley, Nightlife & Hospitality Expert and Publisher of Bar Business Magazine. "He was a true master of inviting us into that culture by drilling down the political structure of the city/country while presenting how it impacted their food and their social drinking. It was humbling even having casual conversations with him. There were plenty of words to live by."
Read on for more information about Anthony Bourdain's achievements in and out of the kitchen.