By Ashley Bray
Since mid-March 2020, the entire country has been wondering what comes next and when we'll pivot from the current environment of uncertainty to one more akin to our "normal" routines.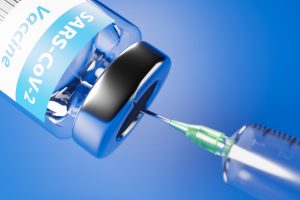 International consulting firm Kearney has also been asking these questions about the beverage alcohol industry, which can be difficult to answer since there is no precedent for the current situation in modern times—the last time the world dealt with anything like this pandemic was back in 1918.
Since traditional "look back" forecasting techniques would be ineffective for trying to predict what comes next, Kearney turned to scenario-based forecasting around possible futures the on- and off-premise markets could be moving towards.
The two driving, macro factors Kearney considered to have the most influence on shaping these possible futures were the timing of economic recovery and the effectiveness of the COVID-19 vaccine.
From there, Kearney used a four-pronged approach to forecast the possible scenarios. First, they applied their proprietary predictive analytics methodology, Janus®, to forecast future performance and define shape of demand.
To provide a consolidated industry point of view, they incorporated 30-plus explanatory variables from publicly available sources and leveraged data from SipSource, which was created by the Wine & Spirits Wholesalers of America (WSWA). SipSource is the first and only source for wine and spirits distributor depletion data, which is made available by WSWA members.
Kearney also surveyed over 1000 consumers and conducted interviews with leading industry experts.
Finally, they leveraged AI and predictive analytics through a scenario-based approach to evaluate plausible future markets for the US wine and spirits industry in 2021.
As a result of all of this research, Kearney came up with four possible scenarios for 2021, which were presented in a webinar hosted by WSWA titled "Consumer Resilience in Alcohol: 2021 Wine & Spirits Forecast."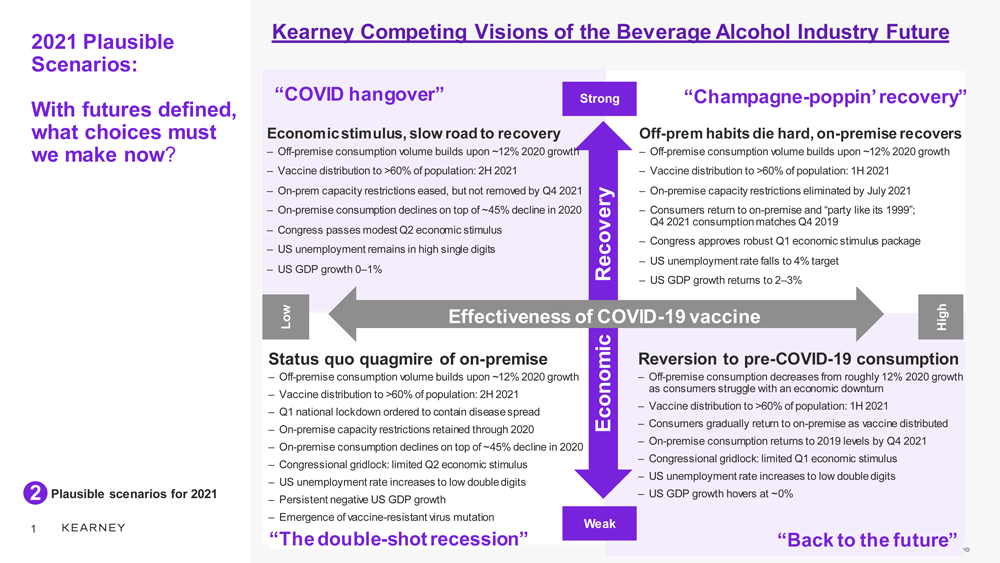 1. Champagne Poppin' Recovery
The best-case scenario, this prediction sees both a strong economic recovery and high effectiveness of the vaccine for continued growth in the off-premise market and recovery in the on-premise.
2. COVID Hangover
This scenario is the result of high vaccine effectiveness but weak economic recovery. This leads to continued growth for the off-premise but declines for the on-premise as restrictions are eased but not entirely lifted.
3. The Double-Shot Recession
The worst-case scenario results from low vaccine effectiveness and weak economic recovery. Off-premise volume continues to grow, but the on-premise sees even more declines in the face of continuing restrictions.
4. Back to the Future
Low vaccine effectiveness but high economic recovery leads to off-premise losing some volume share and the on-premise recovering by the end of the year as consumers return to pre-pandemic habits.
These four scenarios were originally presented by Kearney in mid-January. Given that we're three months into 2021, we spoke with Dale Stratton, SipSource analyst, about which outcome he now sees as the most likely reality for this year.
SipSource recently released its 2020 Annual SipSource report, which focused on comparing 10-month period data (February 2020 – December 2020) to pre-pandemic trends (February 2019-February 2020) and using that data to predict 2021 trends.
What SipSource found is that the COVID Hangover scenario—which predicts .5% growth versus 2020 in case volume sales of alcohol—is the most likely outcome for the year. "The possibility that one of these other scenarios could come [to be is possible]. It's not going to necessarily hit exactly one of these scenarios," says Stratton. "But I think it's leaning toward the COVID Hangover."
Stratton says the effectiveness of the COVID-19 vaccine in this model is probably [facing] the bigger headwind than economic recovery as stimulus checks and federal economic recovery initiatives roll out.
He breaks the year down into buckets, with January/February's numbers likely to show the on-premise down 50-60% compared to last year due to spikes in cases over the holidays and the resulting severe lockdowns. March-May will show elevated growth compared to last year since spring 2020 is when many on-premise establishments were most severely hurt by complete shutdowns.
Moving on from May, Stratton says the future is cloudier as vaccine roll-outs and new COVID-19 strains introduce uncertainty. He believes the on-premise will start this period at 45-55% down and grow from there, but he cautions that even in the best-case scenario, the on-premise will likely not return to pre-pandemic volumes. "I just don't see a road to getting back to where we were in 2019," says Stratton.
Stratton stresses that these numbers will very according to region, as the response to the pandemic differed across the country.
For example, Stratton says strong shelter-in-place orders and capacity restrictions in the west and northeastern parts of the country led to the on-premise being down 53.9% in the northeast and 53.7% in the west. In the midwest, on-premise numbers were similar at 46.8% down as restrictions were a mixed bag. However, in the southern part of the country, where restrictions were less severe and some areas stayed open, the on-premise was down only 38.3% on the year.
"When you start talking about the difference between almost 54% versus 38%—that's substantial and that certainly is a significant thing that tells us those regional differences did make a difference in what this looked like," says Stratton.
Another important factor is consumer behavior. "There's also just the simple question of what's the consumer going to do?" says Stratton. "We have a lot of legislation action, a lot of activity on what we can do, but in the end, the consumer is going to decide really what this looks like and what they are comfortable coming back to en masse."
With all of this in mind, how should an on-premise owner approach the rest of the year? There are a few strategies owners should take to prepare for any uncertainty and all possible scenarios.
Data-Driven Decision-Making
Just as traditional "look back" forecasting didn't work for Kearney's projections, bar owners can't simply compare business numbers to last year's—they need to go back even further. "I think you need to go back and reset your base to where you were in 2019, what was your revenue," says Stratton. "It's probably going to be that you're somewhere in that 30% down versus that 2019 number."
Stratton also says it's important to get back to the basic metrics and to keep a close eye on how trends are changing on a month-to-month basis versus any traditional business cycles. "Keep those base measures that you've always used to manage your business intact because those are the things that are going to drive your business," he says. "How many guests did I serve? What was the average check? When I look at that average check, I'm probably going to break that down a little further than I used to."
The disruption from the pandemic led on-premise operators to come up with some creative and innovative ideas to survive, but as things settle, Stratton recommends that bar owners focus back in on what they do best. "You can't do it all," says Stratton, who notes that while these new ideas may have generated revenue, they also add complexity to a business. "Focus on what you're good at. Make those determinations, and head down that path."
Shore Up Your Supply Chain
Stratton recommends owners work closely with their distributor and supplier networks, which can help them navigate some of the new complexities of their businesses.
"If you're an operator, you're focused on trying to run your business, and running your day-to-day business is harder than it was," says Stratton. "Your distributor and supplier communities can help with that. Continue to work with them to find out what's going on in the marketplace, where is this thing moving, etc. Make sure you're in communication so you know what's going on."
Building out a strong supplier/distributor network will also enable owners to combat raw materials shortages more easily by creating a flexible supply chain, dual sourcing, etc.
Match Costs to Channel Needs
Supply chain issues have also led owners to reconsider their menus.
"The number of menu items that an account carries is going to be different, and it's probably going to be smaller than it was," says Stratton. "The number of choices in the beverage category are probably going to be smaller. So I think finding the sweet spot of how many offerings do I want to have is also going to be something that's very important."
The pandemic has also led to major shifts in consumer demand in the on-premise world, most notably with the rise in to-go options.
As restrictions ease and more consumers elect to return to in-person dining, owners will need to consider how to integrate to-go into their day-to-day business when they have people starting to show back up in their establishments. For example, are you willing to pull a bartender away from in-person guests to make to-go cocktails? Where will you have guests pick up to-go orders? "How you integrate all of that back into your daily operating process is going to be something that folks really need to watch," says Stratton.
Tech Upgrades
Some of the changes that came about as a result of the pandemic may actually be sticking around, and technology—in the form of touchless payment, online ordering, and virtual menus—is a big one.
If owners haven't already adopted these digital tools, they should consider it. Technological developments have given owners greater flexibility, more effective inventory management, and the ability to offer better and faster service.
"I think technology and how on-premise operators leverage technology to their benefit and to the benefit of their guest is really going to be something that's a gamechanger," says Stratton.