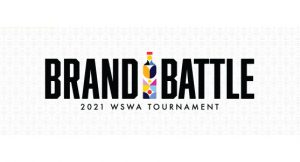 In light of the ongoing COVID-19 pandemic, the Wine & Spirits Wholesalers of America has made the decision to cancel the
WSWA
78
th
Annual Convention & Exposition.
In lieu of a convention this year, WSWA will be holding a virtual
Brand Battle Tournament
—a can't miss event for craft, startup and small production wine, spirits, and low-alc/no-alc/mixer brands. Typically held during the convention, this annual stand-out, Shark Tank-style event showcases rising brands with unique stories, packaging, and flavor profiles.
Contenders will pitch their products to a panel of distribution experts on live webinars broadcasted to audiences of industry stakeholders and consumers!
HOW DOES THE TOURNAMENT WORK?
This year's expanded, "bracketology-type" event will feature 40-50 brands that will battle in eight specific competition categories – each with a chosen "Best in Category" winner that will continue onto the final round of competition to determine the overall 2021 Brand Battle Champion. This year's brand categories are:
Vodka / Gin
Tequila / Mezcal / Cachaça
Whiskey / Whisky / Bourbon / Scotch
Ready-to-Drink / Hard Seltzer
Cordial / Liqueur / After-Dinner Drink
Low-Alcohol / No-Alcohol / Mixer
Wine
The competition will take place virtually every Tuesday starting in June, taking on the moniker Tournament Tuesdays, culminating in a final Brand Battle Championship this September. This year's judges will feature WSWA Access Wholesaler Advisors, WSWA Board Members, as well as other titans from the wine and spirits industry!
Do you think you have a unique and exceptional product? If so, enter to compete today!