Defend Tech hand towels from Sofidel's Papernet brand are the latest solution launched to support the new standard of cleanliness. The hand towels are infused with orange essential oils, which have the ability to kill germs captured on the paper itself. Essential oils have many applications because of various properties – they are antimicrobial, stress-relieving and gentle on delicate skin.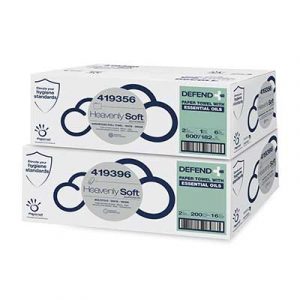 "Sofidel, with its professional brands including Papernet, is positioning itself as the leader in innovative hygienic solutions with an emphasis on sustainability," said Fabio Vitali, Vice President, Marketing, Sofidel. "In addition to our award-winning Bio Tech, Dissolve Tech and Freshen Tech products, Defend Tech hand towels are yet another example of how we are innovating as the pandemic progresses to deliver solutions that reduce the spread of germs. The public is more concerned than ever about the cleanliness of facilities, making Defend Tech a smart choice for use in restrooms and other high-traffic areas."
A new survey, conducted by The Harris Poll on behalf of Sofidel, reveals a desire for hygienic hand towels like Defend Tech with orange essential oils. The survey found nearly nine in 10 Americans (89%) would be interested in using paper towels that can kill bacteria that is captured on the paper when they use them. Additionally, more than four in five Americans (84%) say if a facility offered paper towels at hand washing stations that can kill bacteria that is captured on the paper when they use them, it would positively impact their perception of that facility. The survey was conducted online from October 19-21, 2020 among 2,070 U.S. adults ages 18 and older.
Defend Tech hand towels are paired with sleek dispensers that incorporate silver-ion technology to repel and kill germs on the surface of the dispenser. This helps keep hands cleaner, even if they come into contact with the dispenser. In turn, clean hands spread fewer pathogens to surfaces and other people.
"Wet hands attract and spread more germs than dry hands, so the use of paper towels is essential for complete hand hygiene," added Vitali. "We specifically selected orange essential oils for their unique ability to target pathogens and soothe delicate skin after handwashing."